Prop E
Affordable and Educator Housing
Ordinance
Affordable Housing and Educator Housing
Encourages the construction of 100% affordable housing and educator housing by creating streamlined permitting processes and loosening requirements,setting timelines for approvals and allowing these types of housing to be built on public land.
Vote YES
What the Measure Would Do
This measure would relax a number of existing requirements in order to make 100% affordable housing developments and housing for educators easier and faster to build. (See "How Does Prop. E Define 100% Affordable and Educator Housing?" below for a definition of these housing types.) It would also amend the zoning code to allow 100% affordable housing developments and housing for educators on land that is currently zoned for public uses.
Prop E. would do this in three ways:
1. Changes to Zoning
First, the measure would speed up the development of these types of projects by making the following changes to zoning controls and approvals:
Number of units allowed:The number of units in an eligible project would be determined by zoning limits on the building's size and shape, not by the current method of only allowing a certain number of units per acre.
Design requirements:Projects would be able to follow less restrictive design standards. Under the planning code, the planning director already has broad authority to waive many of these requirements for 100% affordable projects, but under Prop. E, educator housing would qualify for this treatment as well.
Process:Projects would not be required to seek conditional use authorizations or Planning Commission approval. This is already true for 100% affordable projects thanks to recent San Francisco legislation, but educator housing would also qualify under Prop. E.
For these modifications to apply, projects would have to be located on sites 10,000 square feet or larger, in a zoning district that allows housing (including sites zoned for single-family housing), but not on sites that are under the jurisdiction of the Recreation and Parks Department for use as a public park. Also, eligible projects could not demolish, remove or convert any existing housing.
2. Allowing Housing on Public Land
Second, the measure would allow these kinds of residential projects on sites that are zoned for public use. The site must also be larger than 10,000 square feet and not controlled by the Recreation and Parks Department for use as a public park. Critically, this aspect of the measure would enable projects on public sites to take advantage of Senate Bill 35. This state law, passed in 2017, allows housing projects that meet certain location, affordability and labor requirements to be approved "by right," meaning they can bypass the usual public input process and be approved through an administrative process instead. In order to qualify, a site must be zoned to allow housing. Currently, sites that are zoned "public" in San Francisco do not allow housing, but Prop. E would change that. Prop. E specifies that these affordable and educator projects would need to comply with the existing zoning requirements for the closest district that allows housing.
3. Shortening Review Times
Third, the measure would require review of these kinds of projects to be completed within 90 days for projects that include up to 150 residential units or within 180 days for projects that have more than 150 residential units. (For context, a 2017 mayoral executive order required housing to be permitted within six to 22 months depending on the level of environmental review.) Prop. E would also set a 500-unit cap on the number of educator housing units that could access this streamlined review. Before the Board of Supervisors could increase the cap, the Planning Department would have to submit a report on educator housing, with an accounting of whom the housing serves and how it has been financed.
Under this measure, the Board of Supervisors could amend these provisions with a two-thirds vote if the amendments further the purpose of the ordinance.
How Does Prop. E Define 100% Affordable and Educator Housing?
In order to benefit from Prop. E's proposed changes, a project must meet the following definitions:
• 100% affordable housing projects must serve households with an average income of 80% of the area median income (AMI). (See table below for sample incomes.) Such projects may allow households making up to 120% of AMI. Maximum rents or sale prices must be 20% below the median market rates for the neighborhood. These projects may include non-residential space on the ground floor.
• Educator housing projects require that at least one employee of the San Francisco Unified School District or the San Francisco Community College District lives in each unit. Projects must serve an average household income of 100% of AMI. At least 80% of a project's units must serve households with incomes between 30% and 140% of AMI, and up to 20% of the project's units may serve households with incomes up to 160% of AMI. In projects with a mix of housing and businesses, a maximum of 20% of the square footage may be devoted to neighborhood-serving businesses. Educator housing projects must also meet certain requirements for unit size, occupancy and bedroom count.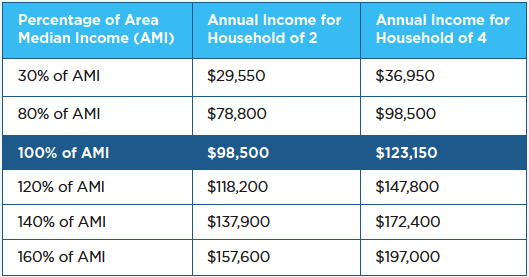 The Backstory
Earlier this year, Mayor London Breed announced a package of ballot measures aimed at speeding up the creation of affordable and educator housing. An affordable housing bond (Prop. A) is on the ballot, but a proposed charter amendment that would have allowed 100% affordable housing and educator housing to be approved by right did not pass out of committee. The mayor also proposed a ballot measure that would change the zoning on public parcels to allow 100% affordable or educator housing.
Four members of the Board of Supervisors submitted a competing ballot measure to allow 100% affordable and educator housing on public sites and to set timelines for the review of these kinds of developments.
While both measures aimed to accomplish the same goals, there were several key differences, including the definitions of "100% affordable" and "educator housing," the allowable building height limits, specific requirements for unit sizes and occupancy for educator housing, and whether to include properties zoned for single-family homes. After several weeks of negotiations, the mayor withdrew her ordinance and the four supervisors agreed to support clean-up legislation that would relax some of Prop. E's building and unit requirements for educator housing. This legislation had not been introduced at the time of publication.
The San Francisco Unified School District is currently contemplating several educator housing projects. Only one, Francis Scott Key Annex, has made it to the planning stages. It may be able to take advantage of this measure, but it would require some changes to the project and it would need to changes contemplated in the clean-up legislation. Earlier this year, the school district began exploring the feasibility of future educator housing on three additional sites by soliciting development proposals. Since the district's request for proposals stipulated that the city cannot subsidize these projects, all of the responses from both nonprofit and for-profit developers included some market-rate housing to help fund the moderate- and middle-income educator units. Because Prop. E requires all units to be restricted to educators with specific income requirements, it would not leave room for developers to incorporate market-rate units to offset the cost. This means none of these proposals would be able to access the benefits offered by this measure without first identifying a major new source of funding.
Pros
Enabling 100% affordable and educator housing projects on public sites to use SB 35's streamlined process could result in faster delivery of this type of much-needed housing.
The zoning and process changes for educator housing projects could reduce delays for these kinds of projects, which have not previously been eligible for benefits or incentives.
Getting rid of restrictions on the number of housing units allowed per acre for 100% affordable housing would allow more units to be built.
The measure could be amended in the future by a two-thirds vote of the Board of Supervisors.
Cons
No financial analysis was performed to determine if the affordability requirements in this measure would make affordable or educator projects infeasible to build. The educator housing projects the school district is considering rely on some market-rate units to help subsidize the affordable units, and therefore they would not be able to use the benefits of this measure without identifying a major new source of funding.
The measure's proposed approval timelines would only be feasible for SB 35 projects, which do not need to go through environmental review. For projects not using SB 35, the Planning Department might not be able to meet the deadlines, given state environmental review requirements.
This issue could have been addressed legislatively and did not need to be on the ballot. (However, if it were done through legislation, it would be a longer process requiring environmental review.)
SPUR's Recommendation
This compromise measure would provide a concrete advantage for 100% affordable housing projects located on public sites by enabling them to access the streamlined timelines available under SB 35. And — if funding to build the projects can be identified — this measure could help supply new housing options for San Francisco's low-income families and educators, who are particularly affected by the city's affordability crisis.
But this measure doesn't live up to its potential. It could have a broader impact if the affordability requirements had been based on the financial feasibility of building educator housing projects without major public subsidy. And it could have offered additional streamlining benefits for affordable housing projects beyond the recent process changes the city has already implemented. In addition to educators, there are many other moderate- and middle-income San Francisco workers who are in need of housing that is affordable to them: Muni drivers, sanitation workers and nurses, for example. This measure is a missed opportunity to make more expansive changes for all affordable housing projects. However, SPUR recognizes that it would be a small step forward in the city's efforts to deliver more housing. Considering the depth of the housing crisis, we cannot recommend against a proposal that provides at least some tangible benefits today. We are hopeful that the clean-up legislation will make the program more expansive and effective.
Vote YES on SF Prop E - Affordable and Educator Housing