About the SPUR Urban Center
Located in the Yerba Buena district of San Francisco, the 14,500-square-foot Urban Center serves as SPUR's main headquarters.
Pfau Long Architecture developed the four-floor structure, which includes a streetfront exhibition gallery, a 125-seat public assembly hall, workspace for staff members and a top-floor meeting space with an outdoor deck overlooking Mission Street.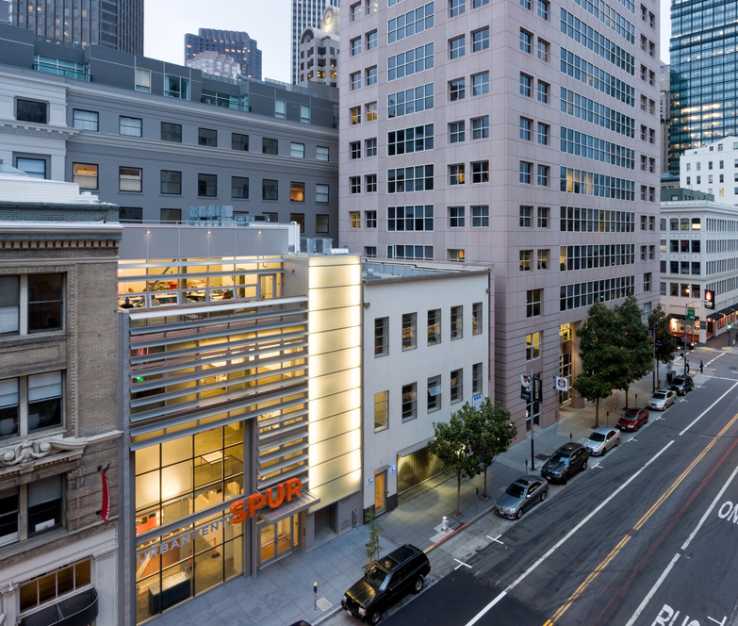 Green Building Features
The Urban Center is registered with the United States Green Building Council and rated LEED NC Silver.
Materials
95% of the former 654 Mission building was recycled or reused
Structural steel is 95% recycled material content
Cement is 50% fly ash (a by-product of coal fired power plants)
Low Volatile Organic Compounds (VOC) paints, doors, carpets
Carpets partially made with post-industrial scrap
Cabinetry made of crushed sunflower seed husks, a rapidly renewable material
Countertops made of recycled newspaper and natural resin
Heating/Cooling
Roof is coated with white reflective material to prevent the heat absorption typical of black tar roofs
Operable windows let in fresh air
Reflective louvers on the facade reflect direct sunlight, reducing heat load and relieving HVAC system
HVAC filtration is hyper-efficient, screening out fine particles of pollens and dust
HVAC uses the most environmentally benign refrigerant chemical on the market. If gasses are released they will not contribute to ozone depletion or greenhouse gasses
Carbon dioxide sensors
System has an "economizer" which brings in outside air when temperature is comfortable without conditioning it.
"European" sized system, which has a wider comfort range. Most American systems maintain a specific temperature degree, using more energy.
Plumbing
Dual-level water saving flush toilet
Sensor flush urinals
Automatic sinks
Under sink instant hot water heater
Lighting
Florescent and LED energy-saving lights
Automatic shut offs
Motion sensor activated
Multiple level switches and dimmers
Master shut-off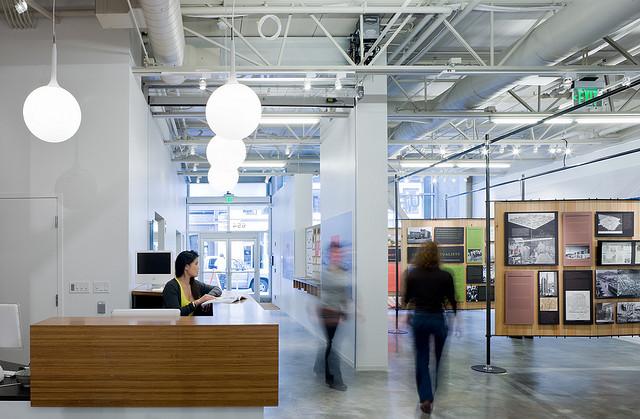 Design Team
Architect: Pfau Long Architecture Ltd.
Interiors: HOK
General Contractor: Nibbi Brothers General Contractors
Structural Engineer: Forell/Elsesser Engineers, Inc.
MEP Engineer: WSP Flack + Kurtz Inc.
Acoustics & Audio Visual Systems: Charles M. Salter Associates
Lighting Design: Auerbach Glasow French | revolverdesign
Geotechnical: Treadwell & Rollo
Security/Telecommunications: Shen Milsom Wilke LLP
Civil Engineer: KCA Engineers, Inc.
Code Consultant: A.R. Sanchez-Corea & Associates
Site Survey Consultants: Martin M. Ron Associates
Specifications: Linton D. Stables, III
Green Buildind Consultants: Simon & Associates, Inc.
LEED Consultant: Gordon Development
Graphics & Signage Design: Public
Green Roof: Miller Company Landscape Architects
Model Builder: zDp Models
Owner's Representative: Greg Lunkes

Building Committee
Peter Winkelstein, Chair*
Anne Halsted*
John Kriken*
John Loomis
Terry Micheau
Teresa Rea

Capital Campaign Committees
Initiation Chairs
John Jacobs *
Patricia Klitgaard
Jim Lazarus
Phase I
Oz Erickson, Chair
Michael Alexander
Anne Halsted*
Rod Freebairn-Smith
Vince Hoenigman
Beverly Mills
Brian O'Neill *
Brooks Walker, III
Phase II
Chris Meany, Chair
Tom Hart
Chris Poland
John McNulty
Brian O'Neill *
David Hartley*
Bill Stotler
Teresa Rea
Brooks Walker, III
Diane Filippi, Director, SPUR Urban Center
Jim Chappell, President Emeritus
Gabriel Metcalf, President
* deceased
Anne W. Halsted Hall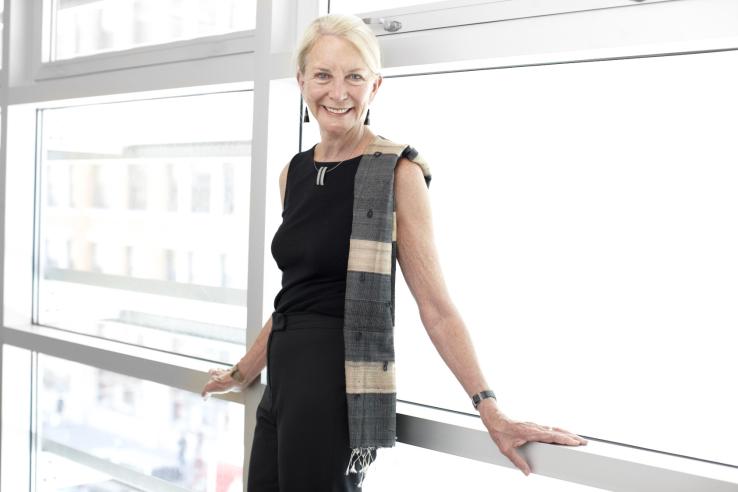 In 2023, SPUR's second-floor assembly hall was named Anne W. Halsted Hall in honor of long-time SPUR board member and former board chair Anne Halsted. Anne was involved with SPUR for more than 50 years, leading the organization through an important revitalization in the 1990s. Later, she became a strong advocate of taking a regional approach to solving the Bay Area's most intractable issues while remaining firmly committed to elevating community voice. Anne's passing in 2021 left a lasting legacy both at SPUR and throughout the Bay Area.
Anne Watson Halsted was born in West Virginia in 1942. She spent her early years in Cleveland and Milwaukee before attending Duke University, where she graduated with a bachelor's degree in political science in 1964. Attending Duke before it was integrated, Anne gained special appreciation for the struggles of race relations while working a student job in the kitchen alongside Black workers from Durham. Meanwhile, she gained an interest in community organizations and citizen participation through her courses in comparative politics.
After college, Anne moved to San Francisco, where she found an entry-level job as a receptionist at Parsons, Brinckerhoff, Quade and Douglas, the engineering firm that was designing BART. In 1969, she began work in the personnel department of equipment financing firm United States Leasing, where she hired staff and managed benefits, payroll, and employee relations. During her 21 years there, she grew to become a vice president and part of the management team. It was a time of considerable change in employment practices, when institutions were opening their doors to beneficiaries of the Civil Rights Act. The act created opportunities for aware executives like Anne to advance progressive policies in employment and increase racial and gender diversity in their workplaces.
A resident of North Beach, Anne first got involved in community issues when she organized neighbors to change traffic laws on an alley where high-speed vehicles were creating a safety hazard. She went on to serve as president of the Telegraph Hill Dwellers, helped to pass a property tax to fund neighborhood parks, and co-chaired the first San Francisco Open Space Advisory Committee to recommend ways to spend the tax revenue. Later, she was appointed by Mayor Dianne Feinstein to the San Francisco Redevelopment Agency Commission and subsequently to the San Francisco Port Authority, where she was the first female commissioner, serving from 1984 to 1996.
Anne retired from United States Leasing in 1990 to focus her talents on civic engagement. She served on the Treasure Island Development Authority, and in 2001 Governor Gray Davis appointed her vice chair of the San Francisco Bay Conservation and Development Commission. She also served as BCDC's representative to the Metropolitan Transportation Commission from 2005 until 2020.
During these periods of public service, Anne also devoted countless hours to nonprofit boards and community groups. Nationally, she served on boards of many organizations, including the Women's Campaign Fund and Business Executives for National Security. Locally, she sat on the boards of the Greenbelt Alliance, Friends of the Urban Forest, City Club, the Institute on Aging, the San Francisco Maritime National Park Association, the International Institute, Chinatown Community Development Corporation, the Neighborhood Parks Council, North Beach Citizens, the Legal Aid Society, and the Immigration Institute of the Bay Area.
Among the organizations most important to Anne was SPUR, which she belonged to for over 50 years, serving twice as board president. Anne played leadership roles in SPUR projects such as San Francisco City Charter reform, the Waterfront Land Use Plan, Golden Gate Park planning, the redesign and rebuilding of Union Square, and the conception of the Blue Greenway. In fact, there is not a major SPUR project that Anne was not involved in, including the conception of the Presidio Trust, military base reuse planning for Treasure Island, the design of the Embarcadero and Ferry Plaza, planning for Chinatown, and creation of the Downtown Plan.
Anne also worked to build the institutional infrastructure for SPUR to grow and thrive. This work included getting the organization on solid financial footing, growing the staff and board, and developing the organizational culture. Anne's human relations background and caring personality were ideally suited to transforming a small organization into the powerhouse that SPUR is today. She worked tirelessly on the campaign to build the SPUR Urban Center and, in her most recent board term, served as a thoughtful voice in SPUR's effort to center equity in its policy work.
Donors
Grateful acknowledgement is made to the following donors to the SPUR Campaign for the Urban Center (pledged through March 31, 2009)
$1,000,000
Donald R. Stephens & Lane B. Stephens
California Cultural and Historical Endowment
$800,000
$600,000–$799,999
The Richard and Rhoda Goldman Fund
Hoenigman Family Foundation
$400,000
$200,000–$399,999
Oz Erickson & Rina Alcalay, in honor of Ella & Enrique Alcalay
Anne Halsted & Wells Whitney
The James Irvine Foundation
Charles Pankow Foundation
Recology, Michael J. Sangiacomo
$150,000–$199,999
Bella Vista Foundation
BPS Reprographic Services
Mort & Frannie Fleishhacker
Nibbi Brothers General Contractors
Pfau Long Architecture
Diane B. Wilsey
$100,000–$149,999
The Ayrshire Foundation
Barbara & Gerson Bakar
Bank of America
Alvin H. Baum, Jr.
Richard C. Blum & The Honorable Dianne Feinstein
David Choo
Dolby Laboratories
A. F. Evans Company
The Hellman Family Foundation
The Herbst Foundation, Inc.
Millennium Partners
Northern California Community Loan Fund, Nonprofit Space Capital Fund
Pacific Gas and Electric Company
Remo & Tito Patri Families
Paul Sack
San Francisco Waterfront Partners, LLC
$50,000–$99,999
Michael Alexander & Dianna Waggoner
Wm. Anderson & Sara Barnes
Bovis Lend Lease
California Pacific Medical Center
Jim Chappell
Coumbia Foundation
Degenkolb Engineers
EDAW | AECOM
Farella Braun + Martel LLP
Doris & Donald Fisher
Linda Jo Fitz
Forest City Development / Westfield LLC
Gaia Fund
Gensler/Gensler Family Foundation
Marcia & John Goldman
The Walter and Elise Haas Fund
David & Jane Hartley
Hathaway Dinwiddie Construction Company
The William Randolph Hearst Foundation
Heller Manus Architects
HOK
Patricia W. & Thomas J. Klitgaard
Michael Kriozere & David Kriozere
Lambert Development LLC
Alexander Leff in memory of Muriel Lerner Leff
Lennar Urban
MacFarlane Partners
Alastair & Celine Mactaggart
John McNulty, MBH Architects
Terry Micheau & Robert Evans
Monahan Pacific Corporation
Bill R. Poland/Bay West Showplace
James E. Roberts-Obayashi Corp.
ROMA Design Group
Charles M. Salter Associates, Inc.
A.R. Sanchez-Corea & Associates
Charles & Helen Schwab
Paul & Lynn Sedway
Shorenstein Company LLC
Signature Properties, Inc.
Skidmore Owings & Merrill LLP
Solomon Cordwell Buenz
John & Gussie Stewart / The John Stewart Company
The Swig Company
Swinerton Builders
Tishman Speyer
TMG Partners
Turner Construction Company
Brooks Walker, III
Mr. & Mrs. Brooks Walker, Jr.
Webcor Builders
Wells Fargo Foundation
Wilson Meany Sullivan
Walter Wong
$25,000–$49,999
Anonymous
Bechtel Corporation
Claudine Cheng
Helen & Tom Clausen
Coblentz, Patch, Duffy & Bass LLP
Mary A. Crocker Trust
Sandy D'Elia Fund
S. D. Bechtel, Jr. Foundation
David Baker + Partners Architects
Steven & Roberta Denning
Ellman Burke Hoffman & Johnson
ESA
Flood Building
Gibson Dunn & Crutcher LLP
Lisa & Douglas Goldman
Evelyn & Walter Haas, Jr. Fund
Tom & Cheryln Hart
Jeffrey Heller & Debra Stein
James C. Hormel
George & Leslie Hume
The Lurie Company
MVE & Partners, Inc.
Chris & Michele Meany
Carol & Ezra Mersey / Jackson Pacific
Mithun
MJM Management Group
Morrison & Foerster LLP
MPA Design
Parkmerced
Perkins+Will
Plant Construction Company, L.P.
Reuben & Junius, LLP
Toby & Sally Rosenblatt/The James Irvine Foundation
Rutherford & Chekene
The San Francisco Foundation
Elizabeth Seifel Fund
Martin L. Swig
Stephen & Sarah Taber
Michael B. & Inja L. Wilmar
Woods Bagot Architects
WRNS Studio LLP
$10,000–$24,999
David Armstrong Abercrombie
Allen Matkins Leck Gamble Mallory & Natsis LLP
Anonymous
Architectural Resources Group
The Argosy Foundation
Arup
Baldauf Catton von Eckartsberg Architects
Bank of the West
BAR Architects
Barnes Mosher Whitehurst Lauter & Partners
Jan Blum
The Bothin Foundation
Pamela A. Brewster
Mrs. William Brinton
Laurence G. Burnett
Michaela Cassidy & Terry C. Whitney
Julienne M. Christensen & Gregory H. Smith
Christiani Johnson Architects
CMG Landscape Architecture
Elizabeth L. Colton
Crescent Heights of America
Economic & Planning Systems
EHDD Architecture
Delia Fleishhacker Ehrlich
William D. Evers
Brooke L. Facente
Field Paoli Architects
Diane Filippi & Ephraim G. Hirsch
Robert & Elizabeth Fisher
James C. Flood
FME Architecture + Design
Forell/Elsesser Engineers, Inc.
Forest City Development
Jean Fraser & Geoffrey Gordon-Creed
Freebairn-Smith & Crane
David Friedman & Paulette Meyer
Hillary Gitelman
Claude & Nina Gruen
Chris Gruwell
Maud Hallin
Handel Architects LLP
Bruce & Elizabeth Hart
Stanley D. Herzstein & Lynn Altshuler
John E. Hirten
HKS Architects, Inc.
Patrick Hobin, In Memory of George Ballou & John Jacobs
Jonathan Holtzman
Hornberger + Worstell
Caryl Nakamura Ito
Barbara & Ron Kaufman
Steven Kay
Redmond F. Kernan III & Sharon Gadberry
David & Barbara Kimport
John H. Kirkwood
Robert C. Kirkwood
Lisa Klairmont & Harold Kleiderman
David H. Kremer
John Lund Kriken & Katherine Koelsch
KSW Properties
Kwan Henmi Architecture/Planning
Lambda Alpha International
Stanley S. Langendorf Foundation
Jim & Ann Lazarus
Frankie G. Lee
Toby & Jerry Levine
Richard & Mary Lonergan
Daniel & Devon MacEachron
Jacinta McCann & Joseph Brown
Mary & Bryan McCue
Gabriel Metcalf & Elizabeth Sullivan
Peter & Caryl Mezey
Beverly Mills
Dick, Madeline & Ai Lin Morten
Brian & Martha O'Neill
Parsons Brinckerhoff
Patri.Merker.Architects
Liebe & Bill Patterson
Brad Paul
Payne Family Foundation
Laurence & Alexis Pelosi
N. Teresa Rea
William & Dewey Rosetti
San Francisco 49ers
Sasaki Associates
Betty & Jack Schafer
Gene & Abby Schnair
Victor Seeto
CHS Consulting
Anna C. Shimko
Simpson Gumpertz & Heger
Steinberg Architects
Georgiana Stevens
STUDIOS Architecture
Roselyne C. Swig
Martin & Elizabeth Terplan
Robert A. Thompson
Irene Lindbeck Tibbits in memory of Robert M. Tibbits
Tom Eliot Fisch
Treadwell & Rollo, Inc.
Jeffrey Tumlin
Turnstone Consulting Corporation
Mary Van Voorhees Fund
Tay Via & Matt Franklin
Walker Parking Consultants
WRT / Solomon ETC
Jack Weeden & David Davies
Brayton Wilbur Foundation
William F. Wilkinson Fund
George Williams
Jane Winslow
WSP Flack & Kurtz
Caroline Wu & Jonathan Wu
Jacqueline & Robert Young
Paul Zeger, Pacific Marketing Associates, Inc.
$5,000–$9,999
David P. Black
Roger & Nancy Boas
Jonathan Bulkley
William K. Coblentz
Kent Colwell
Edward & Nancy Conner
Richard E. & Arlene K. DeLeon
Rod Eskridge
The Examiner Fund
Frank Fudem
Gordon Development
Patricia M. Knott
Robert Lawrence
Gladys and Ralph Lazarus Foundation
Leddy Maytum Stacy Architects
Ellen Lou
MACY*S West
The Mark Company
McCarthy Building Companies, Inc.
Scott McDonald & Tiffany Schauer
Catherine & Lee Thompson
Nishkian Menninger
Stephen Perreault
Bruce A. Race
C. David Robinson
Kirby Sack
Safeway, Inc.
Sam & Helen Sause
H. Marcia Smolens
Linton D. Stables, III
Mr. & Mrs. Michael Steinberg
William Stotler
J. Gordon Turnbull
Steven Vettel
Jeffrey & Deborah Weber
WilsonWest, Inc.
Zellerbach Family Foundation
$2,500–$4,999
Craig J. Anderson
Doris G. Bebb
BergDavis Public Affairs
Ron Blatman
Michael & Margo Bradish
Cahill Contractors Inc.
Cannon Design
Peggy Allegra Chiang
Charmaine Curtis
Luisa Ezquerro
James Farrell
Lisa Feldstein
Carol & John Field
Michael L. Fischer & Jane Rogers
Barbara French
Robert Gamble
Gillian Gillett & Jeff Goldberg
Kathleen Henschel
Gary Kitahata
Mr. Hans Korve
Tom LaTour
James & Linda Law
Jeff & Sandy Mori
Nelson\Nygaard
Paul Okamoto
Lester Olmstead-Rose
Jonathan Pearlman
Marianne & Richard H. Peterson
Pribuss Engineering
Jeannene Przyblyski & Eric Jaye
James & Nancy Ream
Roderick J. Roche & Lourdes M. Lopez Roche
Barbara & Richard Rosenberg
John F. Sampson & Sharon L. Litsky
Dorian Sarris
Sheppard, Mullin, Richter & Hampton LLP
Lydia Tan
Michael B. Teitz
Michael & Diana Theriault
John C. Walker
Peter & Barbara Winkelstein
$1,000–$2,499
James & Michele Andrew
Sam & Mary Ann Aronson
John D Beutler
James A. Blomquist
Joseph E. Bodovitz
Shelby Bonnie
Gwyneth Borden
Robert Bransten
Kittie & Eugene A. Brodsky
Theodore Brown & Partners
Lynn Bunim
Douglas Burnham
Carpenters Union Local 22
Douglas S. Chan & Florinda J. Kuan
Robin Chiang & Company
City CarShare
Emilio Cruz
Tim Culvahouse
Carla Dal Mas
Gia Daniller
Dustin Daza
Dees-Hennessey, Inc.
Winston J. Dong, Jr.
Joan M. Douglas-Fry
Shirley Douglas
Mrs. Morris Doyle
EnviroTrans Solutions
Gary & Jane Facente
Jackson & Peggy Fahnestock
Joseph & Elizabeth Fee
Fehr & Peers
Alfonso Felder
Angelo Figone
Edna Filippi
David & Vickie Fleishhacker
Melissa Fondakowski & Leah Hannah Rothman
Michael Fotheringham
Larry Fournier & George Slack
Daniel Frattin
Frederic S. Freund
Brett Gladstone
Gould Evans Baum Thornley
Bryan E. Grunwald
James W. Haas
Peter Hartman
Kimberly A. Havens & William W. Heidel
Shepherd & Elizabeth Heery
Ruth & Alfred Heller
Eric Hohmann
Herbert Jeong
David N. Kamlin
Burton Kendall and Sally Towse
Chi-Hee Kim
Kingsley Family Fund
Nora R. Klebow
Mark Klein
Stephen Koch
Paul S. McCauley & Ms. Joan A. Kugler
Bette Wallace Landis
Landscape Office, LTD
Amie & David Latterman
Wells Lawson
Theodore & Doris Lee
The Honorable Mark Leno
John & Joanna Leung
Lawrence Li
Henry Louie
John B. Lowry
Ann and Karl Ludwig
Cathy Merrill
Amy W. Meyer
Byron Meyer
Meyers Family Charitable Trust
L. Kirk Miller
Leroy M. Morishita
Glenn Perry & Eric Knudtson
George H. Pfau, Jr. & Susan Pfau
Shepard P. Pollack
T J Reagan, Inc.
Retail West, Inc.
Francis J. Rigney, Jr.
Susan & Lana E. Rothenberg
John M. Sanger
Nicole Sawaya
Serena Schiller
John Schlesinger
Warner Schmalz
Lisa Setterfield
Betty Shurtleff
Jesse C. Smith
Stantec Inc.
RK Stewart & Barbara Lyons
Peter Straus
James & Victoria Sutton
Chek Tang
Janet B. Thiessen
Adrianne Tong
TransForm
Charles B. Turner, Jr. & Kathleen O. Turner
John Van Duyl
Daniel G. Volkman, Jr.
Jamie Whitaker
Alfred (Al) Williams
Evelyn L. Wilson
Steven Winkel
Howard Wong
Ron Wong & Mike Tekulsky
Samson Wong
Margaret Woodring
Luba Wyznyckyj
zDp Models
Lee & Peggy Zeigler
UP TO $999
Gerald Adams
Lewis Ames
Consuelo Faust-Anderson & Thor Anderson
Bernadine Angeli
Michael J. Antonini, DDS
John B. Arnold
Judith Avery
Robert Aydlett
Jenny Baumgartner
Robert N. Bee
Victoria C. Bell
Bruce Bernhard
Nordin & Donna Blacker
William Blackwell
Rob Fram & Jeanne Blamey
David Blatties
Elizabeth Bledsoe
A. Lee Blitch
Jesse Blout
William Borah
Liz Brisson
Chris Brophy
Timothy Brown
Lucie Buchbinder
William Carney
Shelley Carroll
Gilbert H. Castle, III
Terry Cerrato
Anthony & Ellen Chan
Charles Charnas
A. B. Ciabattoni
Carmen C. Clark
Alexander Clemens
Barbara Cohrssen-Powell
Christopher M. Collins
Rashel Cordova
Gretchen Cotter
Steven Cox
Nina Creedman
Karen Crommie
Matthew Currie
Joseph Curtin
James Davidson
Judy deReus
Roger Doughty
Justin Doull
Jason Duckworth
Jim Ebert
Scott Edmondson, AICP
Michael Ege
Environmental Building Strategies
Ryan Erickson
Jose Farran
Daniel Findley
Kyle Fiore
Andrew Fisher & Jeffry Weismer
Kirsten Fletcher
Kim Fraser
Edith Fried
Robert C. Friese
Kate Earle Funk
Carol Galante
Marsha Gale
Alexandra Galovich
Amit Ghosh
Rubin Glickman
Christina Carpenter Goette
Derek Gordon
Roger Gordon
Andrew Govenar
Christopher Grubbs
Jaime Guerrero
Michael Hadley
Sue Elaine Hagan
Sarah E Hagstrom
Richard Harrow
Peter & Helen Hasselman
Linda Hausrath
Karl Heisler
Jared Heming
Robert Herman & Susie Coliver
Mark Hoffheimer
George Homsey
Richard & Terry Horrigan
In Memory of Allan Temko and Herb Caen
Glenn Isaacson
Peter Jenkins
Paul Jewel
Marta S. Johnson
Jerry & Marcia Keyser
Woodward Kingman
Max Kirkeberg
Frederick J. Klemeyer, Jr.
K. J. Knudson
Adam Krivatsy
David Kroot
James Krotzer
William Ktsanes
Henry Lagorio, FAIA
Rica Lakamp
Laura Lambert
James Lamble
Bob Legallet
Robin Levitt
Jeff Lewy
Marco Li Mandri
William Lieberman
Thomas E. Little
Melanie Loftus
Jean Long
James J. Ludwig
Greg Lunkes
Paul Lutey
Kerstin Magary
Dan Marks
David L. Massen
Lawrence Maxwell
Stephen D. Mayer
Nan McGuire
Sylvia McLaughlin
John McNulty
Wallace D. Mersereau
Middlebrook + Louie, Inc.
Sandy Miller
Moffatt & Nichol
Mosaic Financial Partners, Inc.
Toye Moses
Daniel Murphy
Judith B. Nadai
Judy & Jay Nadel
Mark Nagel
Amy Neches
Douglas A. Booth
Charles D. Noll
Steve Van Landingham & Matt O'Grady
Helen Oliver
Diane Oshima
Carol H. Parlette
Annette Patch
Christopher Pederson
Rachel Peterson
Douglas Pinter
Hon. & Mrs Stuart R. Pollak
Karolina Pormanczuk
Jay Primus
David Prowler
Caesar Quitevis
Tom Radulovich
Carolyn Revelle
Byron Rhett
Linda Rhine
Bryant Rice
Jillian Rich
Philip A. Richardson
Thomas Roberts
Jessica Romm
Robert Royston
Ryan Russo
Benjamin Sabraw
Peter Sahmel
Joan San Jule
Peter San Jule
Gary Schilling
Misti Schmidt
Marcia Schneider
James Seff
Kurt Shuck
John Sias
Donald Sibbett
Larry Simi & Ms. Janet Rogers
Chris Simi
Kent Sims
Arthur Slepian
Connie Smyser
Regina Sneed
Dave Snyder
Jennifer Sobol
Marilyn Solloway
Raphael Sperry
Square One Productions
Craig St Clair
Michael Stanton
Ruth & Alan Stein
Hunter Stern
Luke R. Stewart
David T. & Barbara M. Styles
Richard A. Sucre
Raymond Sullivan
R. Brook Sutton
Paul & Gail Switzer
Douglas Thornley, AIA
Richard Tilles
M. Christine Torrington
James R. Tracy
Shani S Trudgian
Urban Green
Frances Varnhagen
Claudia Viek
Greg Wagner
Debra D. Walker
Jake Wegmann
Shirley F. Weiss & Charles M. Weiss
Nancy Whelan Consulting
David A. White
Kitti White
Lori Wider
Scott Wiener
Jean Wildberg
Wendy Will
Scott Williams
Christina Wolf
Tim Wolfred
Lori Yamauchi
Jess Wendover Zimbabwe
Jennifer Zweig