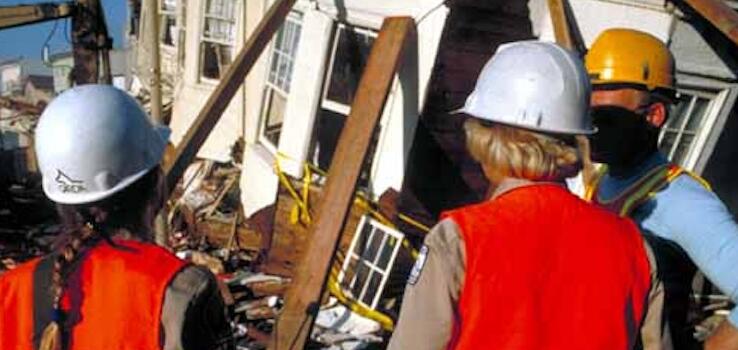 The Resilient City
Creating a new framework for disaster planning
We know that another major earthquake will strike San Francisco — we just don't know when. Since 2009, SPUR has led a comprehensive effort to retrofit the buildings and infrastructure that sustain city life. Our goal is to ensure San Francisco's resiliency and its capacity to not only survive but thrive when a disaster strikes.

This multi-year initiative is generously underwritten by Degenkolb Engineers.

Lead staff: Sarah Karlinsky, Senior Policy Advisor, skarlinsky@spur.org
Featured Publications
Part I: Before the Disaster
What San Francisco needs from its seismic mitigation policies
 
Private property, public risk
 
Improving the seismic performance of new buildings 
 
Upgrading infrastructure to enhance San Francisco's earthquake resilience
 
What will it take for San Franciscans to live safely in their homes after an earthquake?
Part II: Emergency Response
Disaster planning and preparedness in San Francisco neighborhoods
 
Infrastructure for a community disaster response
Part III: After the Disaster
How to rebuild quickly and effectively — while increasing resiliency
 
How good land use planning can prepare the Bay Area for a strong disaster recovery
Recent News
Policy Letter
In 2019, San José showed extraordinary climate leadership in prohibiting natural gas in new residential construction, joining a regional movement to decarbonize the built environment. Electrifying buildings brings multiple benefits: it reduces San José's climate emissions and increases energy resilience in the face of increasing wildfire threats. All-electric buildings eliminate the air pollutants from natural gas combustion and are more cost-effective to build.
News /
What would you and your family do if a serious earthquake struck the East Bay? The U.S. Geological Society has released a major study of a hypothetical magnitude-7.0 earthquake striking on the Hayward Fault. Known as the HayWired earthquake scenario, the project uses scientific modeling of realistic impacts to envision what would happen — and what we need to do to get ready.