Re-Envisioning the Guadalupe River Park
How San Jose can transform its greatest natural resource into a community gathering place for all
April 18, 2019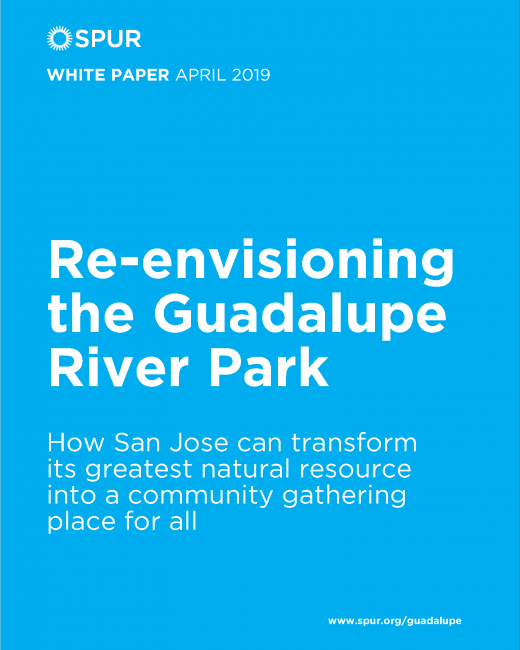 From New York City's High Line to Atlanta's BeltLine, communities across the country are transforming underutilized infrastructure into engaging public spaces. Building on this national momentum, SPUR has launched a project to reconsider the Guadalupe River Park, an underappreciated gem in downtown San Jose.
Opened in 2005, the river park was ground-breaking in flood protection infrastructure and public space design at the time. But after more than a decade the park has aged, making a number of challenges clear: Maintenance is inconsistent; a large population of homeless residents lives along the river banks; conflict continues over the quantity and quality of water for fish and other wildlife; and a lack of amenities and basic design features has left the park underutilized.  
Plans to bring BART and high-speed rail to Diridon Station have spurred significant planning and development interest around the station and downtown, including Google's proposal for an employment and residential village that will flank the river park. Now is the time to capitalize on this interest with bold thinking and big investments in Guadalupe River Park.
In collaboration with project partners, SPUR is leading an initiative to develop a cohesive and integrated vision for the park's next phase. We envision the Guadalupe River Park as a hub for community engagement, a catalyst for economic and cultural vitality, a flourishing natural habitat and an inclusive gathering place for residents, workers and visitors. This white paper summarizes our initial research and community engagement and will be followed by additional research and recommendations.

Read lessons from projects in other cities:
Special thanks to The David and Lucile Packard Foundation for support of SPUR's Guadalupe River Park initiative.