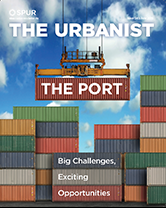 This Bay Area asset plays a major role in conversations about inclusive economic opportunity in the region.
After a half century of industrialization, the good-paying, blue-collar job has become an endangered species in the United States. But it persists in some places, and one of the most important in the Bay Area is the Port of Oakland. An understanding of the Port's complicated infrastructure and policy agenda is essential for anyone concerned about maintaining middle-wage jobs and the region's overall economic competitiveness.
To transform Market Street, teams used everything from paint to pianos, mirrors to mushrooms.
The Market Street Prototyping Festival set out to explore placemaking opportunities along the corridor. For three days this past April, more than 50 public art and design installations took over the sidewalks along Market Street between the Embarcadero and 10th Street. The goal? Strengthen Market as a destination by improving public spaces, which promote health, happiness and public engagement.
Connecting People, Places & Things
Rena Tom spends her days getting coffee with the most interesting people in town—and dreaming about donuts.