Urban Field Notes: Market Manipulation
To transform Market Street, teams used everything from paint to pianos, mirrors to mushrooms.
Text and photos by Molly Schremmer
June 9, 2015
Market Street acts as the backbone and central corridor of San Francisco, and should serve as a point of civic pride. Instead, it is often perceived as a place that divides neighborhoods and attracts negative activity rather than positive.
The Market Street Prototyping Festival set out to explore placemaking opportunities along the corridor. For three days this past April, more than 50 public art and design installations took over the sidewalks along Market Street between The Embarcadero and 10th Street. The goal? Strengthen Market as a destination by improving public spaces, which promote health, happiness and public engagement.
Over 50 teams created beautiful, thoughtful and interactive installations which aimed to activate the street and to engage commuters and visitors alike.  The teams were sponsored and advised by "design captains," including folks from the Exploratorium, Autodesk and California College of the Arts. (A collaboration between the San Francisco Planning Department and the Yerba Buena Center for the Arts, the festival was made possible through a grant from the John S. and James L. Knight Foundation.)
For these three days, commuters and visitors got to experience a very different Market Street: one that was more active, more engaging—and more loved.
Show Box
A street theater cleverly constructed from extra-large cardboard tubes usually used for forming concrete piers. The theater, a collaboration between Counter Pulse and Jensen Architects, had impressive programs all weekend long, engaging passersby with music and other performances.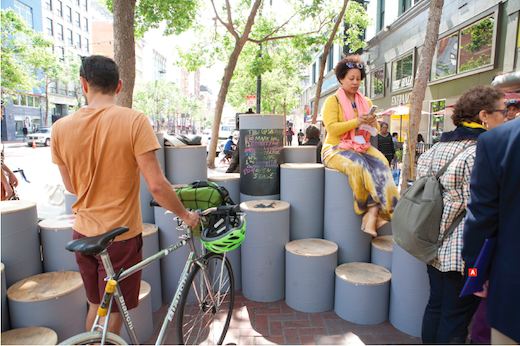 Data Lanterns
This project by Future Cities Lab was probably the most high-tech installation. A lantern was installed in the Financial District by one entrance of the Montgomery Street BART Station. Connected to data about the arrival and departure of trains, buses and ferries, the lanterns displayed the information via lights in various colors and patterns.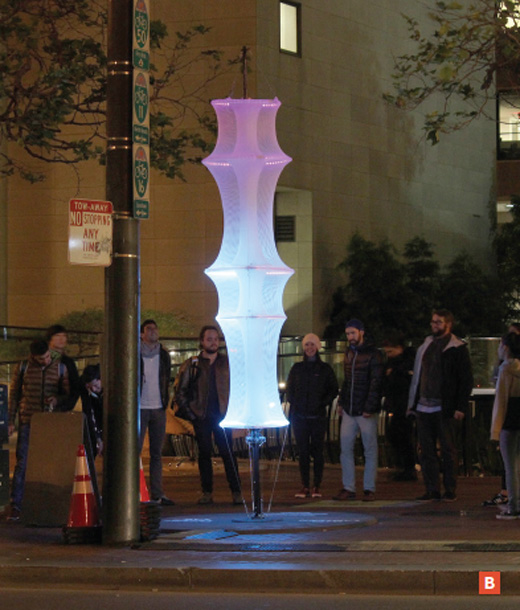 Emoti Bricks
My team (Mithun + Mycoworks) created a series of three walls made of bamboo, cinder block and mycelium spinning bricks (mycelium is the root system of mushroom).  Our goal was to encourage communication between people from all walks of life via easily-translated pictograms, ranging from ancient petroglyphs to modern emoticons.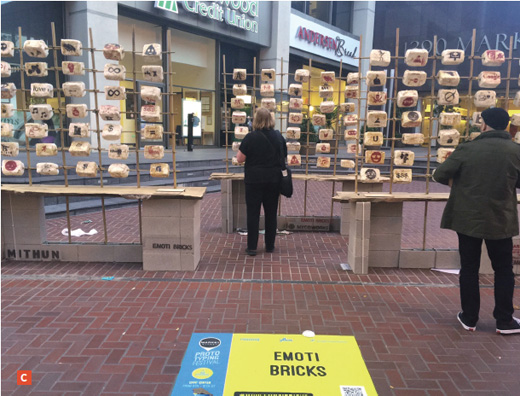 Peep Show
This installation, which I heard described as a "walk-through kaleidoscope," probably inspired the most selfies. Designed by David Baker Architects, it was a tunnel in the Civic Center district made up of mirrors and offered the occasional peek at the sidewalk beyond.
Knock Stop Music
Two sets of cardboard stoplights near The Embarcadero allowed users to generate blinking lights and music "with and for each other." Conjured up by Autodesk and Daily Tous Les Jours, the installation enabled you to collaborate on beats and patterns with someone across the street.