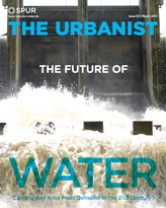 How Bay Area supply can meet demand in the 21st century. Excerpted from the SPUR report "Future-Proof Water."
Monumental investments in water delivery and infrastructure — largely to move water from north to south and east to west — supported the state's economic expansion and urban growth in the 20th century. Though the Bay Area's water supplies are sufficient today, in the future and in times of drought, we will need more water than we currently have.
A designer urges the Bay Area to take a lesson from the London Tube and transform its transit experience into something inspirational.
Art installations like those found in the London Tube could soon be a reality in the Bay Area due to the efforts of organizations such as SubArt, which is working to reinvent the mass transit experience in San Francisco by using art to transform BART and Muni Netro stations. Until then, our inspirational commute can be found in London.
The architect, author, urban planner and father of New Urbanism reflects on the movement's always compelling, ever-controversial, evolution and describes for us what he sees as its latest incarnation — "lean urbanism."
"Lean. Guerilla. Incremental. Vernacular. Tactical."