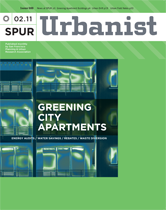 Living at 8th and Mission gives me a front row seat to the day-to-day life of the mid-Market area and a strong desire to see the often-discussed revival come to fruition. With the recent approval of the CityPlace mall and the groundbreaking for the remodel of the 50 U.N. Plaza federal building, it's possible to see some momentum toward a more vibrant streetscape.
Read More »
What will it take to green the buildings we already have?
New green construction codes are important, but in a built-out city like San Francisco, retrofitting our existing built environment is key to creating a truly sustainable city. SPUR recommends creating a web-based tool that will educate property owners and increase awareness of the many free incentive and rebate programs currently available in San Francisco.
Read More »