Urban Field Notes: Four Iconic Buildings Should Inspire Mid-Market Revival
February 18, 2011
Living at 8th and Mission gives me a front row seat to the day-to-day life of the mid-Market area and a strong desire to see the often-discussed revival come to fruition. With the recent approval of the CityPlace mall and the groundbreaking for the remodel of the 50 U.N. Plaza federal building, it's possible to see some momentum toward a more vibrant streetscape.
That momentum has heightened my awareness of the great buildings along Market and my hopes that some of this architecture be revived to preserve the character of neighborhood. Here are four buildings I'd like to see be part of a mid-Market revival.
Hibernia Bank Building — Empty since 2000, it is now in the hands of a real estate investment group who intend to remodel and lease the space.
Odd Fellows Hall — While still home to the Fellows today, one of the building's main tenants is a ballet school, making it possible to see this space as a future hub for performing arts organizations.
Eastern Outfitting Company Building —Appearing idle from the street, this space
could be renovated to become a home to hip startups who would be well served by the building's distinctive style and great location.
San Francisco Mart/Market Square — Its blocky nature and large mass mean thousands of square feet ready for mixed-use redevelopment. It would be great to see some of the space go to a large permanent marketplace in the style of Toronto's St. Lawrence or Philadelphia's Reading Terminal markets.
The future of this section of Market Street remains unclear.  Regardless, great architectural stock is on hand and waiting to be part of any renewal.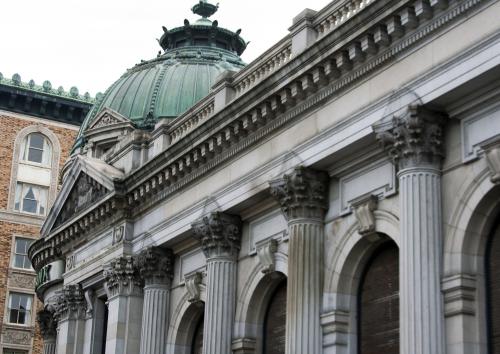 Hibernia Bank Building.  At the corner of McAllister and Jones, the Hibernia Bank has been straddling the Tenderloin and mid-Market areas since 1892. Having served as a bank for most of its life, the building was most recently home to the SFPD Tenderloin Task Force. Its distinctive dome, long colonnades and rounded stairway spilling onto the street make it easy to see this space, designed by Albert Pissis, becoming a neighborhood centerpiece.

Eastern Outfitting Company Building. With "Furniture and Carpets" emblazoned
across its frieze, this building near 6th and Market was originally home to them Eastern Outfitting department store and subsequently Union Furniture. Architect George Applegarth's 1909 treasure has large windows that open on a pivot not often seen on buildings from this period. The windows, combined with the two massive Corinthian columns that flank the façade, make it a Market Street keeper.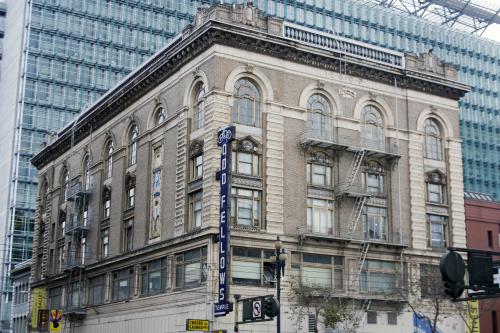 Odd Fellows Hall. At 7th and Market, this 1909 structure was designed by George Dodge. The building replaced the original Odd Fellows Temple that was destroyed in 1906. Sitting in the shadow of Morphosis' Federal Building, the hall is in stark contrast to its modern backdrop. It has many classic architectural details and great arched windows on the top floor.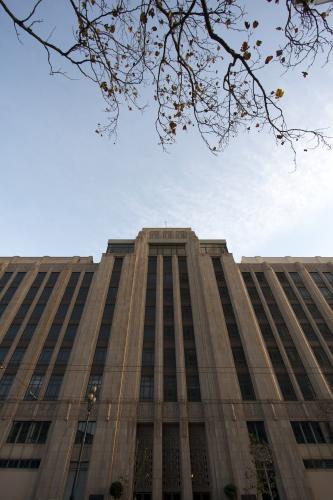 SF Mart/Market Square. SF Mart's Mayan-inspired art deco details can be missed on its sometimes austere exterior, which stretches along Market from 9th to 10th. The building was designed by Capitol Architects and completed in 1937.