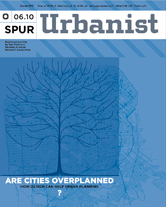 Why planning needs design once again
Why has the involvement of designers in urban planning dwindled over the last century? What can planners learn from the recent movement in "design thinking"—and how can these lessons lead to more visionary planning and the design of more humanist places?
Read More »
Artists have always seized upon the frayed patches of cities, where lower rents, available space, and fewer rules make the creative life possible. Last fall, the San Francisco Arts Commission's Art in Storefronts program brought together artists and vacant storefronts in three neighborhoods—Central Market/Tenderloin, Bayview, and the Mission—to call attention to the economic and community development potential of this symbiosis.
Read More »