When Transit, Biking, and Walking Win
A year filled with new bike and bus lanes, expanded and improved routes, and new transportation leadership around the Bay.
By Arielle Fleisher
March 4, 2020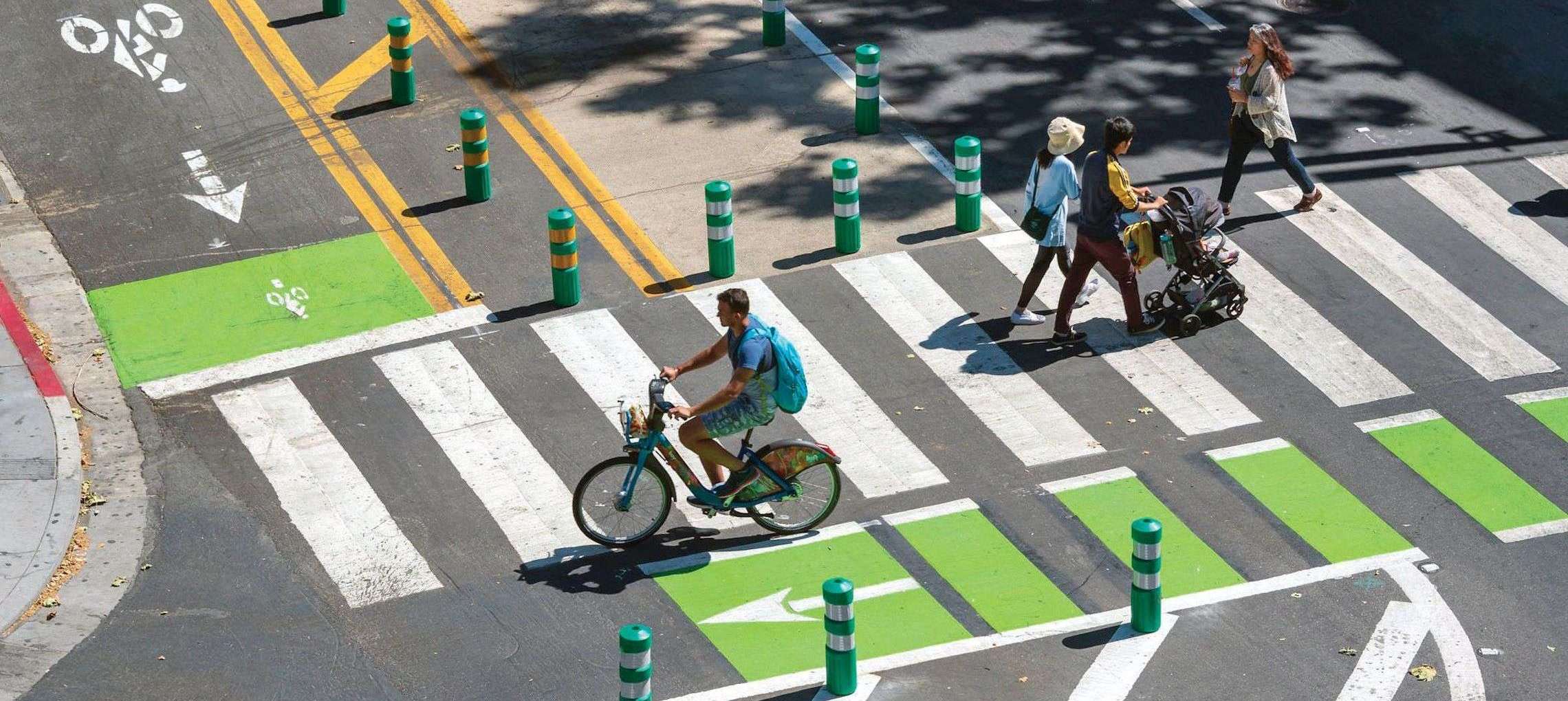 When the headlines are all about cost overruns and delays, it can be easy to forget that we do have transportation wins to celebrate. In 2019 the region accomplished many important, long-needed and exciting transportation projects and plans.
The Bay Area's transportation system is in need of a transformation. Passenger vehicles are not only the primary mode of transportation, they are the single greatest source of carbon emissions produced in the Bay Area and California. The amount of people who actually use transit is problematically low: transit currently carries only about 3 percent of all trips and 12 percent of work trips in the region. There are too few places in the region where transit is truly reliable and frequent and streets are truly safe and pleasant for walking and biking.
A better transportation system for the Bay Area is possible, but making big moves has not been the region's strong suit. The 2019 headlines tell the story of large projects and system expansions that have suffered from cost overruns and delays — and resulting commuter frustration. Further, paying to run and maintain the transportation system we've already built — let alone the transportation system we want — has been and continues to be a tall order.
And yet… It is true that in 2019 transportation projects were often cause for frustration and it is also true that we didn't build enough bike lanes or widen enough sidewalks. But the story of 2019 isn't one of only disappointment. The wins, of which there are several, are real and deserving of acknowledgment. What is clear from these successful projects is how much better they work when we work together as a region to implement them.
2019 transportation wins
Oakland's Department of Transportation kicked off its $100 million, three-year groundbreaking equity-focused paving plan and completed "Let's Bike Oakland"— its bicycle plan focused on addressing the needs of the city's most vulnerable residents.
Caltrain passed its first-ever Business Plan with the goal of moving the system from an infrequent, commuter-focused service to an outstanding transit system that serves many different people for many different kinds of trips.
The Metropolitan Transportation Commission kicked-off a business case for regional fare integration — the first time the region has studied the issue in over a decade — to uncover how strategic changes to the region's fare policy can make transit more convenient to use and affordable for more people.
The long-awaited SMART expansion to Larkspur opened, offering the first direct, traffic-free connection to and from San Francisco and the inland cities in Marin and Sonoma.
The San Francisco Municipal Transportation Agency also initiated a Vision Zero Quick-Build program focused on streamlining project delivery in order to efficiently, quickly and cheaply install much-needed bicycle and pedestrian safety improvements.
The SFMTA Board unanimously passed Better Market Street and in doing so took an ambitious stand against private automobiles and full-heartedly honored its Transit First and Vision Zero policies. At the end of January, Market Street became a car-free east of 10th Street.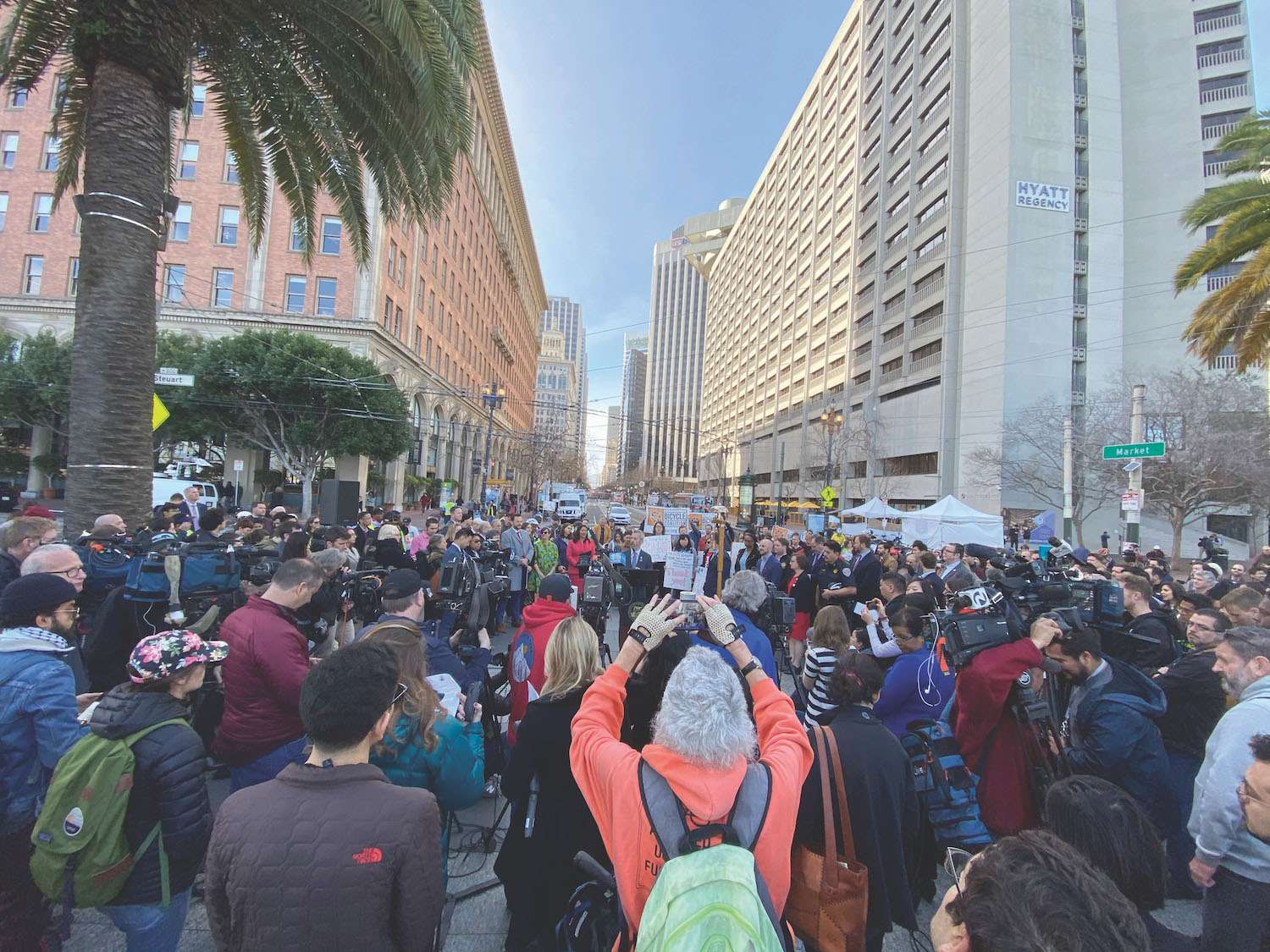 There were several appointments in transportation leadership we can celebrate from 2019: TAM, SFMTA (see p. 10), BART, MTC, Alameda CTC, and the California Transportation Commission.
TransForm's ReX Network demonstrated the power and potential of a coordinated regional express bus network using managed lanes on area freeways to move more people quickly with fewer cars.
SamTrans launched its first express bus route, the Foster City Commuter Express, to standing room-only crowds. Many riders are first-time transit riders. The route is the first of six express bus routes SamTrans plans to roll out.
Better Bikeways San Jose remade 10 miles of San Jose's downtown streets into a network of protected bike lanes in a matter of months, allowing hundreds of thousands of people to safely bike (or scoot) for their daily transportation needs.
For the first time in seven years, the Bay Area launched a new ferry route. The new route, which runs between Richmond and San Francisco, surpassed its six-year ridership goals just six months after opening.
Benthem Crouwel, responsible for the design of Amsterdam Central Station and Schiphol Airport, among other noted infrastructure projects, was selected to design San Jose's Diridon Station in collaboration with Arcadis.
VTA rolled out service frequency upgrades on major lines as well as improved bus routes and a new light rail line — improvements that will result in shorter waits, 20 routes operating every 15 minutes or better, and streamlined connections to regional services.
A brand-new bicycle path opened on the Richmond-San Rafael Bridge, completing a decades-long, $20 million quest that's been in the works since the bridge opened in 1956.
In February, Assemblymember David Chiu announced "The Bay Area Seamless Transit Act," or AB2057, a new proposal to streamline transportation around the region (inspired by SPUR's 2015 Seamless Transit report). We hope this is just one of many big transit wins in 2020.