Act Locally (and Regionally): A New Leader for Muni
By Allison Arieff, Editorial Director
Urbanist Article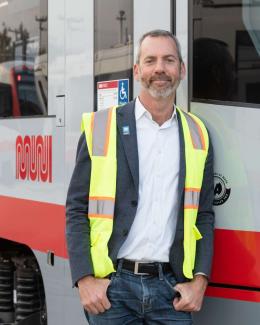 Photo by Jeremy Menzies, courtesy SFMTA
Jeffrey Tumlin very publicly gave up his car at the start of 2020 and that's likely not the last bold move on his agenda as the newly minted director of the San Francisco Municipal Transportation Agency (SFMTA). The former director of strategy at Nelson\Nygaard Consulting Associates had a brief stint as interim director of the new Oakland Department of Transportation, but this is his first time as permanent director of a public agency. Jeff has lived in San Francisco for 28 years and served on the SPUR board since 2004. SPUR asked him some questions about the opportunities (and challenges) ahead.
What made you decide you wanted to manage a public agency — and why now?
When I served as interim director of the Oakland Department of Transportation, I thought it would help me get the idea of public service out of my system. It had the opposite effect. Oakland taught me that there's no better, faster place to change the world than at municipal departments of transportation.
I've advised cities all over the world for over 20 years, and San Francisco has always been among my most conservative clients. It has a hard time balancing existing residents' desire to keep things the same versus the city's historic role in welcoming newcomers. While we have repeatedly reaffirmed our Transit First Policy since 1973, it has never been implemented.
Now, however, we have a mayor who is clear about her values and who tenaciously supports the structural change necessary to deliver a truly equitable city. We have a Board of Supervisors ready to support a genuinely progressive agenda. And we have a strong, dedicated SFMTA Board ready to make tough calls to modernize our mobility systems. There has never been a better time for me to serve the only city that has ever felt like home.
This feels like as a big a deal as being elected president. So ... what do you plan to do in your first 100 days?
I have two primary tasks at SFMTA:
• Foster an inclusive and welcoming culture within the agency, as befits the promise of San Francisco.
• Clear a path for my amazing staff to do their good work by building trust with our policymakers and changing the way the public thinks about the role of transportation.
So my first 100 days is mostly a lot of listening to staff and policymakers, as well as challenging them to reconsider solutions to the city's problems that were politically impossible a decade ago. Though I can't respond to all comments, I'm also reading all social media comments and spending my weekends on the bus, eavesdropping on passenger conversations. My favorite Muni destinations include Heron's Head, Fort Funston, Ocean Beach and the new Crosstown Trail.
What do you see as the biggest opportunity for Muni?
The thousand small projects that will reduce delays and improve reliability of the above-ground buses and trains. And a few medium-sized projects that will improve frequency, capacity and reliability of the subway, including a new train control system. Stay tuned for additional ideas.
Muni faces many challenges. Which is the most formidable?
All of our challenges are exacerbated by our problems with hiring and retaining staff. Some of those problems are bureaucratic, and our new HR director is addressing those. But like most employers, the SFMTA is suffering from a dire shortage of housing for our workforce, and the grueling commutes that so many of our workers must now endure. We are steadily increasing worker pay, but not fast enough to keep up with rising housing costs.
What does equitable transportation look like in San Francisco?
Muni connects people to opportunities, and our priority is to provide better mobility choices for those with the fewest. That means prioritizing personal security for those who are most vulnerable, affordability for those with the fewest resources, and improved speed and reliability for those with the least access to employment and education. More specifically, it means reducing delay on the T-Third and building better connectivity for places like Hunters Point and parts of the Excelsior. Perhaps you noticed that transit inequity is a featured supporting character in The Last Black Man in San Francisco?
How can San Francisco embrace more transit-oriented development?
In the U.S., San Francisco has been a leader in transit-oriented development, including neighborhood plans like the Market and Octavia Plan. But we should be ashamed by comparison to most Canadian cities, especially cities like Vancouver and its suburbs. Canadians use San Francisco as the cautionary tale of the devastating effects of under-supplying housing and forcing low-to-moderate-income households into automobile dependency. Single-family neighborhoods in Vancouver welcome high-rises around their rail stations, in exchange for specific community benefits.
At SFMTA, we are doing what we can to add housing, including building atop our bus and rail yards, like our project at Potrero Yard. Because the housing shortage is so acute, we are also using our land to accommodate those living in their cars, and we are looking at providing dorms for our workforce.
How will Muni and BART be more closely aligned?
The hard part of planning the next transbay rail tunnel is not the Bay crossing, but what to do with it in San Francisco. If the tunnel tracks are designed to carry BART cars, where should the new line extend in San Francisco to make sure it generates enough ridership in both directions to justify its cost? If the tracks are designed to carry standard rail cars between the Transbay Transit Center and Sacramento, how should we design new Muni subways to serve it? BART and Muni's futures are inextricably linked.
How will Muni work with the 27 other transit agencies in the region?
We are working with all of them on a major update to the good but clunky Clipper Card. We are ensuring that Golden Gate Transit and SamTrans have access to Muni's transit-only lanes. We are supporting AC Transit's efforts to improve service across the Bay Bridge. We are leading on Caltrain's efforts to extend service to the Transbay Transit Center and supporting the agency's remarkable business plan. We are also ready to play our role supporting schedule coordination and fare policy integration at the regional level. And we're coordinating with the Santa Clara Valley Transportation Authority and cities like San Jose and Oakland to advocate for a more sustainable, urban future for the region.
We read that you recently gave up your car…
Driving a car is the most dangerous thing most of us will ever do. Human bodies are small and fragile. The design tolerance of the human body matches our peak sustained running speed — around 13 mph. Be kind to each other out there.