Urban Field Notes: Up, Down and Across the City
Hours of adventure on San Francisco's new 17-mile Crosstown Trail.
Words and Images by Jena Metwalli
October 20, 2019
I spent the summer of 2019 interning at SPUR's San Francisco office. During the final weeks of my stay, I decided to check out the new S.F. Crosstown Trail. The trail is a 17- mile route that traverses San Francisco while connecting the majority of the city's parks and green spaces. As an avid runner I felt this was the ultimate finale to a great and educational summer at SPUR.
I disembarked the Caltrain at Bayshore station with the normal Wednesday commuter traffic and began my trek diagonally across the city. I began my journey by observing the residents of Visitacion Valley engage in their morning routines. I followed the trail as it wove through residential streets between homes, with gardens, artwork, and playground equipment along the way, until I finally made it to John McLaren Park.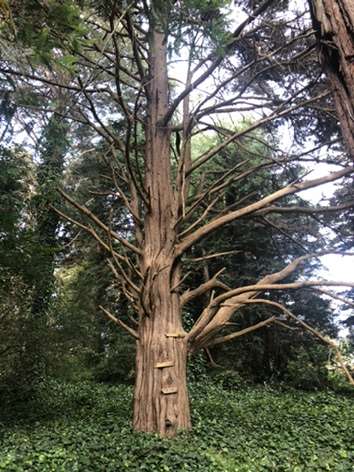 In McLaren Park a distinct contrast began to emerge. Instead of witnessing someone's morning, and walking intimately between residents' homes, I experienced a public park with playgrounds, picnic areas, tennis courts, fields and trails. In the presence of such beauty I began to get excited for what other treasures lay ahead. By the time I exited McLaren and reached Glen Park, I felt more comfortable walking through residential streets. I was able to appreciate the unique architecture of the homes I passed.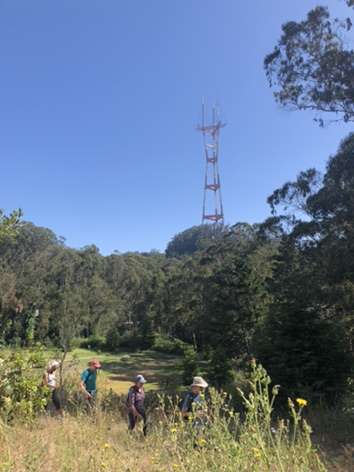 Glen Park will forever be my favorite part of this experience. Getting a little lost there allowed me to cross paths with the Wednesday Walkers. They are the most delightful walking group from Berkeley, a small group of friends who explore new trails or paths every Wednesday. As I quietly followed them, feeling like a  y on the wall, I could not help but smile at how joyful they were. They kindly asked if I was also hiking the Crosstown Trail, to which I enthusiastically responded, "Yes!" From there, we walked through the remainder of Glen Park, Forest Hills, and Golden Gate Park. While chatting we enjoyed trails full of greenery and trees but never fully escaped the sounds of transit, people and construction.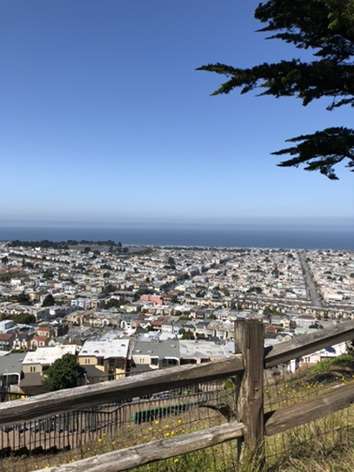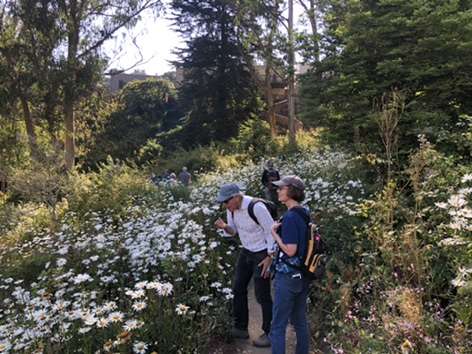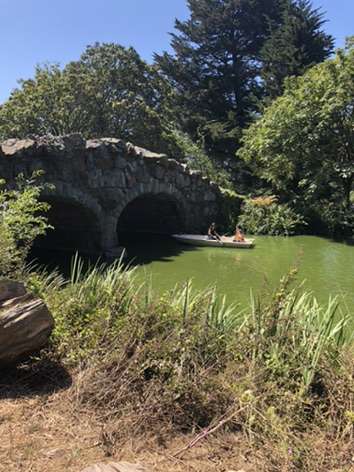 As I waved goodbye to my new found hiking friends, to  finish the trail alone, I reflected on the secret beauty I had seen along the way; the 16th Avenue tiled stairs, a random patch of daisies, the Sokolo  Art and Framing Shop located in the garage of a home, 360-degree views from Grandview Park, rowboats  floating along Golden Gate Park's Stowe Lake, all culminating in the Park Presidio, and  finally seeing the Golden Gate Bridge for the  first time! I remain in awe of all the unique spots I experienced on my  five-hour excursion across S.F. on the trail. I will do it again the next time I visit San Francisco, and I will definitely make sure it is on a Wednesday!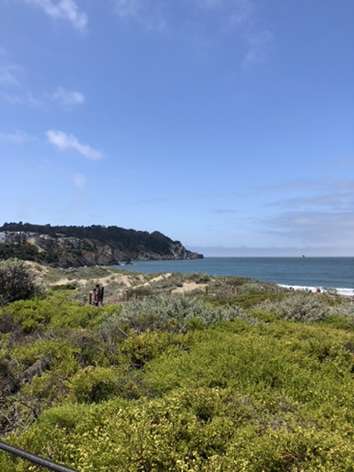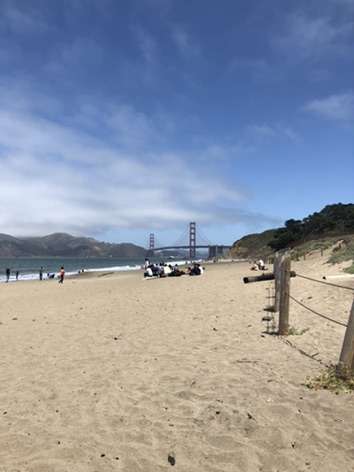 A final note: As the Crosstown trail is newly opened it still does not have adequate signage to guide walkers, especially those new to the city. You can download cue sheets and maps by visiting crosstowntrail.org or downloading the OuterSpatial app.