Be Regionable: An Urbanist Poster Campaign
Urbanist Article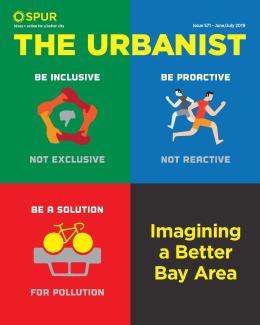 SPUR is hard at work on a regional strategy, a multiyear initiative to envision a more equitable and sustainable Bay Area and propose bold strategies to get there. And we're always looking for new and engaging ways to get the citizens of the Bay Area to think regionally.
So we were so thrilled when a unique opportunity came our way. Earlier this year, SPUR had the chance to partner with TBD* at California College of the Arts (CCA), a student-run design studio that's using design to empower Bay Area nonprofits. You know those great etiquette posters you've seen on BART trains? TBD* did those. They've also worked with the ACLU and the Mayor's Office of Civic Innovation in San Francisco.
We were paired with two terrific designers — Ryan Legaspi and Batul Aliasger Bahrainwala. Their brief? Inspire people to feel passionately about not just the city they live in but the whole region we're all a part of. Ryan and Batul immersed themselves in the subject matter, so much so that Ryan became a vocal advocate of urban density and Batul started taking bikeshare to school every day. We're excited to share their work.