Seamless Transit
SPUR identifies the barriers the Bay Area needs to overcome in order to improve the transit experience for riders.
May 11, 2015
The Bay Area's prosperity is threatened by fragmentation in the public transit system: Riders and decision-makers contend with more than two dozen transit operators. Inconsistent transit experiences and disjointed planning and investment make our transit system less efficient, less usable and less likely to help us meet our goals for a thriving and sustainable region.
The Bay Area economy and labor market is increasingly regional: 29 percent of Bay Area commuters cross a county boundary to get to work each day. These long commutes, many of which traverse the bay, put incredible stress on constrained transportation corridors. Two-thirds of Bay Area commuters drive to work alone, creating significant congestion on the region's freeways and bridges.  Dramatic growth in employer-run shuttles over the last few years demonstrates the demand for alternatives, both to car travel and to regional transit such as BART and Caltrain, which are running short on room for passengers. As people move further out to find affordable places to live, the expectation is that the use of regional travel will grow.
For these reasons and others, such as managing sprawl and reducing greenhouse gas emissions, the Bay Area invests heavily in transit. It is spending $21 billion over the next 25 years to build public transit infrastructure and $159 billion to operate and maintain the transit system.[1] Despite similar expenditures in the past, overall transit ridership has not been growing in the Bay Area (as shown in Figure 2 on page 8). Most trips within the Bay Area are still made by car, with transit accounting for only 3 percent of all trips.[2] Part of the reason it's hard to increase transit ridership here may be due to how fragmented our system is compared to others.
Many could benefit from more integrated transit.
We have the opportunity to increase the market share for transit in places where there is significant demand for regional travel. Half as many people travel from central Alameda County to San Francisco as travel from the Peninsula/Silicon Valley/San Jose to San Francisco, for example. However, 44 percent of the Alameda County trips use public transit while just 17 percent of the Silicon Valley trips use public transit. [3]
For the large segments of our population who can't afford to own cars or are unable to drive, access to integrated transit means access to the same opportunities that those with cars have; better transit would help people meet their social needs and enjoy all that the region has to offer.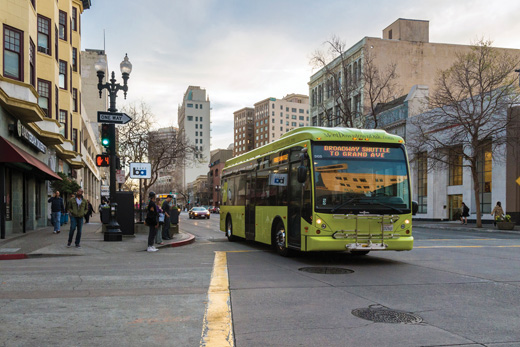 Photo by Sergio Ruiz
Transit fragmentation can take many forms.  Funded and managed by the City of Oakland and operated by AC Transit, the free B shuttle in downtown Oakland was a new transit service added to existing AC Transit and BART services.
Click to enlarge >>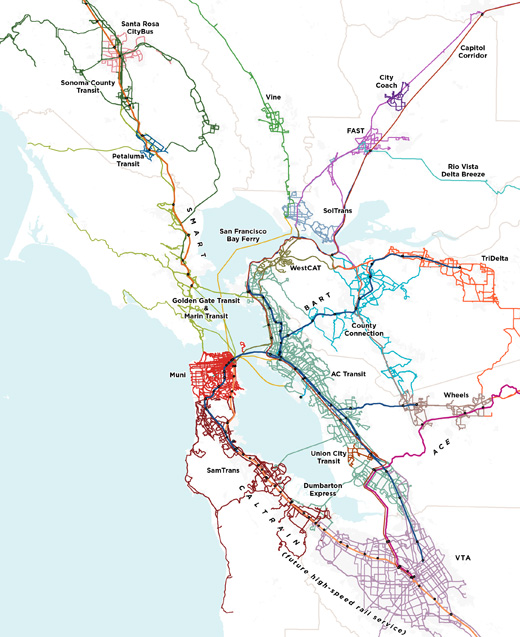 Bay Area Public Transit Agencies​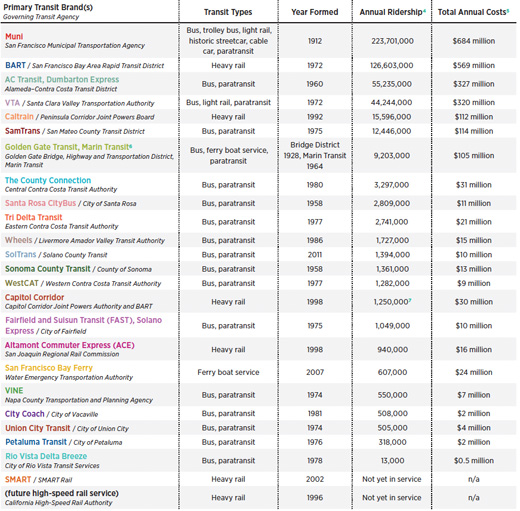 The Bay Area has an exceptionally large number of transit agencies. The agencies described here represent the vast majority of the region's public transit ridership and all receive some regional, state or federal subsidy. The "Big Seven" (Muni, BART, AC Transit, Caltrain, VTA, SamTrans and Golden Gate Transit) each have annual ridership over 9 million. The remaining agencies carry only four percent of the region's transit trips.
Source: Metropolitan Transit Commission, SPUR analysis
Fragmented transit is also exacerbating many of our growth challenges, and integrating it could be part of the solution. Areas like the Peninsula and inner East Bay are already oriented around existing or planned major transit lines. Making those lines part of a more seamless, more useable regional transit network could build confidence that we can grow jobs or housing around transit stations without adding more traffic.
SPUR's research shows that there are many beneficiaries of integrated public transit, including:
Customers, who experience increased ease of travel as well as greater transit availability and reliability.
Businesses and institutions, which are able to attract workers from across the region to job sites and meet their sustainability goals.
Cities, who are trying to grow around transit stations and encourage mode shift away from the car.
Transit operators, who can better manage demand, respond to contingencies and manage system expansion costs. They can potentially reduce operating costs through coordinating resources, sharing expenses and collaborating for greater buying power. Transit agencies may have greater access to funding and greater public support.
Taxpayers, who receive greater social or environmental benefits from the resources they put into the transit system.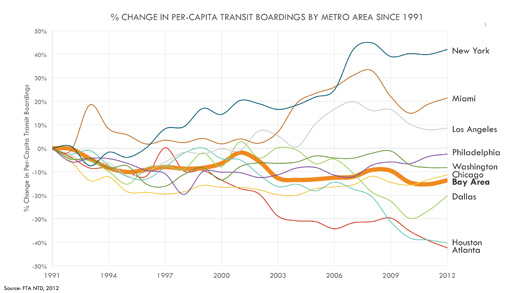 Transit Ridership Levels Across US Regions
In the Bay Area, public transit per-capita ridership has declined slightly while that of other regions has grown. The region's rate of usage has gone down from an average of 79 trips per person in 1991 to 68 trips per person in 2012, a decline of 14 percent.
Source: Metropolitan Transportation Commission, based on Federal Transit Administration National Transit Database, 2012.
Having many transit operators does not have to result in a fragmented system
The institutional setup of Bay Area public transit is arguably the most complex in the United States.  Riders navigate more than two dozen unique public transit "brands," including Muni, BART, AC Transit, the Santa Clara Valley Transportation Authority (VTA), Caltrain and many other bus, rail and ferry operators.  Each transit agency operates and plans its system independently and has different funding sources.
In most major metropolitan regions, there is one dominant transit operator, such as MTA in New York City or RDT in Denver. But the largest Bay Area transit operator—the San Francisco Municipal Transportation Agency (SFMTA) — carries only 45 percent of the region's trips. In the Bay Area, using more than one of the region's transit operators for a single trip is often a necessity, but that doesn't mean it's easy. Riders face barriers on trips run by multiple operators, including unfamiliar maps and timetables, multiple fares, schedules that are not coordinated for transfers and long walks between transit connections. Riders also don't know how to take advantage of all the transit that operates in their city.
A system with multiple operators does not have to result in a fragmented transportation experience.  Roads operated by different entities connect seamlessly for drivers, for example. A driver does not need to understand who operates each road and pay each time he or she crosses into a new jurisdiction.
Similarly, multi-operator airline trips can be made with one ticket. There are regions in the world where many different transit operators combine their efforts to look and operate more like a single, unified network — without actually merging into one operator. Greater London (the regional area that includes the City of London) has integrated dozens of transit operators so well that the underlying complexity is completely hidden from the rider.
Better transit integration would not only improve customer experience, it could address other major transit challenges. While some transit lines in the Bay Area have capacity crunches during peak hours (such as Caltrain, BART's trains across the bay and many Muni routes), a significant amount of transit capacity goes unused, with buses or rail cars running empty. Local transit systems are costing more while producing less in the way of ridership.  That's untenable. Highly successful regional services like BART and Caltrain are nearing a breaking point because we have not invested sufficiently in their upkeep. This is due in part to a lack of coordination in the region's problem solving and in its transit investments.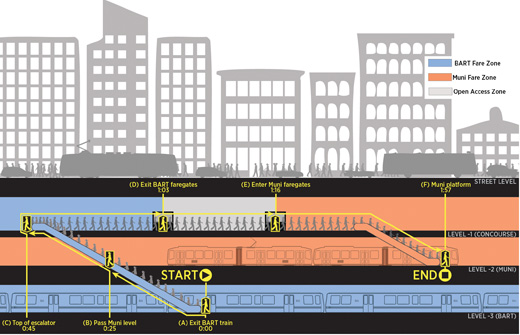 Isn't There an Easier Way to Get From A to B?
The experience of transferring from one transit vehicle to another—especially knowing whether that transfer is safe and predictable or not —can have a significant impact on which mode of transportation people choose. Transfers in the Bay Area can be physically demanding and at times impossible for riders who have limited mobility or those with a stroller or other equipment.
At Embarcadero Station in downtown San Francisco, for example, passengers who wish to transfer between BART and Muni must first ascend to the concourse level of the station to pass through fare gates before going back downstairs to the other operator's platform. This transfer would take only 25 seconds if it were possible to go directly from BART to Muni. Instead it takes at least two minutes under ideal conditions to make the up-and-down trip.  The transfer takes even more time during peak travel times or during special events such as baseball games, when passengers line up at the station fare gates.
Illustration by Eric Eidlin
The region needs renewed focus on seamless transit
The idea of integrating Bay Area transit and creating a seamless user experience is not new but current events make the need for action more pressing.
First, the region has several new multi-billion dollar transit projects underway, and each could be more successful if it were well integrated for riders. These include VTA's BART Silicon Valley Extension to San Jose/Santa Clara, Caltrain's Downtown Extension in San Francisco and SFMTA's Central Subway. Lower-cost projects where integration also matters include bus rapid transit projects by SFMTA, VTA and AC Transit; the Sonoma-Marin Area Rail Transit (SMART); and Altamont Commuter Express and Capital Corridor intra-regional services in the East Bay.
Not only do these transit projects compete with one another for funding and ridership, but some are being planned in a way that leaves gaps in the network.  SMART stops short of the Larkspur Ferry Terminal; the Milpitas BART station is a half-mile away from the closest VTA light rail station; and the Muni T-Third line stops just short of the Bayshore Caltrain station. As a region, we need to make better connections to improve the transit network as a whole and make the most of these investments. The state's big transportation initiatives also require integration to succeed: The majority of California's cap-and-trade program funding is directed to transit or transit-oriented development, and eligibility for new funding may depend on achieving a higher level of coordination. The state is also investing heavily in high-speed rail, which would connect with multiple systems in the Bay Area.
Second, we need to scale existing efforts — and accomplish more integration sooner. Clipper 2.0, the process now underway to develop the next generation of the Clipper fare payment system, should include transit passes that work across the region. Ensuring better connections at new transit hubs around the region should also be a priority (and it's a bigger problem than any one agency or advocacy group has been able to address). There is a regional Hub Signage Program, which installs signs to help people navigate the region's big transit hubs, and it is a significant step toward a more seamless system. But the Bay Area also needs a universal regional transit map that integrates multiple operators.
Third, fragmentation in urban transportation is growing rapidly. New mass transit operators include private employer shuttles, privately run transit vans such as Leap, Chariot and Shuddle, publicly accessible private shuttles like UC Berkeley's campus circulators and Emeryville's Emery Go-Round, and city-funded transit like the B Shuttle in Oakland. Public and private personal transportation solutions like Bay Area Bike Share and ride-hailing and ride-sharing services such as Uber, Sidecar and Lyft are also on the increase. Many of these services are attracting the same market that public transit would, and in many cases they can serve passengers better or for less money. To be part of an integrated system, public transit offerings will need to become more convenient and easier to navigate and understand.
Finally, our region's growth plans rely on a cohesive regional transit network. Plan Bay Area, the regional transportation and land use plan first adopted in 2013, worked with local jurisdictions to identify locations for growth around transit. The plan focused 66 percent of jobs and 80 percent of housing in Priority Development Areas — places that have public transit and capacity for growth. To actually achieve these goals, it is necessary to have an integrated transit system that reliably serves this new growth. We could expect more local acceptance of transit projects and growth around stations when they imply access to an integrated regional network.
Key findings on transit integration
The key findings of SPUR's research are:
Regional and state leaders have sought to integrate Bay Area transit for decades, with mixed success.  In the mid-1990s, for example, the state authorized the Metropolitan Transportation Commission (MTC) to address transit coordination. Regional Measure 2 in 2004 provided more funding and authority for coordination. The region has implemented the Clipper fare payment technology, 511 traveler information services and the regional Hub Signage Program.  However, these accomplishments have required significant financial and political resources.
Local operators have to respond to local priorities.  Transit operators often have no incentive to integrate with other operators: Integration can cost time and money, it can take away control over revenue, and it may yield little recognition for the effort. More resources and goodwill are needed to further regional integration efforts.
SPUR found some apathy among stakeholders about facilitating multi-operator trips. State and federal transit funding programs have not emphasized integration.
City governments in the Bay Area have had little involvement in promoting transit integration, despite the potential benefits to residents, workers and neighborhoods.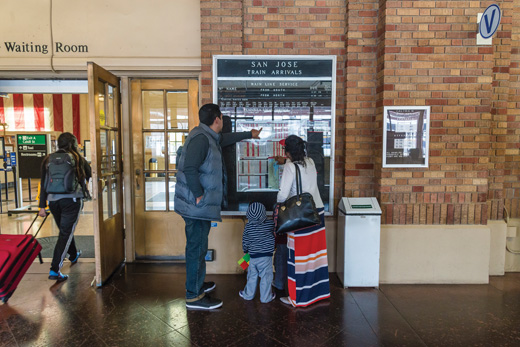 Each transit operator in the region uses its own transit maps, visual language and nomenclature. Our photographer caught riders in stations and at stops throughout the region struggling to make sense of the information provided to them.
There is agreement that we need better governance structures to support integration, but there is little agreement on what those structures should be.  Governance solutions could include a few operators working as peers, a city or mayor providing leadership or MTC having a stronger role.
Consolidating operators could be a governance solution that reduces the need for coordination.  However, mergers are difficult to accomplish and the anticipated benefits may not necessarily be realized.
Effective integration efforts such as fare passes or shared services have taken place at the subregional level between two or three operators.  But these are difficult to scale up to cover the whole region. Many other integration opportunities are not being pursued due to lack of capacity or a constituency to advocate for them.
Where transit integration has worked, both in the Bay Area and elsewhere, its success has depended on three factors: a focus on customer experience, the development of trust between agencies, and incremental, bottom-up collaboration. It has also required agencies to articulate goals and track progress toward those goals. Traditional cost-benefit analysis has not spurred integration.  Rather, it has taken leadership and vision.
Data plays a large role in integrating transit, both in providing information to riders and in furthering the business of improving transit. Private-sector solutions like Google's Transit Trip Planner are now overcoming longstanding information challenges.  Making more data about our transit systems available would further improve third party offerings and transit operators' decision-making.
Should there be mergers?
Mergers, or consolidation, of transit agencies has been a popular recommendation for solving these problems caused by transit fragmentation in the Bay Area. SPUR's research suggests that maps, fares, schedules and long-range planning would be more cohesive with fewer agencies. However, consolidated agencies are not essential to a better transit experience nor can consolidation be easily facilitated or forced. More importantly, incremental coordination and cooperation between agencies is an effective first step towards full integration. For these reasons, SPUR's recommendations focus on coordination and cooperation as a first step in the direction of greater integration, rather than relying on the hope of agency mergers.  — R.A.
SPUR's vision for integrating Bay Area transit
SPUR has identified the barriers to effective coordination and determined the strategies and actions necessary to get from where we are today to a future in which the region's many transit options function like one system. We have identified five strategies for integrating transit.
---
Strategy 1 | Help travelers understand the value of the region's transit system and how to use it.
It's time for an iconic regional transit map that is integrated with other regional transit programs such as Clipper and 511. Ideally, this comes with more consistency in transit service information across operators. Open data enables third-party solutions like Routesy, NextBus and others to help explain the transit system for specific types of travelers.
---
Strategy 2 | Standardize fares and develop passes that encourage use of the region's entire transit system.
The next version of the Clipper Card should come with regional fare passes, making it possible for riders to select among all public transit options regardless of operator. Standardization of fare policies will help make this happen, as will a more sophisticated fare payment system that is more convenient and reliable than the current Clipper card.
---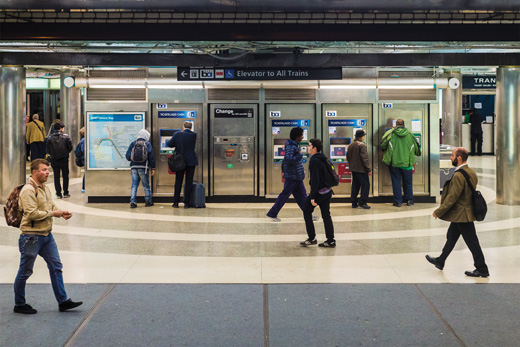 The Clipper Card has made it easier to use multiple operators but it does not work on all operators in the region, and it has not integrated fares among operators.
---
Strategy 3 | Develop transit hubs that make transferring easy.
There are several transit hubs where careful integration could make or break success for a transit-oriented neighborhood including Diridon Station, Transbay Transit Center, downtown Oakland, Brisbane Baylands, among others. Integrating multiple operators at these hubs is about creating seamless transit connections for rider as well as a truly integrated facility that blends into the fabric of the neighborhood.
---
Strategy 4 | Use an integrated approach to transit network design.
Where operators share riders or service areas, it makes sense to coordinate service planning. The benefits include more rational routes, better use of vehicles and higher ridership. Riders can experience expanded options and more frequent service. The existing Short-Range Transit Planning process, which MTC requires, could be expanded to integrate individual plans or to focus on county- or sub-regionlevel plans. Developing more regional bus services can also help fill gaps between operators.
---
Strategy 5 | Use institutional practices to promote integration.
To promote those system consolidations that make the most sense, local, regional, state and federal funding programs could be altered to provide incentives for consolidation. In many cases, there is already interest in consolidation, but some outside resources are needed to move the conversation forward. SPUR's research has found that better access to data and better tools to evaluate problems and prioritize solutions could help transit agencies seize many opportunities to provide a more integrated customer experience.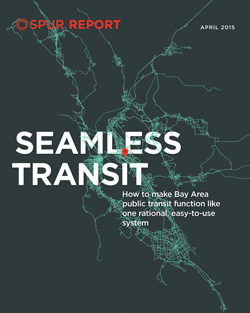 Read SPUR's complete recommendations and the full report at
In order to prioritize efforts regarding transit integration, we should ask three questions:
Will customer experience improve?
Does it increase transit's market share away from private autos?
Will it help make better places and cities?
If we continue with business as usual, each transit operator will plan and run services separately, with loose coordination from MTC. Each agency will persist in its attempts to solve rush hour crowding independent of other agencies or with only basic coordination across organizational lines. Incremental improvements to 511 and the Clipper card will continue, but each agency will still have different fare policies and traveler information. Each agency will set schedules in a way that meets its own mandates for efficiency, and coordinating connections with other agencies will remain difficult. The region cannot afford to stay on this uncoordinated path.
Without better integration, we will pay for transit that goes underused, and communities won't have confidence in putting new growth near transit. We think this future is unacceptable for the Bay Area.  Tackling inefficiencies and poor customer service of are relatively doable, affordable fixes geared at simply making it easier for people to use the public transit we already have.
Currently, regions like ours make commuters learn a dozen different fare structures. People with long commutes—many of them low-income, many who have to use multiple systems every day—are financially penalized. And individual agencies are not given incentives to help passengers navigate a trip beyond the end of their line.
SPUR believes that if we can make all of this easier, we can improve the experience of regular transit riders and quite possibly increase the likelihood that new riders will join them.
---
[1] MTC/ABAG, Plan Bay Area (July 18, 2013), http://planbayarea.org/plan-bay-area/final-plan-bay-area.html
[2] 2010–2012 California Household Travel Survey Final Report (California Department of Transportation, June 1, 2013), http:// www.dot.ca.gov/hq/tsip/FinalReport.pdf
[3] SPUR analysis of regional transit market shares, based on Metropolitan Transportation Commission regional travel demand model and Plan Bay Area projections for 2015.
[4] Total of all adult, youth and student, senior and disabled inter-operator paid transfers and non-revenue boarding, rounded to nearest thousand. Rounded to nearest 1,000.
[5] Total expenses from operations, vehicle maintenance, non-vehicle maintenance, general administration, adjustments, direct costs for providing charter services, and all vehicle lease costs. Excludes depreciation and amortization expenses.
[6] Marin Transit is a Transit Agency that funds the operation of some Golden Gate Transit buses and the West Marin Stage (sic) system.
[7] Ridership for entire 170 mile service, not only Bay Area segment.