Placemaking Underground: BART to Revitalize Stations
What if there was something visually arresting to stare at while waiting for your train?
May 11, 2015
As BART and Muni Metro riders, we know that the primary aesthetic visual attraction while waiting in a station is paid advertisements or, if lucky, an impromptu violin concerto. More likely you just traipse the drab corridors, along with nearly 500,000 other daily riders, making your way through some of the most heavily trafficked and dense pedestrian public spaces in the entire Bay Area, stopping only to wait for your train. But what if there was something visually arresting enough to make you stop in your tracks and remind you why you love living in the Bay Area?
For the first time in its 40 years of existence, BART is planning a comprehensive overhaul of its 44 stations. SubArt is working to ensure that the rehabilitation of BART stations incorporate permanent and temporary art, as well as large-scale art and design installations. And after four years of advocating for an enhanced experience in BART and Muni metro stations, SubArt is seeing success with the leadership from BART's board of directors and executive staff who are currently deliberating the creation of an art program. As BART finalizes its art-in-transit plan this spring, SubArt is highlighting the enormous positive impact that art and design has had on public transportation systems around the world and how it could change not only the experience of Bay Area commuters but also the Bay Area at large.
Based on successful models in cities like Munich, Stockholm, and Naples, SubArt recommends that the BART Board adopt a policy that includes these critical elements:
Dedicate 2% of capital improvement funds to large-scale art and design within existing stations
Involve artists and designers early in the renovation process for a larger, more cost-effective, and cohesive vision
Partner with the community and corporations to have a larger impact beyond government capacity
The fiscal efficiency and positive impact of art and design has been documented globally. Studies have shown that riders are willing to walk farther and pay more to use a station enhanced by art and design. They are also willing to wait longer for trains due to the improved environment. Art and design in transit have a multitude of other benefits, from increasing the overall use of public transportation to reducing crime and vandalism in stations, creating a safer environment for riders. Studies have also found that large-scale art and design in the underground increases female ridership, helps with wayfinding, and creates pride of place. 
Public placemaking within the BART system would offer many benefits for Bay Area communities, beyond daily commuters. Engaging local artists and community members in the planning and execution process can increase cross-cultural respect, community cohesion and pride, and encourage local investment. Other American cities, such as New York, Los Angeles, Boston, and Chicago have invested in significant underground art interventions and many more international cities, including Buenos Aires, Naples, and Taiwan, reap the benefits of comprehensive, immersive art and design programs in their public transit systems. BART's imminent redesign offers the opportunity to demonstrate the global leadership and innovation of our region. 
Opportunities for art in subways reach well beyond traditional mosaics and murals.  Cities have revitalized their stations with permanent design installations and created temporary exhibits that include light, music, and performance art by local and visiting artists. Shouldn't the Bay Area also have dynamic underground metro stations that reflect the vibrancy above ground? In order to achieve an improved rider experience, collaboration between designers, artists, and the public needs to occur during the planning process. To truly revitalize BART, the scope must reach beyond functionality and showcase the beauty and complexity of Bay Area culture.
SubArt has created a guide of metro systems that best use art and design. Tour these stations and get current news and updates at SubArtSF.org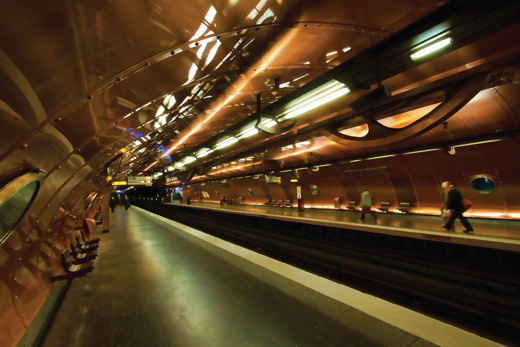 Redesigned in 1994 by the Belgian artist François Schuiten, the partnership between the Paris Métro and the Musée des Arts et Métiers leveraged resources to transform a white tile covered station into a gleaming copper submarine.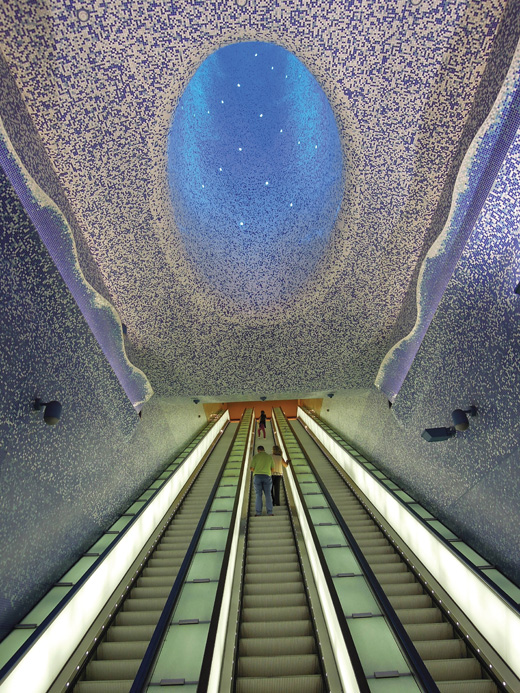 In Naples Italy, the culture of the city is part of the subway experience; this art-filled station has expanded the commuter radius ¼ mile farther.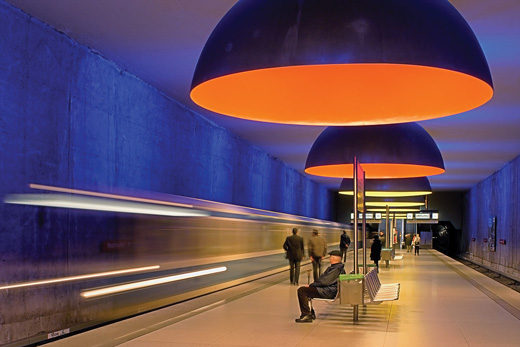 Architect Ingo Maurer and his team at Auer+Webers' design bathes riders in warm light transforming the transit environment into one that is pleasant and comfortable.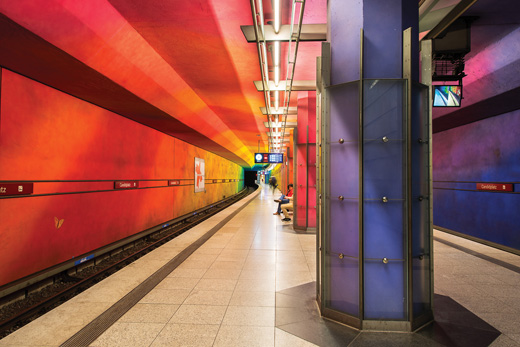 In the mid-80s city leaders pushed for the bold redesign of Munich's U-Bahn to change the riders' experience and perception of the city. Rolf Schirmer, a member of the city's subway planning council believed transit stations should help inspire a positive mood for subway riders. The system subsequently underwent an aesthetic redesign starting with the bones of the structure and working outward to create station identity.
At Candidplatz Station in Munich, the walls are covered in colored panels using the full color spectrum. The design riffs on the theme of motion — trains carry riders through the color wheel as they move through the station.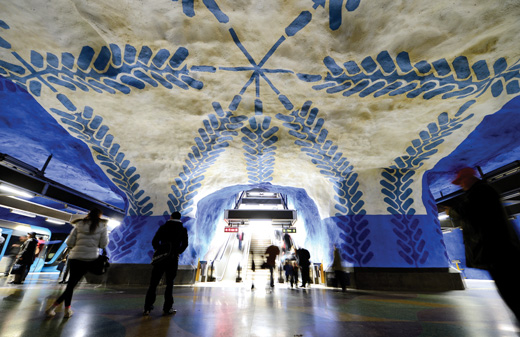 Stockholm's metro system (Tunnelbana), is widely known as the world's longest art gallery. Since the 1950s, the system has contracted with artists to work with architects and engineers to transform 90 of its stations into fully immersive experiences.