Urbanism From Within
SPUR's exhibition Urbanism From Within explores the secondary unit as a housing typology
Urbanist Article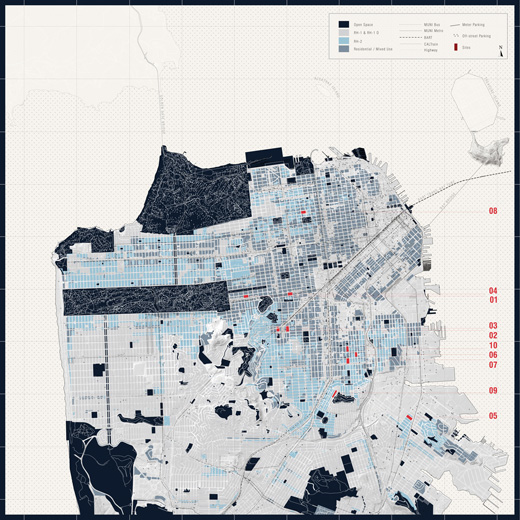 Click to enlarge map >>
Of San Francisco's over 200,000 parcels of property, 167,000 are currently zoned for some level of residential or mixed-use development. Over 75,000 residential parcels are reserved for single family homes. A number of new pilot programs will allow for accessory dwelling units.

ADUs: A Typological Survey
SPUR's exhibition Urbanism From Within, on show in San Francisco through May 21, explores the secondary unit as a housing typology. The exhibition's creative investigations provide a variety of approaches to how the Accessory Dwelling Unit, or ADU, can be put to better use as housing in ways that do little to change the fabric of the community. These typologies, four of which are presented here, were developed by students for an architectural studio at California College of Art in 2014.

Lifted Garden
Type: Marina Style
Neighborhoods: Bayview (also Sunset, Richmond, Outer Mission)
Av. studio rental: $1,000
Block Size: 200 x 600 feet
Number of lots: 51
Lot size: 100 x 104 feet
Historic sq. feet: 1,340
Present sq. feet: 2,000
Proposed sq. feet: 2,500
ADU square feet: 500
The neighborhood of Bayview-Hunter's Point, first developed around its massive shipyard, experienced a surge in economic growth during World War II. The most ubiquitous housing type in the Bayview is the two-bedroom Marina style, which is characterized by a wide, rounded bay window and stair access to a gated second floor entry. These units are almost always above a one-or-two garage and occupy a minimal footprint of just over 50 percent of the lot area. This housing type, found not only in the Bayview district, is ideal for rear-yard additions.
Click to enlarge drawings of the Lifted Garden >>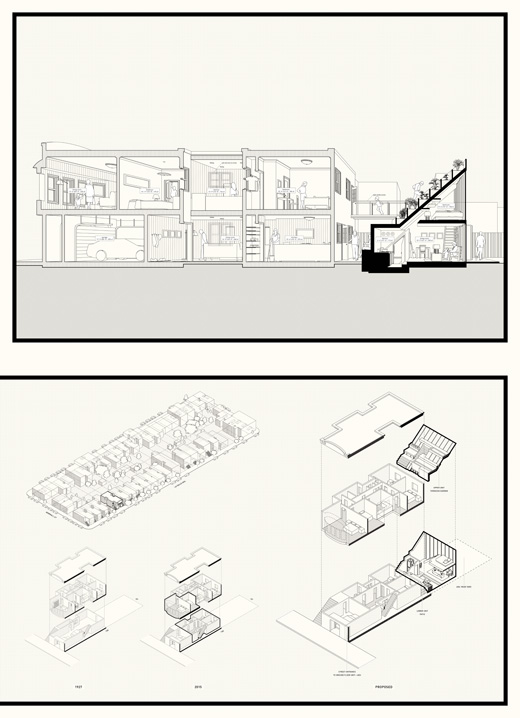 Drawings by Blake Stevenson
MicroVertical
Type: Mission Edwardian
Neighborhoods: Mission (also Castro, Lower Haight, Western Addition)
Av. studio rental: $3,400
Block Size: 244 x 520 feet
Number of lots: 33
Lot size: 30 x 122 feet
Historic sq. feet: 5,250
Present sq. feet: 5,590
Proposed sq. feet: 5,590
ADU sq.feet: 340
Building and fire codes were less regulated during the time of construction for several of the Edwardian houses in San Francisco. This resulted in (noncomplying) egress only for the second-level unit. Not only did this stair create unused space for the tenants of the ground level unit, it also meant that the top unit did not have a secondary egress to the rear yard. This inadvertently shifted the perception of ownership of the rear yard to the units with direct access.
Click to enlarge drawings of the MicroVertical >>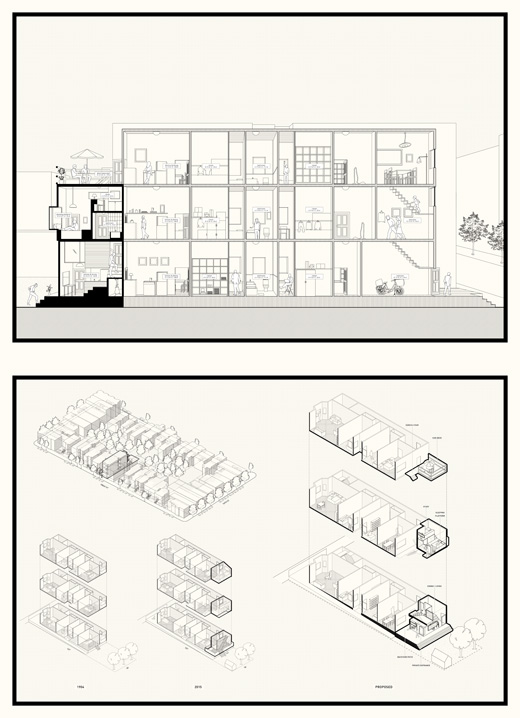 Drawings by Bianca Koch
The Common Light
Type: Sunset
Neighborhoods: Bernal Heights (also Sunset District)
Av. studio rental: $2,498
Block Size: 160 x 800 feet
Number of lots: 20
Lot size: 25 x 60 feet
Historic sq. feet: 920
Present sq. feet: 1010
Proposed sq. feet: 1490
ADU sq. feet: 570
This case study explores the expansion of the garage space into a secondary unit that gains access to natural light from three facades. The one-bedroom unit provides ample space for sleeping, eating and work while also providing one-car parking. The design revolves around the insertion of a light well that brings natural light deep within the interior of both units. This design explores how two occupants can live and share light while occupying his or her own distinct space.
Click to enlarge drawings of the Common Light >>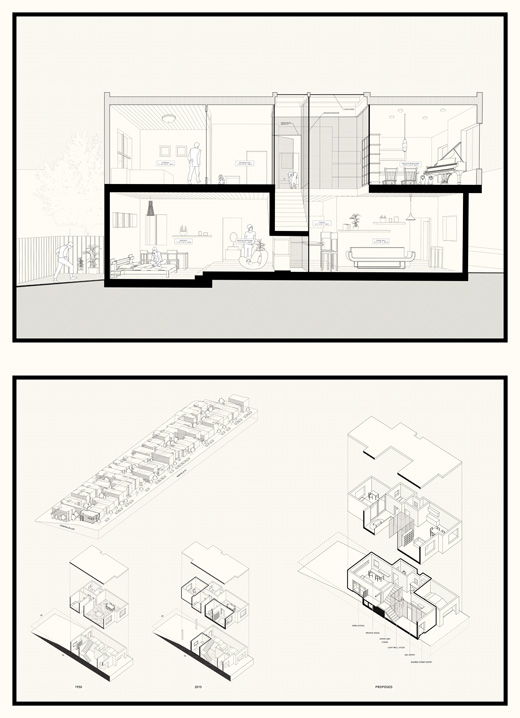 Drawings by Jaiuy Fu
Side Court
Type: Free-standing garage
Neighborhoods: Mission (also Lower Haight,
Duboce Triangle)
Av. studio rental: $2,000
Block Size: 240 x 520 feet
Number of lots: 10
Lot size: 120 x 104 feet
Typical parcel size: 24 x 120 feet
Zoning height: 40 feet
ADU sq. feet: 518
While thought to be a rare entity within the city, the freestanding garage adjacent to a housing unit is found in large quantities in neighborhoods such as the Mission District. The design for the secondary unit capitalizes on the existing structure as framework for organizing the apartment's spaces. A service core consisting of a kitchen and washroom is situated in the center of the unit. This alleviates the need for additional partitions while acting as an armature for built-in furniture, storage and closets.
Click to enlarge drawings of the Side Court >>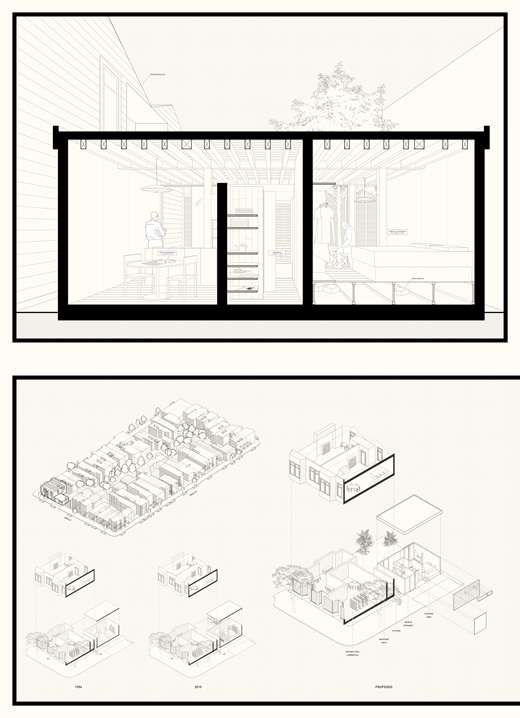 Drawings by Enrique Justicia.
ADUs: Prototypes
In May 2014, OpenScope Studio was tasked by the San Francisco Planning Department to research a set of prototypical solutions for adding Accessory Dwelling Units to existing homes in the city. The resulting prototypes (two of which are presented here), created to guide homeowners towards understanding the improvements and process required to add a secondary unit, will be published this spring in the Accessory Dwelling Unit Handbook, along with financial information to help people decide whether or not adding another unit will fit their budget.
There are many precedents for attractive secondary units from around the world, and they are one piece of the complex puzzle of providing for the city's housing needs.

PROTOTYPE A
Partial garage conversion in a single-family home
The existing building is one of the more common housing types in San Francisco — a two-story singlefamily home with an open garage on the ground floor and all of the living space and bedrooms upstairs. These buildings are generally twenty five feet wide, filling the entire width of the typical San Francisco parcel and leaving no room for a side yard.
Click to enlarge drawing >>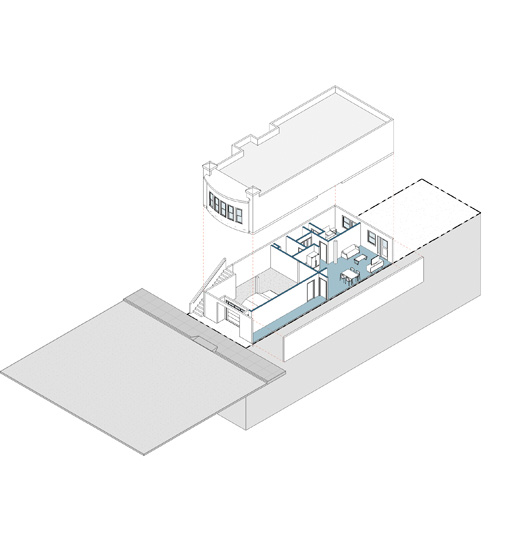 ADU strategy
The unit plan assumes at least one on-site parking space will remain, and that the existing footprint of the house will be maintained. The unit is arranged at the rear of the ground floor, with the living space and bedroom placed against the exterior wall to take advantage of the natural light and ventilation. It is likely that the upstairs bathroom and/or kitchen are located towards the middle of the plan as well, hopefully allowing for a relatively easy access to service lines. San Francisco will not permit a dwelling unit to exit directly through a garage, so a dedicated exit hall has been built inside the garage leading from the rear unit to the tradesman door at the front.
PROTOTYPE C
Partial garage conversion in a duplex The existing building consists of two flats over an open one-story ground floor garage. Unless the site is on a steep uphill slope, the garage is typically large enough to park two cars in tandem and still have room for storage along the rear wall. A narrow side yard often provides access from a tradesman door to the backyard. The units above may extend over a portion of the side yard, but the majority of this space is open to the sky and functions as a lightwell. There is a single shared entry stair leading up from the street to a common landing at level two. Access to the upper flat continues up a second interior stair. There is often a secondary stair near the rear of the building that gives one or both of the units access to the rear yard and side yard/lightwell.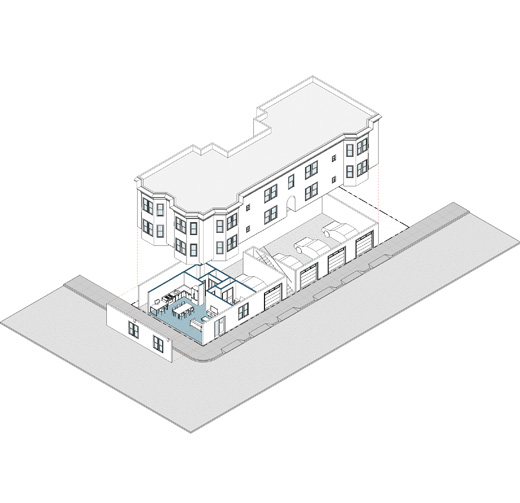 ADU Strategy
To maximize opportunities for natural light and ventilation in the living and sleeping spaces, most solutions plan for the kitchen and bathroom to be brought as far into the middle of the building as is feasible. This design has moved the bedroom behind the main living space, separating them with partial height walls so that natural light can be shared between both rooms.
Urbanism From Within is co-presented by California College of the Arts, the Urban Works Agency, the San Francisco Planning Department and OpenScope Studio. On view at SPUR through May 21, 2015.