Member Profile: Nate Echeverria
Yeah, he knows the way to San Jose
Urbanist Article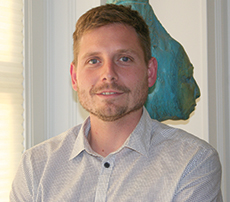 As the Business Development Manager for the San Jose Downtown Association, Nate Echeverria is responsible for everything from assisting downtown small businesses and developers through the city permitting process, to advocacy and policy work to helping connect businesses with various economic development incentives to staffing the city's development and urban design review committee.
Together with his colleague, Jason Su, Echeverria runs a small business improvement district responsible for everything from street cleaning to public events. "Jason and I are the two "urban planners" on staff," says Nate. "And we get a lot of freedom and flexibility to try out new things, run with ideas and work collaboratively with local partners."
"We're leveraging partnerships, empowering other groups, identifying new funding streams, finding opportunities to piggy-back on previously planned infrastructure projects, etc. It's a major change in the ways things got done [under redevelopment] but in almost every way this bottom-up approach is a more inclusive model, and in my opinion, a much more effective way to build a diverse, creative, interesting and ultimately economically competitive downtown."
We spoke with Nate about one of the ideas he has been running with: a popup retail program for San Jose.
Tell us about the recent pop-up project.
We helped match local independent retailers with vacant storefronts and underutilized spaces throughout downtown. This included activating the ground-floor of a vacant performance arts center with clothing retailers, a small art gallery and event space; converting two shipping containers into small shops located along a major pedestrian thoroughfare; and matching two apparel retailers with vacant retail storefronts. Our pop-up retailers (The Usuals, SJMADE, among others) were really the driver of the project. The goal was to activate vacant storefronts while simultaneously incubating local independent retailers in the hopes that they will open more permanent locations downtown. This did things like provide more activity and eyes on the streets, thus reducing crime and vandalism, etc. It also gave the retailers and the property owners an opportunity to test the viability of independent retail downtown. The good news is that most of the pop-ups are staying open in some capacity beyond the official project period.
As someone deeply connected to San Jose, tell us something should people know about your city that that they probably don't?
San Jose has a vibrant and thriving artistic/creative community yet it's not always easy to find or see in the built environment. Our downtown arts-district, SoFA has been a staple of arts and culture in the Silicon Valley for several decades. As more and more people move downtown, it's important for the city to provide spaces and opportunities for artists to succeed.
What would you like to see change or improve in downtown San Jose?
In terms of change, we simply need more of everything. More people, more shops, more entertainment options, more office workers, etc. Downtown San Jose has great bones — a grid street network, well-scaled streets, unique paseos and urban design features, but it's still "filling-in." As more and more development happens on our underutilized parcels throughout downtown, we will see this welldesigned and properly scaled streetscape come to life with the buzz of pedestrian activity.
So we always ask our members: What's your favorite city?
Cape Town, South Africa. Physical beauty aside, it is a cultural melting pot unlike anywhere in the world.
Favorite urban view?
Belmont Plateau, Fairmount Park, West Philadelphia
Favorite book/film about cities?
A Prayer for the City by Buzz Bissinger