Urban Field Notes: City as Canvas
Urbanist Article
We live in urban environments dominated by blank surfaces. From sidewalks to utility boxes, these surfaces have the potential to evolve from their original functions and become canvases for promoting local artists. In doing so, they can help cultivate community and beautify neighborhoods. San Jose, among other cities, has been utilizing these spaces in partnership with a number of organizations.
The Art Box Project collaborates with community and local artists to transform utility boxes into works of art. The Property Based Improvement District (PBID) sponsored the photo-wrapped utility box concept and began implementing it downtown in 2011. San Jose's Downtown Foundation has been instrumental in transforming the city's streets: In 2003, it started the Downtown Doors project, a public youth art exhibit and competition involving local high schools. Selected student works were enlarged and installed on blank surfaces of downtown San Jose. Projects like these have demonstrated that underutilized urban surfaces have the ability to capture the personality of a neighborhood, beautify the surrounding environment and foster a greater sense of community and civic pride.
[A] Dana and Naglee Streets, in front of the Rose Garden Library: Artist Lacey Bryant recreates the flowers and bees that grace the nearby Rose Garden.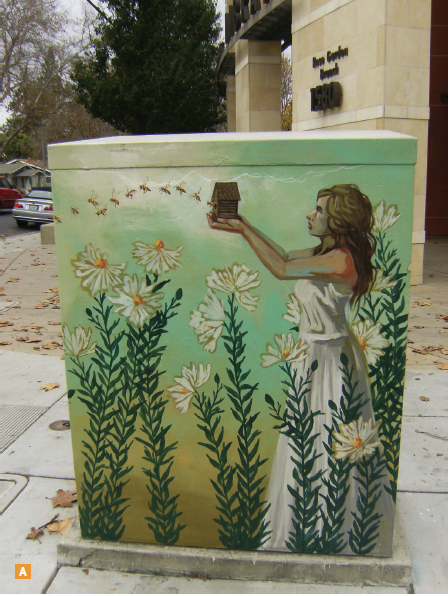 [B] Park and Naglee, across from the Rosicrucian Egyptian Museum: Artist Michelle Waters' Egyptianthemed utility box adorns a Rose Garden corner with the Egyptian symbols of life and rebirth.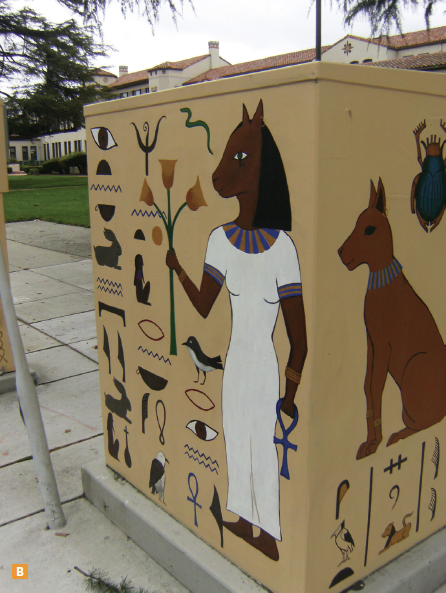 [C]Taylor and Seventh, Japantown: Taiko drums and maneki-neko cats. The artist, Yurika Chiba, is a Taiko drummer, and his eyecatching painting brightens up this Japantown corner.
[D] South First and East San Carlos: "Elder" by artist Jessica Graef from Pioneer High School.

[E] East San Carlos and South First streets: Stone and brick walls appear to be holding up Original Joe's, the classic Italian restaurant that's graced this corner since 1956.
[F] East Santa Clara and Second streets: A mirror image of the actual Cheesesteak Shop across the street.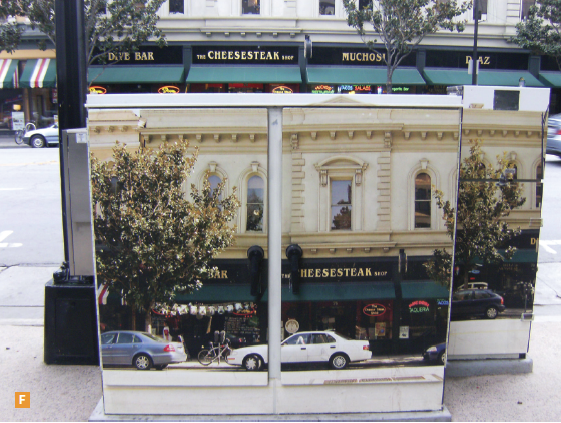 [G] Meridian and Willow streets: Perky coffee cups by artist Kristin Abbott, installed at a busy Willow Glen intersection, make you want to partake in an afternoon pick-me-up.
[H] South First and East San Carlos: "Mailbox" by artist Sun Min Park from Leigh High School.