Shaping Downtown San Jose
The quest to establish an urban center for Silicon Valley
April 4, 2013
An aerial view of downtown San Jose in the 1950s. Much of the urban fabric shown has since been redeveloped into new office, housing or retail. Some of the buildings shown have come down, and the lots remain vacant today.

In the early 1950s, downtown San Jose was the cultural, civic, shopping and economic hub for then-agricultural Santa Clara County. As the heart of this rich valley, downtown San Jose remained prominent from its dusty beginnings as the first civilian town in California in 1777 to its selection as California's first state capital in 1850 to the place where IBM first developed the technology for computer disks in the early 1950s.
But as technology firms began to grow around the epicenter of Stanford University, the role of downtown, and the rest of San Jose, would soon be radically transformed. As the new businesses to the north coalesced into what would later be known as Silicon Valley, San Jose grew through aggressive annexation and development, doubling in population in 10 years, then more than doubling again in the next 10. During this period, there was little regard for preserving San Jose's downtown, as large swaths of the area met the fate of the wrecking ball and employers, shops, residents and investment went elsewhere. Freeways, some of which had destroyed downtown neighborhoods, now made it easy to bypass the once-vital retail center for new modern shopping centers, malls and office parks.
San Jose became the quintessential suburb, providing its single-family homes with 300 annual days of sunshine in an environment of relative cultural tolerance and economic prosperity. But by the early 1970s, the problems of unchecked growth and suburbia were already becoming visible, and a counter movement began to try to limit the outward spread of development. Some far-sighted city leaders tried to refocus growth into downtown, and it became official policy to establish downtown San Jose as a major center for Silicon Valley.
By this point, however, downtown had lost its central position in the South Bay. To refocus city growth and investment in downtown, San Jose had to fight against the trend toward decentralization that afflicted nearly every major city in the United States. It faced competition from shopping malls, office parks and downtowns up the Peninsula and in suburban areas within its own city. It eventually had to contend with a height limit on buildings due to the airport flight path. It was trying to do something exceedingly difficult in the history of American cities: create a major downtown center, with high volumes of pedestrian activity, within a region that was overwhelmingly low-density and car-dependent.
Starting in the the 1980s, the San Jose Redevelopment Agency — by then the largest Redevelopment Agency in the state — used virtually all of its power and money (nearly $2 billion in public investment alone) to try to make San Jose's downtown match the scale and the amenities of one of the nation's larger cities.
Cities often focus on their downtowns because downtown is one of the few areas over which they believe they have control. As a result, downtowns have long been a place of experimentation. For 35 years, many of the big ideas in U.S. city planning were tried out in San Jose. The downtown San Jose of today bears little resemblance to the one in 1970, just as portions of downtown of 1970 bore little resemblance to the historic core that existed into the mid-1950s.
As SPUR enters its second year of working in San Jose, we decided to take a look back at the forces that have shaped the city's downtown to help inform a larger report we are developing later this year that will sketch out our agenda for downtown San Jose. This article summarizes what we have learned thus far.
Our overarching argument is that downtown San Jose confronted a series of large forces of decentralization and disinvestment that undermined its historic importance within the city, county and region. Without the interventions of a strong redevelopment agency, which was established in 1956, San Jose would have a very different downtown, and potentially one with fewer amenities, jobs, visitors and residents than there are today.
Mistakes were certainly made: Buildings were demolished. Businesses closed. Blocks were left unfinished with vacant lots. And some of the existing downtown culture was pushed aside.
But the intention was always to reestablish downtown as a major center for the South Bay. While downtown San Jose cannot claim to be a traditional central business district (CBD) or job center, it is certainly emerging as a more likely candidate for the South Bay's central social district (CSD), particularly with its array of arts and cultural venues and emerging residential areas in the downtown core.
There are implications that come with that role, which we will explore in our subsequent reports. This article explores the ways San Jose became the downtown it is today through the following themes:
The suburbs swallow downtown
The highway undermines transit
City hall leaves and comes back
Retail leaves and doesn't return
Redevelopment leaves a mixed legacy
A new downtown cultural district emerges
The suburbs swallow downtown
The starting point for understanding the history of downtown San Jose is examining its role during the first half of the 20th century. Downtown was the business, civic and social center of the agriculturally rich Santa Clara Valley. It was the crossroads — the place where Santa Clara Street passed through from east to west and bisected First Street to form a symbolic town center.

A century ago, downtown was bustling. The city had the first electric streetcar system west of the Rockies. St. James Park, created in 1868, was full of lush foliage, including American elms, and elegant fencing surrounded the park. The Bank of Italy (now Bank of America) tower, which was built in 1925 and remains the defining feature of the skyline, rose above the fields of fruit tree blossoms in springtime.  The building housed the bank's first branch (outside of San Francisco), a decision made by bank founder A.P. Giannini, who was born in San Jose. The Bank of Italy continued to grow for decades based on its business relationships with agriculture in the Santa Clara Valley, the "Valley of Heart's Delight."
Downtown San Jose was the center of economic and social life in the Santa Clara Valley through World War II, but all of this began to change with the emergence of Silicon Valley to the north. The City of San Jose soon became the bedroom community for Silicon Valley, rather than its business center. As farmland was converted to subdivisions and office parks, San Jose found itself enveloped by Silicon Valley, its downtown becoming just one node in a series of historic walkable town centers between San Jose and Palo Alto, 16 miles away. Ambitiously modeling the city on Los Angeles, San Jose's progrowth machine was focused on annexation and outward suburban growth, not on downtown.
The city's population ballooned from 95,000 in 1950 to 450,000 in 1970, and what was once a 17-square-mile city mushroomed to 136 square miles.  As the city grew, the notion of what comprised downtown San Jose expanded to the point where the "city center" was so large that growth within that space undermined the actual historic center. The 1965 master plan defined an area of "Central San Jose" that was 16.7 square miles, including Naglee Park, Willow Glen, the Rose Garden District and the area around the city and county buildings at First and Hedding streets.
Through the 1960s, city leaders continued to pursue an outward growth agenda, but there was a growing awareness of the negative impacts of horizontal growth. Pro-growth City Manager Dutch Hamann retired in 1969, and in 1970 the city council adopted an urban development policy that promoted infill rather than outward growth. The City of San Jose established an urban growth boundary in the 1970s and then began a long process of focusing city growth in areas with existing infrastructure, including downtown. The conditions were then set in place for significant development and revitalization of the downtown.
But making that revitalization a reality has been more difficult. In addition to the competition between city and suburb that every city in the United States faces, San Jose has suburbs within its own borders that compete for attention and investment. Due to an overall desire to grow the job base, the city has continued to plan and support growth throughout the city, an approach that undermines the centrality of downtown San Jose. Even the current "Envision San Jose 2040" general plan, a far-reaching and strong statement for achieving density, reductions in driving and a more urban form, only assumes that 10 percent of future job and 8 percent of population growth will occur within the downtown. Most job and housing growth is projected to take place in outlying areas, including nearly 70 "urban villages." The suburbs that swallowed downtown remain its competition.
The highway undermines transit
San Jose debuted its electric streetcar system in 1888, replacing the horse-drawn carts that had been the dominant mode since 1868. When this system was complete (the first such system west of the Rockies), electric trolleys ran up and down First Street, San Carlos (then Stevens Boulevard) and Santa Clara Street. Riders from downtown could reach Palo Alto to the north and Los Gatos to the south.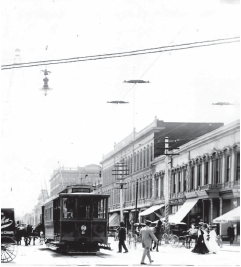 In the late 19th century, San Jose had the first electric streetcar system west of the Rockies (left). The contemporary version, a light rail system (below), was integrated as part of a complete redesign of 1st and 2nd Streets.
In 1934, the city moved its rail tracks from Fourth Street to the west end of downtown, where it built Cahill Station. The goal was to get the tracks — and the passenger and freight trains — out of downtown, where they ran directly along city streets. But the result was to put the city's train station beyond the western edge of the downtown core. When Highway 87 was later built between Cahill (later renamed Diridon) Station and the downtown core, this left the city's train station a half mile to a mile away from most downtown destinations.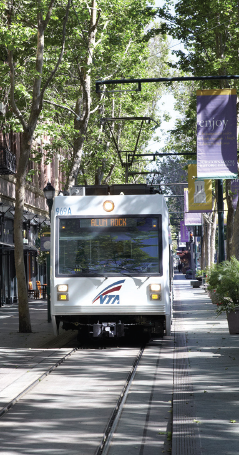 Light rail photo by Aya Brackett. 1908 streetcar photo from the Charles McCaleb Collection, courtesy History San Jose Collection: Charles McCaleb Collection
In 1938, the city ceased operating the streetcars.  Instead, 14 "modern buses would purr up to the curb to take on passengers" as the papers of the day noted. Reflecting the sentiment at that time, newspapers argued that the streetcars were the victim of the automobiles "that finally choked them out of existence." Accommodating the car was seen as simply inevitable and meant that modern cities would cast aside old traditions to make space for the car. For a city about which the San Jose Mercury News had written in a 1938 headline, "Transit History Made Here," the shift to automobile travel was a major transformation.
In the 1960s, San Jose converted two-way neighborhood streets in and around downtown into pairs of high-capacity one-way streets to deal with the heavy traffic as people drove from south San Jose to North San Jose through downtown and adjacent neighborhoods. These conversions were intended to protect the downtown from being overrun with traffic, but in practice this allowed car travelers to pass through — and around — the downtown more quickly, thus degrading the quality of the street for non-drivers.
But it was really the freeway and expressway projects that transformed the South Bay and changed downtown mobility. The Santa Clara County Expressway System was first financed by a $70 million bond election in 1961. Interstate 280 (originally approved in 1955) began construction during the 1960s and was completed in the 1970s.  Where it passed downtown to the south, it had a series of extensive off-ramps whose construction led to the destruction of hundreds of homes and businesses in the downtown area. This cleared area eventually became the right of way for Highway 87, connecting south San Jose with the north.
Throughout this time, the county was attempting to grow a transit system. In 1973, Santa Clara County Transit District consolidated its various bus systems (including San Jose City Lines and Palo Alto/Peninsula Transit) under one umbrella and began planning for major investment in light rail. A "Rapid Transit Development Project, Phase I (RTDP)" study began in 1971 and was approved by the voters in 1976 as part of the first Measure A half-cent cent sales tax for transit in the state. Every four years between 1976 and 1992, voters continued to approve updates to this master plan, demonstrating their interest in a multi-modal transportation system that combined different types of rail with bus, bicycle and pedestrian planning.
But the emphasis on freeways undermined this emerging transit vision. By approving sales tax Measure A in 1984, Santa Clara County became the first "self-help" county in the state. The initial impetus for the sales tax measure was to upgrade Route 237 (the east-west route at the northern edge of San Jose) from a four-lane highway with traffic signals to a grade-separated freeway. When the full sales tax funding measure was put together, it also included upgrades to other state highways, including adding lanes to Highway 101 and extending Highway 85 from Cupertino south east to Highway 101, a road that had been drawn on Caltrans' highway fantasy maps since the 1960s.
While the combination of projects secured support from voters in the entire county, the highway investments made it even easier to bypass downtown and thus undermined attempts to remake downtown as a central district, as well as a parallel set of goals for successful light rail ridership.
When light rail opened in 1987, it connected Santa Clara and San Jose, much as the streetcar system had 100 years before (it connected to downtown in June of 1988). Further, the Transit Mall on First and Second streets turned out to be highly successful from an urban design perspective (a position that is not shared by all). But from a transit perspective, the trains moved too slowly, limiting potential ridership. Since San Jose's job center is North San Jose, not downtown, would-be commuters from south San Jose have to crawl through downtown en route to jobs in the north. As a result of both the slow speed and the limited number of downtown jobs, the rail system only serves a tiny fraction of work trips and remains among the least productive rail systems nationwide. The initial projections of 40,000 daily riders by 1990 were cut in half prior to the opening of the first line, mostly due to the investment in freeways. Actual ridership reached 20,000 in 1993 and in recent years has ranged from 32,000 to 34,000 daily. At about 750 passengers per mile, the 42-mile light rail system in Santa Clara County carries far fewer people than comparable rail systems. Denver's 35-mile system carries nearly 1,900 per mile. San Diego's 53-mile system carries over 1,700. Sacramento's 37-mile system carries over 1,300 per mile.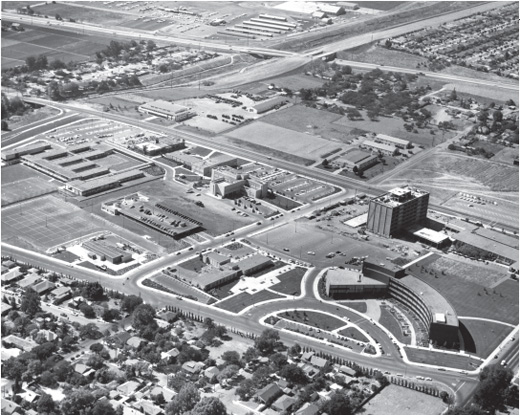 In 1958, City Hall abandoned downtown — and its 1888 architectural gem of a building — to move to this new modernist greenfield several miles to the north. Photograph by Arnold Del Carlo, Courtesy, Sourisseau Academy for State and Local History, San Jose State University
Additional local decisions further harmed potential light rail ridership. For example, the redevelopment agency helped fund the extension of Highway 87 north of downtown as part of a goal to get more cars out of downtown. But like the one-way streets, the expanded highway made it easier to drive around, not through, downtown.
Local voters have continued to be generous in their support for transportation, with transit (light rail expansion and eventually BART) as the primary beneficiaries. The political leadership has also shown significant support for expanding transit, particularly with the investments to build a light rail system with downtown San Jose at its center. Yet the numerous freeways paid for and built by the county prior to completing the transit system have made automobile travel the intractably preeminent mode of transportation.
Downtowns in U.S. cities work because they can aggregate large numbers of people in one place and they can provide a high-amenity pedestrian environment for people once they are there. Almost by definition, then, that means that downtowns need to be able to get lots of people in without a car. If everyone drives, then the cars take up so much space on the streets that the pedestrian environment is no longer pleasant, and parking those cars takes up so much space in the buildings that the potential density of people goes down. This points to the challenge that downtown San Jose has to overcome in trying to create a central place for people within a region that is very reliant on cars.
City hall leaves and comes back
In 1958, San Jose moved its city hall out of downtown to a newly built office park and civic center on North First Street, nearly 2 miles to the north. The form of the new city hall area was emblematic of the era: The new public buildings were on a superblock surrounded by low-rise buildings and new landscaping (a midrise modern building was added in 1976). The city then demolished the former city hall, a historic structure that had stood in the center of Cesar Chavez Park since 1887. It would be nearly half a century before city hall returned downtown, in 2005.
The county offices followed city hall out of downtown, as did the daily paper, the Mercury News.  This exodus removed hundreds of public sector and newspaper workers from downtown. Such jobs are typically a core part of the critical mass of employees in a downtown and provide a solid base of shoppers at downtown stores. Some speculated that the city's decision to move to an area where it could co-locate with county staff reflected the ambitions of the growth machine — and the desire of some for San Jose to merge with the county.
The challenge of keeping jobs downtown was not unique to San Jose. After the 1950s, nearly all downtowns throughout the United States struggled to maintain their share of jobs. What makes San Jose distinct is that its own city hall left. That, in combination with the fact that San Jose never maintained a significant share of jobs in either the public sector or in business services, traditionally the hallmarks of downtown employment, meant that downtown San Jose could not establish itself as a traditional central business district (CBD).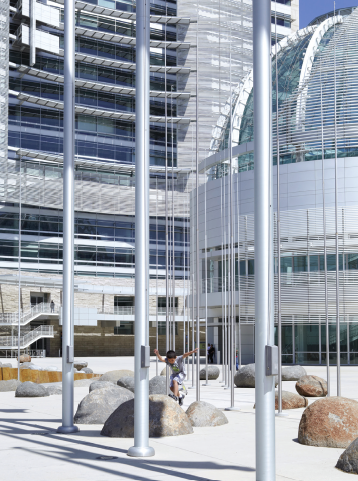 In 2005, City Hall returned to downtown in the form of an austere building by influential architect Richard Meier. Photo by Aya Brackett
In contrast to the popular narrative that technology firms have always preferred corporate campus settings, some of the earliest technology employers were, in fact, once in downtown San Jose. IBM established its first San Jose manufacturing facility at 16th and St. John (east downtown) in 1943 and its first West Coast research and development facility at 99 Notre Dame (just north of the recent residential development The Axis) in 1952. It was here that IBM developed the initial technology for computer disks.  But in 1957 IBM moved out to a 190-acre site on Cottle Road in south San Jose.
Recent decades have seen major attempts to make downtown an attractive site for corporate headquarters. In the early 1980s, the redevelopment agency (RDA) negotiated with Steve Jobs to bring Apple to downtown. The RDA was willing to give land and build parking for Apple, but Jobs allegedly wanted the RDA to build the whole office building, a subsidy that was too much of an investment for the RDA.
Office development began to grow again in the mid-1980s, with space for traditional business services jobs such as accounting, legal and consulting. Many of these businesses went to new class-A buildings along Santa Clara Street or Almaden Boulevard, a wide street that is part urban downtown, part corporate office park. San Jose's downtown captured several million square feet of new class-A office space, but this remained a tiny fraction of the hundreds of millions of square feet built in office parks and corporate campuses throughout Silicon Valley.
An ongoing challenge throughout these years was direct competition from the corporate campuses which were surrounded by seas of free parking and which many employers preferred. Downtown sought to compete on suburban terms by building significant parking, but it was not successful.
A second overarching challenge for downtown has been its limited leasable area within the allowable building envelope. The airport flight path limits a building's height, the high water table limits underground parking, and the high parking expectation (three per thousand square feet) requires significant space for car storage. A typical office building might have three levels of parking below ground, a lobby and retail on the ground floor, five floors of parking above and then eleven floors of office. This sample 17-story building has eight total floors of parking.
This is not to say that San Jose has not been highly attractive to technology companies, including Cisco, Brocade and eBay. However, these companies have been locating in North San Jose rather than downtown. Adobe, which arrived in downtown in 1996, is a notable exception — one that required $35 million in subsidies from the redevelopment agency.  Despite criticism of such subsidies — and the insular design of the headquarters — Adobe did repay the RDA $11.3 million (per their agreement).
In recent years, thanks to inexpensive space and historic buildings, downtown has begun to attract startups like Pinger and co-working facilities like NextSpace, which cater to entrepreneurs and small firms. Downtown now boasts more than 80 technology companies. Since the return of city hall in 2005, the story of downtown as a job center is far from over.
Retail leaves and doesn't come back
Like many historic downtowns in the United States, downtown San Jose was the city's primary shopping district through World War II. Saturdays were the busiest, when farmers and visitors from outside the area came to do their shopping. First Street was the principal commercial street, starting with J.C. Penney at Santa Clara and heading south to include Blum's, Woolworth's, Hale Brothers, Goldeen's and Sears, Roebuck and Co. south of San Carlos. Another major retail destination was Hart's, a large, locally owned department store at Santa Clara and Market, which was founded in 1866.
Downtown retail began to decline in the 1950s.  Most significantly, the city council reversed its policy of opposing large-scale retail development outside of downtown, which allowed for the development of Valley Fair a few miles west of downtown in 1956.1 The anchor tenant for Valley Fair was Macy's, which had first opened in the Bay Area in 1947 and almost opened in downtown San Jose shortly thereafter.2 In the 1950s and 1960s, shopping centers began opening everywhere but downtown. Places like Town and Country, Eastridge and Vallco Fashion Park were established as major regional centers, while every new neighborhood had cheap orchard land that was converted into a small shopping center with a supermarket and a dozen or more stores.
Over the course of about 15 years starting in 1956, retailers led an exodus from which downtown has never recovered. All of the major department stores closed (Hart's in 1968 after 102 years in business, J.C.  Penney in 1972) or moved to one of the new malls.  The retailers that remained were primarily furniture and jewelry stores. Many of those who continued to shop in downtown had far less discretionary income than those who frequented the surrounding suburban areas.
For years, the city actively tried to bring major retail players back. Yet the owners of the very same shopping malls that had helped undermine downtown shopping were the ones who fought the perceived new competition when the redevelopment agency sought to bring downtown retail back.
Two examples illustrate the different challenges of bringing back retail. First is the construction of the Pavilion shopping and entertainment center in 1989, the most notable attempt to inject life into downtown shopping. The RDA put up $10 million of the $30 million cost to construct the building. Although the Pavilion aimed to be a high-end shopping center (the lease with the developers called for a mix of tenants that "shall equal or exceed" the quality of stores at Stanford Shopping Center and other upscale malls), it attracted few shoppers, had the wrong mix of tenants and lacked the planned-for anchors at its north and south ends. The developer subsequently abandoned the project. In addition to the mall's design flaws, downtown simply had too few workers, tourists or high-income shoppers to make the Pavilion a success.  By the late 1990s, the interior of the 27,500-squarefoot center had found new life as a server farm, with city officials eager to capitalize on the fiber-optic line running directly under the building.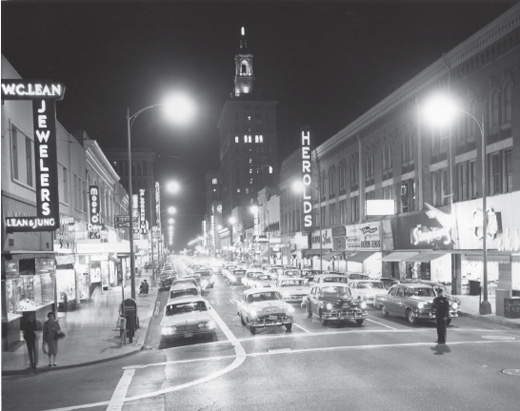 Even into the late 1950s and 60s, downtown remained the largest shopping district in the county. The scene on South 1st Street is shown at right.
Second, in the late 1990s, the city and the RDA began working with Palladium Company, a New York developer, to master plan four key downtown sites (including around St. James Park) with 2.7 million square feet of office, retail and housing. This billion-dollar deal fell through in early 2002 when the developer pulled out. While the failure was blamed on the still-sluggish economy, the developer's decision was also affected by the development of Santana Row, a high-end shopping center that recreates an urban shopping experience with sidewalk cafés and a "park once" strategy. Located across the street from the Valley Fair Mall (4 miles east of downtown), Santana Row was successful in attracting the high-end national and international retailers that city officials had long targeted for downtown. While Santana Row directly hurt downtown retail efforts, its success also proves that there is a strong desire for a retail experience that replicates a mixed-use street environment in Santa Clara County.
Today, downtown retail is showing signs of rebirth.  Merchants like Philz Coffee on Paseo de San Antonio demonstrate how one popular business can reshape an entire block. Trendy Japanese retailer Muji plans to open its first U.S. store outside of New York City and San Francisco in the Fairmont Hotel. San Pedro Square Market is a wonderful — and thriving — food-oriented redevelopment of a historic building.  But while it is unlikely that downtown San Jose will become a major retail destination, it is possible that as residents and jobs grow incrementally, the retail (including restaurants) to support those people will follow.
Redevelopment tries everything but leaves a mixed legacy
In 1981, San Jose's redevelopment agency became the first in the state to successfully receive an exemption in state law to merge all the tax revenues from its three redevelopment areas: downtown, North San Jose (Rincon de los Esteros) and Edenvale (an industrial area to the south). This move provided the financial backing for the nearly $2 billion total investment in downtown revitalization efforts from the 1980s until the redevelopment agency's closure in 2012.
The strategy seemed brilliant. Under redevelopment law, the RDA was allowed to take the "increment" in property tax growth and use that revenue stream as a backing to sell bonds to build infrastructure or make other key investments to support revitalization. Since North San Jose and Edenvale were primarily industrial business parks, the infrastructure needs were minimal. And because they were largely undeveloped before becoming redevelopment areas, the property tax take of the RDA was very high. This allowed the RDA to take the property tax revenues from these other areas and invest them in downtown.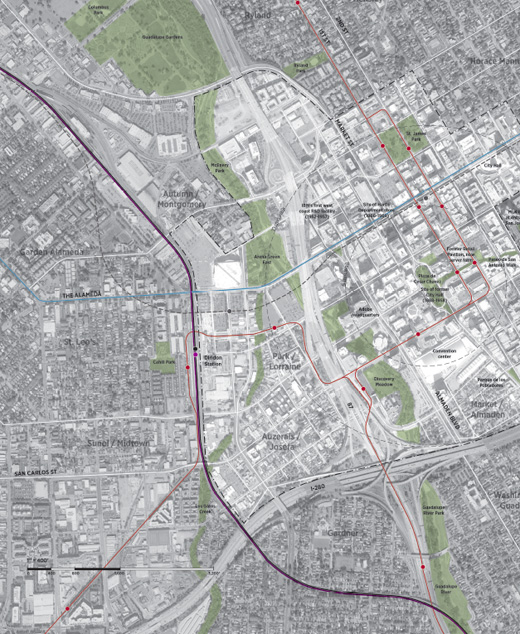 The irony here is that investment downtown was enabled by opening up growth in places away from downtown, which inadvertently harmed downtown's ability to capture a big share of the city's overall jobs and other activities like retail or housing.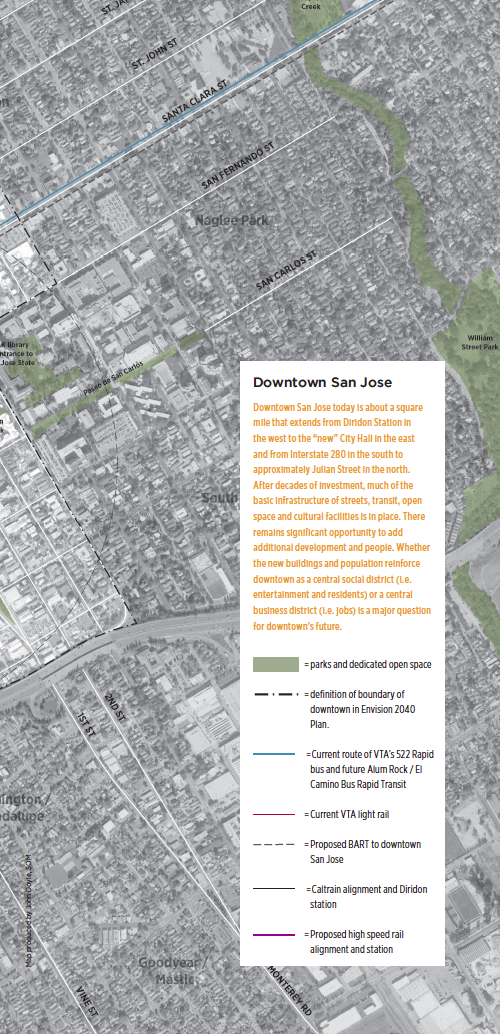 Thus far we have described San Jose's efforts to lure jobs and retail to downtown. Housing has been a different challenge, and one that was not pursued as early on. Unlike other U.S. cities, San Jose's downtown had no adjacent high-density neighborhoods with thousands of nearby residents to come spend money downtown. Until 1957, only 10 percent of annual construction in the city was multifamily housing. Then, in the 1950s and 1960s, the construction of freeways and urban renewal destroyed hundreds of homes and businesses throughout downtown. By 1990, there were few residents in the immediate downtown and a limited number in surrounding neighborhoods.
There was an opportunity — and a need — to build residences in and around downtown as a way to support RDA goals of revitalizing retail. But there was limited market support for downtown residential development. In 1980, the new head of the redevelopment agency, Frank Taylor, sent out a brochure to try to interest developers in building housing around St. James Park. In his previous job in Cincinnati, such an offer would have garnered response from 10 to 15 developers competing for the opportunity to build; in San Jose there was not a single response to the request.
Given that initial failure, there were concerns about the strength of the downtown residential market. The first major downtown residential project in the 1980s was the construction of town homes along Third and Fourth streets next to San Jose State. This was an historic area that had been torn down in the 1960s to make way for new development. Although the RDA claimed it initially wanted to do high-rise housing, the market would only support town homes, given that this was the first major market-rate housing in many years. The area was thus built out at moderate densities, taking up a major portion of the available land area in downtown.
In the 2000s, developers turned their attention to making downtown San Jose a place for highrise residential development. The timing was bad, however, with the first major projects (Axis, The 88, 360 Residences) opening just before the market collapse in 2009–2010. While not yet providing enough of a critical mass of residents to transform downtown into an urban neighborhood, they do create a sense of possibility for future high-quality urban apartment living.
A new downtown cultural district emerges

The popular Friday farmers' market at San Pedro Square has helped bring a lot more people downtown. Photos by Aya Brackett.
Of all the efforts at revitalization, San Jose's focus on downtown as a destination for visitors is among its great successes. This involved two key ingredients: establishing a critical mass of international brandname and historic hotels to support conventions and building or rehabilitating anchor cultural venues such as museums.
In the early 1980s, when the Holiday Inn was the only brand-name hotel downtown, the RDA made an effort to attract the Fairmont Hotel to the center of downtown adjacent to Cesar Chavez Park. In 1989, the not fully complete Fairmont hosted the state American Planning Association conference, and from the unfinished penthouse of the hotel, local and visiting planners felt as if they were on the cusp of the long-awaited revitalization.
To a certain extent they were: The office tower at 50 West San Fernando was then under construction, and within a few years, the RDA would invest in the historic St. Claire and help save the Hotel De Anza (a former convent built in the 1920s) on Santa Clara Street. They supported the Marriott and the Hyatt adjacent to the convention center. When the Fairmont wanted to expand, the RDA even moved the historic Montgomery Hotel 187 feet south (at a cost of $8.6 million) to make way for the new tower. The price tag for achieving the concentration of hotels was high: The Fairmont alone received $38 million in subsidies in its first 10 years.
But while San Jose was able to attract a concentration of hotels in the core of downtown, the city upheld a moratorium on new hotels outside of downtown throughout the 1980s. This attempt to control supply during the fast-growing 1980s meant that hotels opened in adjacent cities throughout the county rather than San Jose.
The concentration of hotels was necessary to support the convention center, which the RDA believed should be downtown and the RDA used its powers to acquire land and help finance the upgrading of the aging facility. In 1989, the agency completed the McEnery Convention Center.
In addition to hotels, downtown successfully attracted key cultural destinations. The Children's Discovery Museum, which opened in 1990, was Mexican architect Ricardo Legoretta's first project in the United States. The San Jose Museum of Art added a new wing in 1991, and the Tech Museum of Innovation opened in 1998. The California Theatre reopened after a major rehab in 2004 (it had been purchased by the RDA in 1985). These, in combination with the Repertory Theatre and the 1934 Civic Auditorium, give downtown a strong presence in music, theater and art. In the 1980s, the City began providing grants through its hotel tax to help build the capacity of local cultural organizations.
In sports, the HP Pavilion (the Arena) brings thousands to downtown who would not necessarily visit one of the other institutions. The Arena is significant on several levels: Spatially, it is west of Highway 87 and so is the first modern expression of downtown's extension toward the Diridon Station area. It also fills the existing downtown streets and restaurants on game nights, being designed intentionally to rely on parking east of 87 to encourage patronage of downtown restaurants and bars. For those not accustomed to downtown on a daily basis, coming on a game night makes downtown look and feel like a lively and exciting destination. The many visitors also help fill the excess parking in the many downtown garages.

In the past, nightlife had been a competitive strength for downtown, though some of its successes did not appeal to everyone. Downtown San Jose was a major center for live music in the 1970s and 1980s and for nightclubs in the 1990s. In recent years, there has been greater emphasis on encouraging smaller live music venues and diversifying the after-hours options provided for residents and visitors. Except on sports nights, there is much less downtown nightlife than there once was. Some of these larger-scale nightclubs were pushed out by market conditions; others were pushed out when the RDA tore out buildings expecting higher and better uses, and some nightclubs were closed down by the police.
In recent years there has been renewed growth in downtown nightlife and live music. There is opportunity to build on this, particularly due to the presence of San Jose State University and the role of students in helping anchor live music districts like Sixth Street in Austin, Texas. But while SJSU is downtown's single largest anchor and activity center, it has never become enough of a source of identity for the downtown. This is due in part to it being largely a commuter school without a student neighborhood.  Were some of the campus parking garages replaced with student housing, the campus would be livelier and downtown would benefit from the spillover.
Today, there are signs of a more organic resurgence of urban life in downtown. 1stACT Silicon Valley and the San Jose Downtown Association have long promoted the SoFA (South of First Area) district as a center for arts. San Jose Jazz and local music promoters are reprogramming multiple downtown venues for live music. The most recent pieces of civic infrastructure are the 2003 Martin Luther King Library and Richard Meier's city hall, which opened in 2005. While city hall was a long overdue statement from the city, the library project is arguably more significant in the attempt to reshape downtown as a social district. By being a literal connection between the downtown and the university (one can enter from the street or from the center of SJSU), the library is also an important resource for the growing yet small downtown residential community.
Cultural attractions, from museums to clubs, have been a real success. They draw both residents and tourists, and they draw people to downtown for reasons other than work. This is an area of strength for the city to build on.
Downtown San Jose continues to struggle with a classic dilemma: There are not enough dining and retail amenities to support a high demand for residential development, and there are not enough residents to support restaurants and shops. There is no easy solution to this catch-22, but over time cities like Los Angeles and San Diego have been able to move past it by adding people and amenities wherever possible, until a critical mass is achieved in their downtowns.
The biggest physical legacy of the RDA may be its investments in streets, plazas, and open spaces.  The RDA built Cesar Chavez Park with its tree-lined pathways, established the pedestrian-oriented Paseo de San Antonio and partially restored the diagonal paths in St. James Park. And when the Army Corps of Engineers wanted to turn the Guadalupe River into a wholly concrete flood channel, the RDA got them to abandon the plan and instead developed the Guadalupe River Park.
Today, San Jose residents are divided about the RDA's legacy. The agency is criticized for pushing out existing businesses in order to deliver a blank slate to new investors. It is also criticized for oversubsidizing private development, which some say drove up land prices to the point that development was not financially viable without RDA subsidies. Still others argue that the RDA's approach was too formulaic — pursuing the same stale ideas of convention center plus international brand hotel, downtown shopping pavilion, sports arena and movie theater complex that are popular in other cities — and was not creative or inventive enough in imagining a unique role for San Jose's downtown. Finally, others point out that just as downtown was struggling during the dot-com bust in 2002, the RDA began shifting investments out of downtown as part of the "Strong Neighborhoods Initiative." While the approach may have spread redevelopment funds to more of San Jose, it did not generate much new tax increment for the agency and further sucked energy and attention away from the downtown. Despite these criticisms, which could apply to much of the culture of redevelopment in the United States, it is undeniable that the San Jose Redevelopment Agency used its unprecedented power and money to try to build downtown San Jose into an important place, and future efforts will build on the legacy of those prior investments.
Looking ahead
Over three decades, planners and decision makers in San Jose worked against the broader tide of suburbanization and decentralization, trying every downtown-revitalization strategy in the planning profession's toolbox.
Planners sometimes speak about the contrast between central business districts and central social districts.3 Traditional central business districts are primarily places of work while central social districts bring people together for living, recreating, shopping and cultural attractions. The reality is that downtowns are rarely only one or the other. Most downtowns have combinations of uses and serve a variety of purposes. Downtown San Jose has the potential to attract more jobs, more retail, more students, more visitors and more housing. Planners may not be able to control the ultimate mix. It will not likely become a traditional central business district, but downtown San Jose can be a place with many more jobs and should be an important urban node — potentially the central social district and primary urban center — of the South Bay.
As SPUR looks ahead to its work in downtown San Jose, we offer the following lessons from recent history:
Respect what you have and build on it. Too much of downtown's indigenous culture did not receive the support or respect it should have and was therefore lost.
Focus investment in a narrower area so there is a sense of completion. Too much of downtown still suffers from a lack of connectivity, as attractions and subareas feel diffuse and limited in scale.
Limit growth elsewhere. Downtown's potential will always be constrained if other areas of the city remain the focus for most new development — particularly jobs.
Downtown today has the basic infrastructure of an urban center, but it lacks sufficient population in the form of jobs, residents or visitors. Bringing the downtown to life remains the major impetus behind the next phase of revitalization.
SPUR is excited to join with so many others who are taking on the daunting but essential challenge of creating a central urban place within a region eager to embrace its urban future.
--
[1] "Catalyst for Change – A History of Civic Plazas in San Jose," Dolores Mellon, 2006, Redevelopment Agency of the City of San Jose
[2] Macy's attempted to buy locally-owned Hart's Department Store. But at the time, the family owners of Hart's determined that their store was too profitable and the land too valuable to sell. Hart's lasted 102 years and closed for good in 1968.
[3] See: www.spur.org/publications/library/article/framingthefutureofdowntownsf03...