VTA Breaks Ground on the Bay Area's First Bus Rapid Transit Line
By María Gabriela Huertas Díaz
After years of planning, the Santa Clara–Alum Rock Bus Rapid Transit (BRT) project broke ground on Friday, March 21. This line will connect the Eastridge Transit Center and the San Jose Arena via Capitol Expressway, Alum Rock Avenue and Santa Clara Street. This is the first of three BRT lines that the Santa Clara Valley Transportation Authority (VTA) is developing to connect downtown San Jose to the rest of the city with faster, more frequent and more reliable transit. It will also be the first BRT line in the Bay Area, pulling ahead of planned projects in San Francisco and the East Bay.
BRT first emerged in South America as a means to improve transit systems on limited budgets. These lines allow rubber-tired buses to attain the comfort and speed of light rail and have been built in cities around the world as a cost-effective alternative to rail. Buses depart every 10 minutes, fares are paid before boarding and all doors open upon arrival in order to speed up boarding. The Santa Clara–Alum Rock BRT will run on dedicated BRT-only lanes for part of its route and will include additional features that have made BRT successful in other cities, including real-time schedules and arrival information, traffic light prioritization (so lights stay green and buses don't have to stop) and green-technology vehicles.
Breaking ground on this project was no small feat. Like BRT proposals in the East Bay and on Geary Boulevard and Van Ness Avenue in San Francisco, the Santa Clara–Alum Rock project has faced delays due to environmental review and public uncertainty. Business interests have opposed features such as dedicated lanes — which define true BRT and make it truly rapid — over fears of slowing travel for cars and the removal of on-street parking.
What makes this project so important is not just that it's the first BRT line to break ground in the Bay Area. More importantly, the existing bus service on Santa Clara–Alum Rock is already one of the highest-ridership corridors that VTA serves. That means some of the most transit-friendly neighborhoods in the South Bay will have access to much-needed state-of-the-art transportation options that connect them to amenities, services and opportunities.
Santa Clara–Alum Rock BRT Route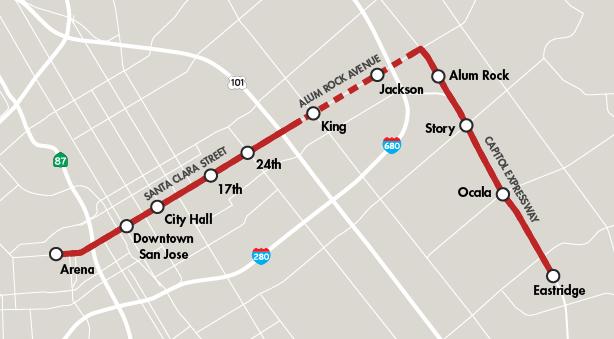 This line will connect the Eastridge Transit Center and the SAP Arena via Capitol Expressway, Alum Rock Avenue and Santa Clara Street.
 
With increased reliability, speed and amenities, BRT is also an attractive option for those who might not use transit on a regular basis. We hope this BRT first line serves as a good ambassador and helps make the case for truly rapid transit around the bay.
The project is set to open in the fall of 2015.