Status Report: Bus Rapid Transit Around the Bay
By Tony Vi
Oakland and San Leandro have voted to approve a 9.5-mile bus rapid transit (BRT) line in the East Bay. The $150 to $175 million project will include dedicated center lanes for rapid buses on International Boulevard between downtown Oakland and San Leandro. Although the project will only have dedicated lanes for two blocks in San Leandro and excludes a direct rapid connection to Berkeley, the project is now closer to final approval from AC Transit's board of directors. With this approval, AC Transit can begin preliminary engineering and design work, with construction to begin in 2014 and service to start in 2016. 
BRT projects are in the works around the Bay Area, but progress has been intermittent. After a delay, San Francisco recently approved a preferred design for Van Ness BRT and has conceptual designs for Geary BRT. The Van Ness project is expected to open in 2017, and the Geary project in 2019.
Meanwhile, the South Bay's plan to implement BRT on El Camino Real hit a hurdle when the Sunnyvale City Council voted not to study dedicated lanes for the project's environmental impact report. The cities of Palo Alto, Mountain View and Los Altos have not yet decided on a preferred street configuration, but Mountain View and Los Altos have indicated a preference for buses to mix with cars and trucks in the far right lane, next to curb parking. This has prompted Vally Transportation Authority staff to recommend continuing the project with dedicated transit lanes only in Santa Clara, as the revised project would still provide benefits of faster travel and increased ridership with lower operational and construction costs.
 
Status of Bus Rapid Transit Projects in the Bay Area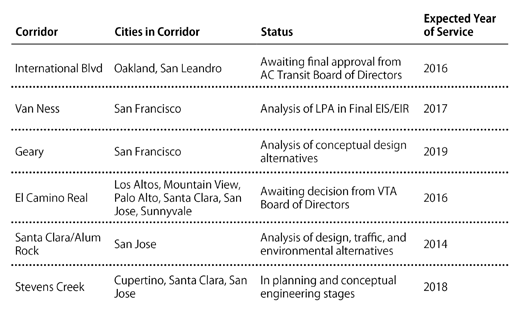 Sources: AC Transit, SFCTA's Van Ness and Geary pages, Valley Rapid, VTA
 
The mash-up of dedicated, curb-side and mixed-flow lanes for BRT lines is indicative of the difficulty in gaining consensus on a transit corridor that spans multiple neighborhoods and cities. However, dedicated median bus lanes are the standard for BRT, as they minimize conflicts with other vehicles and increases reliability, thereby increasing transit speeds and saving transit agencies money. While we recognize the need to consider local conditions and concerns, we hope cities will keep in mind the regional benefits of providing a rapid transit corridor. BRT with dedicated lanes could form the backbone of a regional bus network that would connect and complement existing and future transit and land use investments.