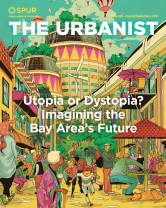 Planning for the region in the year 2070
This report, the first product of the SPUR Regional Strategy, uses a scenario planning process to look at four uncertainties that the Bay Area will contend with over the next 50 years: the economy, housing, transportation and the physical form that growth takes. The resulting scenarios serve as "myths of the future," stories that reveal the potential long-term outcomes of choices the region makes today.
(or the Value of the Near Distance)
San Franciscans love their views to the far distance: to the ocean, the bay or the hills, to the Ferry Building or Twin Peaks. But the author's favorite San Francisco vistas are closer in, along the kinky, misaligned streets meeting at the Market Street backbone, where the FiDi north grid and the SOMA south grid meet in wonderfully inconvenient ways.
From STEM to Startup, working to make tech more inclusive.
Cedric Brown first got interested in cities as a young boy, when his grandmother took him along on errands in downtown Winston-Salem, North Carolina. Today, he works closely on initiatives with SPUR in his role as chief of community engagement for the Kapor Center, an organization working to demystify the tech sector by removing barriers to entry.