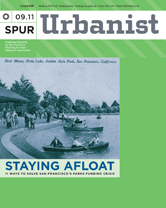 Almost every time I ride my skateboard through San Francisco's financial district all I can think about is Mike Davis's take on downtown Los Angeles, which he described as the "Militarization of Urban Space." Countless urban design techniques are implemented to prevent what urban designers call "undesirable urban behavior," such as homelessness, graffiti and the ultimate undesirable: skateboarding. It's amazing to me that skateboarding has played such a big role in the evolution of urban design and defensive architecture. The motive behind defensive architecture is to limit property damage and ensure that desirables — tourists, working professionals and retail patrons — have an experience of urban space that's as pleasant as possible. Anti-skateboarding design can range from carefully placing metal clips on benches and handrails to completely ripping out concrete and staircases. To San Francisco's credit, city designers have made the effort to create three skateboarding parks, to give undesirables...
Read More »
Funding public parks in a challenging financial climate
Image courtesy Flickr user ShawnaScottPhoto San Francisco's parks are among the city's most treasured assets — but they're also in serious financial trouble. The city's Recreation and Parks Department (RPD) has lost more than 25 percent of its General Fund revenue in just five years. Meanwhile, labor costs have gone up 34 percent. This mix of factors has forced the department to make dramatic cuts. The RPD has lost 150 staff positions in the past seven years, and deferred maintenance costs have reached $1.4 billion. The RPD's current annual budget is $127.9 million. SPUR's task force found that the department needs an additional $30 to $35 million each year in order to retain 24-hour safety patrols, maintain the health of park trees and plants, and keep facilities open and programs operating. In this SPUR Report, we offer 11 recommendations to stabilize current funding and fill the additional need using three...
Read More »