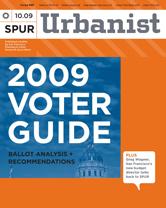 The city's new budget director talks about his department's role in shaping good policy

SPUR Executive Director Gabriel Metcalf sat down with Greg Wagner, the City's new budget director — and SPUR's former good government policy director — to discuss the looming budget crisis, the City's Capital Plan and the role of creative thinking in budget reform.
Analysis and recommendations for the November 2009 ballot

Includes SPUR's analysis of 5 city propositions on the Nov. 3, 2009 ballot.
On numerous walks through San Francisco's Mission District, I'd noticed things that didn't seem to fit into the regular grid of the city's streets. There was that weird diagonal lot behind the lumber place on Harrison Street, the building with the angled facade next to the Taqueria San Jose, and a variety of smaller inconsistencies that never added up — at least until I looked at Juri Commons off of Guerrero Street and put it all together. There must have been a railroad here! But when was it there, and where did it go?