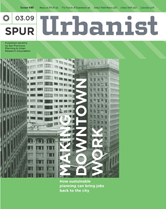 With the passage of Proposition D, the 65-acre Pier 70 waterfront, home to a 150-year-old still functioning shipyard, is poised for its badly needed makeover. The current scheme will incorporate existing industrial use with some combination of new offices, shopping, restaurants, a hotel, at least one museum and multiple open spaces. But one hopes the new Pier 70 will not become a historical theme park. Today it is still possible to see its buildings — some are among the oldest industrial structures in the city — in their ungussied and authentically aging state.
Read More »
Expanding downtown's capacity for transit-oriented jobs
How can we bring more jobs into the region's most transit-rich employment center? SPUR proposes a sustainable plan for transit-oriented job growth in the Bay Area.
Read More »