Urban Field Notes: Seven (of the Many) Wonders at Pier 70's Shipyard
March 1, 2009
With the passage of Proposition D, the 65-acre Pier 70 waterfront, home to a 150-year-old still functioning shipyard, is poised for its badly needed makeover. The current scheme will incorporate existing industrial use with some combination of new offices, shopping, restaurants, a hotel, at least one museum and multiple open spaces.

But one hopes the new Pier 70 will not become a historical theme park. Today it is still possible to see its buildings — some are among the oldest industrial structures in the city — in their ungussied and authentically aging state. The first time I visited Pier 70 I had no idea where I was. My first impression — and it was less a cognitive appreciation than a blunt and powerful sensory experience — was that these buildings are old! Not Roman Coliseum old, of course, not even Gold Rush old. But old in a less iconic, more immediate and poignant sense: these structures radiate an aura of belonging to just yesterday, barely on the edge of living memory, still wearing the accoutrements of their once muscular selves.
Some of this impression is generic. Walking along 20th Street today, one can see late 19th century cobblestones peeking out from beneath worn patches of asphalt, and disconnected cables hanging from mid-20th century telephone poles. But the real treasures of the shipyard, from extraordinary exterior features to the husks of old technology glimpsed through dusty windows, speak of multiple and oddly layered histories. It's the city's past on view, before the impending tourist extravaganza is fully realized.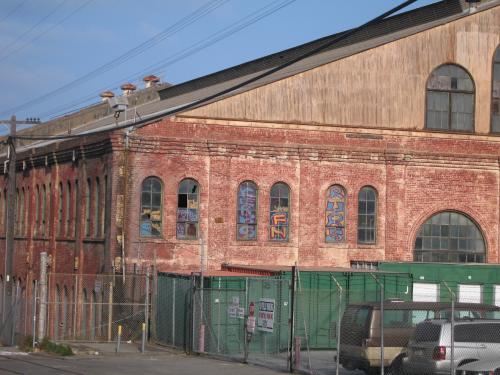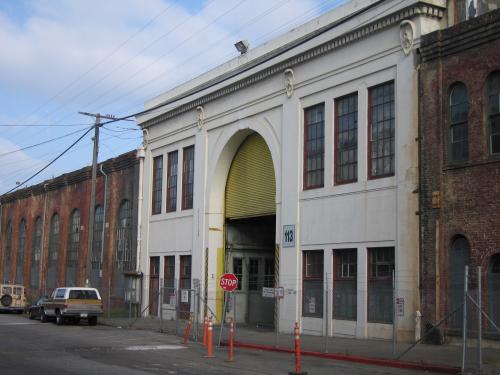 1. Union Iron Works Machine Shop, 1886. Graffiti adorns the windows of the west side of the machine shop, left, the oldest existing structure on Pier 70. The two halves of the 450-foot-long building are connected in the middle by an early 20th century arcade, right, that presciently evokes the mall or museum entrance it may become.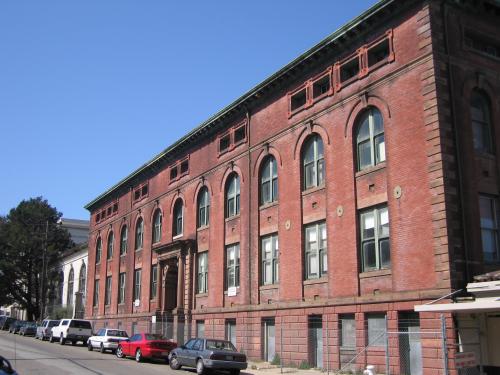 2. Union Iron Works Office Building, 1896. Unlike many of its contemporaries in other parts of the city, this brick and reinforced concrete building, designed by Percy & Hamilton, survived the 1906 calamity and stands as a rare 19th century example of the Renaissance Revival style in San Francisco.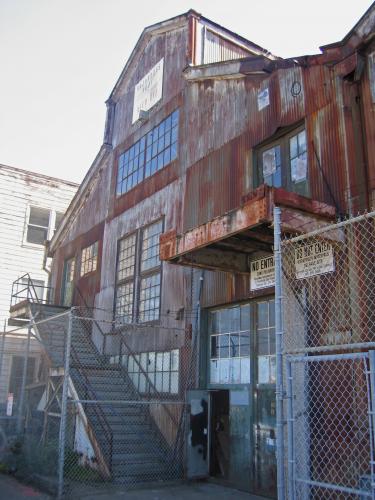 3. Electric Shop / Substation #5, 1900. An exterior of corrugated iron gives this building, the oldest of its type at the site, its weathered character. Today it serves as studio and storage space for artists and arts organizations.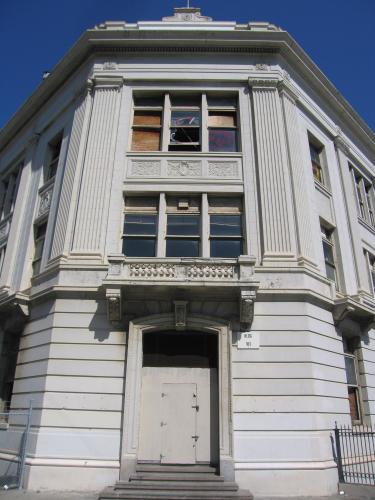 4. Bethlehem Steel Administration Building, 1918. The imposing forms of this Beaux Arts building, designed by Frederick H. Meyer, speak of the city's industrial power at the end of World War I, when the shipyard was in full production.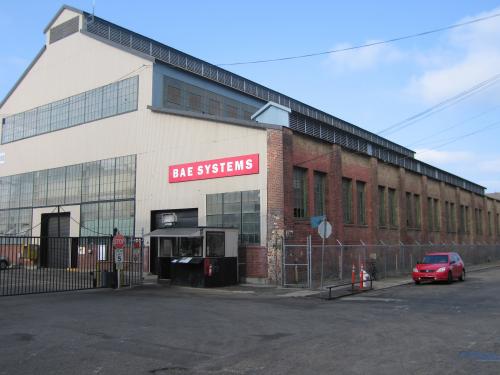 5. Forge Shop, 1937. Built out of steel, this facility incorporates a brick façade from an obviously earlier but unidentified building. The windows and brickwork of the older wall echo the forms of its neighbors along 20th Street, the Machine Shop and the Union Iron Works offices, both late 19th century structures.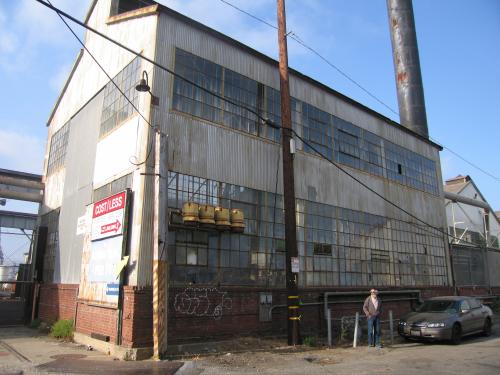 6. Steam Powerhouse #2, 1937. This facility was built just before World War II, but there is something Victorian about its protruding mechanical apparati, its oversized steam pipe arms, and the lifeless but intriguing machinery lurking within.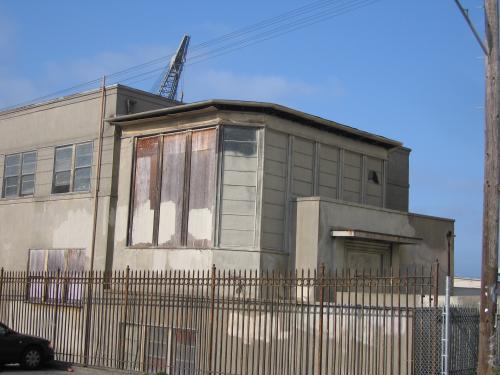 7. Employment Office, 1941. The glass-walled entry stairwell of this building, once headquarters for thousands of unionized workers, is a striking and unusual feature, but the office and its activities were sited off the main thoroughfare, tucked discreetly away behind the more intimidating Bethlehem Steel Administration Building.