Member Profile: Jodie Medeiros
Working to make San Francisco lively, safe, sustainable and healthy.
Urbanist Article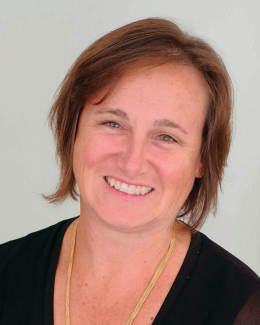 Jodie Medeiros grew up in a small city in Massachusetts, 50 miles south of Boston. Two weeks after graduating from college, she got into a car with a friend and drove west to start a research job at Stanford University studying the life and work of Martin Luther King Jr. She's been here ever since.
In 2005, she became the membership manager at the SF Bicycle Coalition, when the coalition had only four staff people and fewer than 5,000 members. There, she says, "I got hooked on urban planning and got a firm understanding of the role residents play in shaping the city's policies and environment."
Last fall, Jodie returned to the work she loves, transforming San Francisco's streets into safe and more enjoyable spaces, as the new executive director of Walk San Francisco. Her mission, she says, is "to remove the barriers to walking, whether that's infrastructure, safety or time. I want people to choose walking as their #1 way to travel around the city. I can't think of a better way to connect with your city and enjoy everything it has to offer."

What will be Walk SF's main focus this year?
Getting San Francisco to its Vision Zero goal of zero traffic fatalities by 2024. In 2017, traffic fatalities were down 33 percent from the previous year, so we need to believe that the city's investment in infrastructure and awareness campaigns is working. Our biggest challenge right now is at the state level. We know speed is the leading cause of deaths in crashes and we can't change local laws around speed enforcement without changing state law.
How did you first get interested in cities and when did you first learn about SPUR?
I lived in Boston during my college summers, worked at a coffee shop on Newbury Street and walked to work at 5:30am, waking up with the city. I loved that early-morning walk, and how it was so different from my walk home. Those summers got me addicted to big cities, and the energy they carry. The diversity of the architecture, from old brownstones to big glassy skyscrapers, the bustle of city streets, and restaurants with seating spilling onto the sidewalk, blending into the urban realm. It was those Boston summers that made me realize I loved cities and what they offer.
I first learned about SPUR during my tenure at the Bicycle Coalition. I was a sponge, going to as many SPUR forums as I could to understand all the policies it takes to make a city function. Through SPUR I've met so many policy and design thought leaders that continue to shape San Francisco today.
What's the best city for walking?
Ah, that's a tricky one! I could easily say New York, London, Paris and Barcelona. All are amazing walking cities that have made major investments in their street and transportation infrastructure over the last 10 years. But my true love is San Francisco! It can't be beat. If you want to go on a nature walk, you head to the Presidio for a hike with views of the ocean. Or you can spend a day walking from peak to peak, taking in the best of all the city's views. A great weekend means walking out your door in the morning, meeting a friend, maybe doing some shopping, grabbing a drink, and walking home or hopping on bikeshare.
Favorite book or film about cities?
I'm a Jan Gehl fan. His Cities for People book inspired me to look at cities critically and ask for more. How can we be creating more human space for San Francisco? We need to be continuously trying to improve our urban spaces for the diversity of people that will be using it and enjoying it. I apply this thinking to our work at Walk SF all the time.
Favorite urban view?
I can't get enough of Alamo Square, day or night. It was my local park for a number of years, so I got to walk through it every day. Nothing beats it.