Oakland Takes Steps to Address Its Housing Challenges
Nearly 3,000 homes are under construction in Oakland. There is more to be done but SPUR is impressed with the city's progress.
By Sarah Karlinsky and Robert Ogilvie
August 30, 2017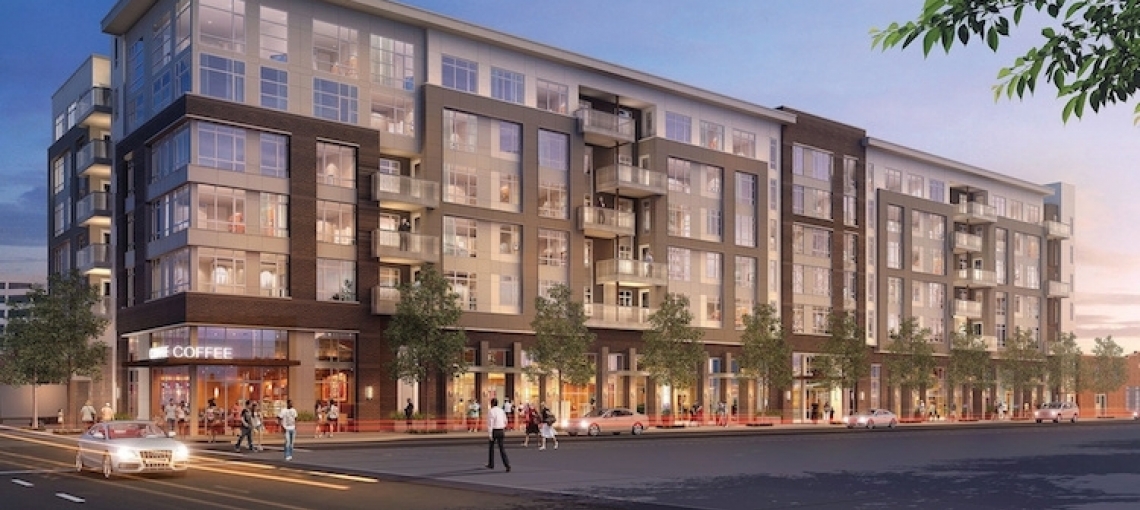 Trammell Crow began construction on a $135 million, 243-unit apartment building at 2330 Webster Street in July, as part of the city's long-term plan to attract new housing and retail development to Oakland's Auto Row. Rendering courtesy KTGY.
Over the past several years, Oakland's rents have escalated rapidly, making it the 6th or 7th most expensive rental market in the country. While rents may have started to soften slightly, housing is still extremely difficult to afford, especially for those with lower incomes. And home prices for those looking to buy continued to climb, pushing homeownership out of reach for many.
Top 10 Highest Rents in the United States
What is the city doing to address the high cost of housing? In 2016, Mayor Libby Schaaf's Housing Cabinet released recommendations to address Oakland's housing crisis. Entitled Oakland at Home, this report detailed steps the city needed to take to protect the affordability of 17,000 homes and build 17,000 new ones. The report called for taking a series of steps to address the city's housing challenges including 1. increasing protections for renters; 2. making existing housing permanently affordable; 3. creating new resources to build more affordable housing; and 4. building new market rate housing. SPUR was proud to serve on the Housing Cabinet and to support the recommendations in the report.
In the past year, substantial progress has been made towards the Housing Cabinet's goals. Recently, the city released its Oakland at Home Update: A Progress Report on Implementing A Roadmap Toward Equity from the Oakland Housing Cabinet. The results are impressive, and have required coordination across city departments, with the City Council, the private sector and community members.
1. Increasing protections for renters
In July 2016, the Oakland City Council amended the city's Rent Adjustment Ordinance, and in November 2016 Oakland voters approved Measure JJ to strengthen renter protections. Together these actions did three important things. First, the council extended just-cause eviction requirements, which mandate that tenants can only be evicted by their landlord for one of 11 just causes, to units built and approved before December 31, 1995. (Previous protections only covered units built in 1980 and earlier.) Second, they required landlords to file a petition for rent increases over the consumer price index (although increases allowed but not taken in the past can be carried forward). Third, they doubled the city's per unit registration fees in order to fund better services for helping renters know and understand their rights. Since then, the city has engaged a group of local nonprofit advocacy organizations to provide tenant counseling and legal assistance to renters, embarked on a revamp of the Housing Assistance Center, and created new, more user-friendly websites for the Department of Housing and Community Development and the Rent Adjustment Program.
2. Making existing housing permanently affordable
In November 2016, voters passed the Oakland Infrastructure Bond, a $600 million infrastructure bond. Though the majority of the money will be used for street repair, city facility operations and maintenance, $100 million will be used to acquire existing affordable housing, thus taking it o of the speculative market, and rehabilitate it. The city as convened an Acquisition-Rehabilitation Working Group comprised of non-profit affordable housing developers, affordable housing lenders, city officials and others to figure out ways to quickly identify and purchase housing that can be made permanently affordable. And the Oakland Housing Authority is looking at ways to use its resources more efficiently, including using housing vouchers to enable current residents to remain in their homes.
3. Creating new resources to build more affordable housing
Here the city has had significant success in a very short period of time. In addition to the Oakland Infrastructure Bond described above, the voters also passed Prop A1, a $580 million countywide bond for affordable housing. This bond included funding for both rental and affordable housing. Oakland will receive over $50 million as a base allocation for the construction of affordable rental housing and is eligible to access roughly $90M as part of a countywide pool. Additionally, the city adopted an Affordable Housing Impact Fee on new market rate construction, which will help fund more affordable housing development. The city has been very successful in competing for state funding for affordable housing development, securing almost $50 million in 2016 for affordable projects, which help to leverage local funds. As a result of these efforts there are currently 170 affordable units under construction and another 1,348 that have received planning approvals or are in the pipeline.
4. Building new market rate housing
Oakland is finally experiencing a building boom. Roughly 2,600 new market rate homes are under construction. The city has taken several steps in the right direction to encourage housing that is "affordable by design," adopting new rules to make it easier to construct in-law units and to build housing with reduced or no parking
There is still more work to be done. The city is working to address its burgeoning homeless population, investing in outreach and services for those without a home. And recent res, which resulted in deaths and displacement, have brought the issue of housing safety to the fore. These challenges will continue for many years to come. And of course rents continue to be unaffordable for many Oakland residents. But SPUR is impressed with all the ways the city and its partners have made steady on-going progress in the right direction.