Member Profile: Vu-Bang Nguyen
Vu-Bang Nguyen is working to insure that Silicon Valley's growth benefits everyone.
August 30, 2017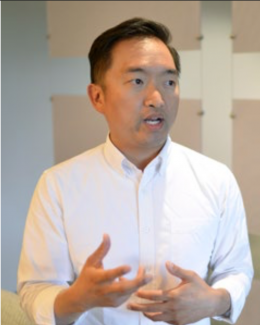 Vu-Bang Nguyen first got interested in cities when he was studying architecture at U.C. Berkeley and realized he was signing up for more city planning classes than design studios. That led him to work with Robert Ogilvie (SPUR's Oakland Director) and the City of San Jose Redevelopment Agency. He focused on community engagement with the Vietnamese American community on their Strong Neighborhoods Initiative. "I knew then that I wanted to focus on ensuring that residents were engaged in shaping their own communities and that the voices of low-income communities and people of color could be heard in land use and transportation decisions," he explains. "I hope the work I do continues to benefit the communities impacted most by income inequality, climate change and housing affordability. (And I also hope Robert Ogilvie finally forgives me for dropping his city planning class in the middle of his first lecture because the two readers he assigned were way too thick.)"
 
We spoke with Vu-Bang recently about his work as a program officer for the Silicon Valley Community Foundation.
I work on the Building Strong Communities grantmaking strategy, which focuses on housing, land use and transportation policies to ensure Silicon Valley and the Bay Area's social, economic, and environmental quality continue to improve for all our residents. We fund a portfolio of amazing organizations that work on gentrification and displacement issues, including Faith in Action and Community Legal Services in East Palo Alto; transit advocacy, including Youth Leadership Institute, Urban Habitat, Working Partnerships and Transform; and affordable housing, including the Law Foundation of Silicon Valley and Sacred Heart Community Service. We're also working in collaboration with 10 cities in Alameda and Santa Clara counties to raise local affordable housing funding through impact fees.
 
What is the biggest challenge facing the valley? The greatest opportunity?
The biggest challenge in Silicon Valley — and the Bay Area — is how we ensure that the growth of our economy leads to benefits across all our communities, regardless of race, class, income and geography. I consider communities to be more than the streets, houses, offices, parks, stores and schools in the neighborhood. Improving the built environment through the land use and development tools we have is great, but what is the point if our folks get pushed out to other communities? We need to ensure we do not leave individuals or communities behind when we make the transportation and housing investments that we sorely need.
The greatest opportunity to do this is through the network of amazing grassroots organizations from Gilroy to Santa Rosa that are having big wins in the field, whether it's renter protections in San Jose and Mountain View or funding for transit operations in Santa Clara County. I am especially optimistic about two organizations I serve on the boards of, Asian Pacific Environmental Network in Oakland/Richmond, and Youth United for Community Action. These organizations work on the cutting edge intersection of environmental justice, youth leadership, immigration rights and climate change.
 
How did you first learn about SPUR?
I have been attending events since early in my career and I am especially a fan of two SPUR reports, both funded by SVCF: Seamless Transit (April 2015) and Freedom to Move (July 2014). These continue to be great resources in Silicon Valley.
 
What's your favorite city?
The best thing about living within an hour drive of my hometown, San Jose, is I get to go home whenever I want. I could sound off on the noodles at Nam Vang or orange sauce at La Vic's or shopping for piñatas at the Berryessa Flea Market, but it's really about family. So between my family, who are mostly living in the eastside (shout out to the Evergreen Specific Plan, 1991!), and my 408 friends, until I die I will be reminding people that San Jose is the largest city in the Bay Area.
 
Favorite urban view?
I'm going to give you three: the San Francisco skyline while driving north on Highway 101 before it hits I-80. Magical since I was a kid riding in the backseat of a mini-van heading to Chinatown. Oakland, while on BART, between the West Oakland station and the Transbay Tube. And last, but certainly tops, is San Jose from the top of Hassler Parkway in Evergreen. The view looks like it belongs on an ad for Del Monte canned fruits from the 1920s.
 
Favorite work of art about cities?
When it comes to art, Richard Diebenkorn comes top of mind. His suburban landscapes are exactly how I idealized my upbringing in San Jose.