Is Prefab Pretty Fab?
With housing demand higher than ever and construction costs rising, several multifamily developers placed their bets on prefabricated affordable housing.
By Yosh Asato
January 19, 2016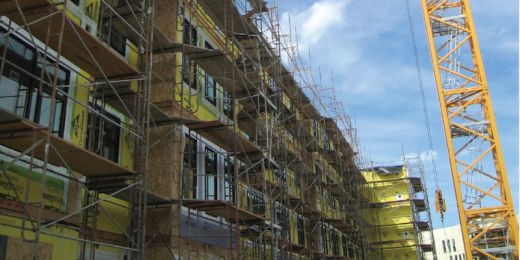 A view of Holliday Development's prefab project at 5830 Third Street. Photo courtesy Zeta Design Build.
As rents and median home prices reached record highs in San Francisco and throughout much of the Bay Area in 2015, the percentage of Bay Area households able to afford a median-priced home dipped tojust 20 percent, the lowest rate in the state, during the same period. The cost of a single unit of housing in San Francisco has reached somewhere between $700,000–800,000, including land costs, and modular may provide a way to get more housing built at a more tenable price point. More bad news: From 2010-2014, the region grew by 270,000 residents while building fewer than 40,000 new housing units.
As job and population growth continued to outpace housing production — particularly for moderate, low- and very-low-income households — the need for more, and especially more affordable housing, reached acute levels. For the real estate development and construction industry, these shortfalls dovetailed with rising costs and growing labor shortages to set the stage for innovation. If micro-units were the story in 2014, prefabricated began to weave its own narrative in 2015, with modular multifamily housing used for the construction of large projects of over 70 units, from Union City to Berkeley and San Francisco.
Faster, better
Through the lens of the current housing crisis, speed is the main advantage of modular construction. Units are built and inspected off site, in a factory, while the infrastructure, foundations and podium are built on site. Most estimates project a time savings of about 25 to 30 percent less than traditional site-built projects, but currently, with subcontractors, skilled labor and building inspectors maxed out, causing scheduling delays, time savings could reach even higher.
Factory-built housing, as it is called by state regulators, essentially is a manufacturing process that promises greater control, quality, efficiency and safety. All components, from structural and mechanical systems to appliances and finishes, as well as quality control points, are fully designed and optimized before assembly begins. Shifting construction to the factory — where it is less vulnerable to weather-related delays and water intrusion issues — helps reduce disruption and building waste at the project site, which is better for both the environment and neighbors.
While it is hard to pin down construction cost savings, everyone agrees that getting product to market faster reduces development costs. Even projects that cost more to build could ultimately come out ahead and accordingly, developers including Holliday Development, Bridge Housing, the Nautilus Group and Panoramic Interests all started prefab projects in 2015. The widespread adoption of 3-D digital design tools and building information modeling (BIM) provided an important turning point for prefab multifamily housing by allowing architects, engineers, contractors and subs to coordinate information and optimize components. The technologies go hand in hand with the shift in mindset — from building to manufacturing — that is crucial to realizing factory-built housing's advantages.
Challenges ahead
With interest modular construction taking off, the ability to grow factory capacity while sustaining quality is a key concern. Locating new factories closer to booming Bay Area cities would reduce the costs and logistical challenges of transporting modules to project sites, but guiding this expansion requires manufacturing expertise, not to mention major upfront capital investment. The factories currently able to make the prefab units are, for the most part, small and not well capitalized. There is risk that they will go under before a project is completed. Nationally, there have been a series of high-profile challenges with prefab — the B2 Towers at Brooklyn's Atlantic Yards, for example — where projects were bogged down in construction delays and lawsuits. As the reality of prefab has not matched the anticipation, the building methodology still scares investors.
Growing market acceptance should help overcome financing hurdles, but that's not guaranteed. The lingering question is how will the savings realized through prefab construction manifest in the marketplace. Indeed, many developers simply dispute the cost savings and say that as projects are as projects are bid, there are none. By bringing more market-rate units online quickly and helping cities and affordable housing developers to stretch their resources, modular construction, in theory, should relieve pressures on affordability.
But it is not a magic bullet. Other tools, such as San Francisco's proposed affordable housing density bonus and the city's inclusionary housing, accessory dwelling unit and small sites programs, will remain crucial to meeting the demand.