Managing Transportation to Create Great Places
As Santana Row and Valley Fair expand, opportunities for enhancing transit and walkability in San Jose can, too.
By Laura Tolkoff
July 28, 2015
Rendering of planned expansions at Westfield Valley Fair in San Jose.
San Jose is projected to add more growth than any other city in the Bay Area. While the city, at 174 square miles, is a sprawling one, it will not continue to grow outwards. New growth is planned for places that already have the infrastructure to support it. 
As San Jose, like many cities, undergoes the process of becoming more urban, one of the best strategies is to expand on places of successful density and pedestrian activity. Some of these places are traditional shopping streets, which can be transformed into even more dynamic neighborhood centers. Two of the best known examples of urbanism in San Jose are Santana Row and Westfield Valley Fair, wildly successful retail, commercial and residential destinations that pull in millions of visitors from all over the region while also attracting local residents and employees. 
Santana Row is a 40-acre, mixed-use development which replaced the more suburban-feeling Town & Country shopping center in 2002. It includes walkable streets, 840 units of housing, 60,000 square feet of office space and active ground floor uses like restaurants and retail stores. A thriving hub of activity, with over 15 million visitors each year, it's the kind of destination that many American cities would love to have. Across the street is Valley Fair, a 73-acre shopping center. With over 13 million visitors each year, it is one of the most successful malls in California, bringing in $979 per square foot as of 2013 [1]. These two developments have a very symbiotic relationship. People drive to Santana Row or Valley Fair, park once, and walk around and between their destinations, where shoppers, employees and residents spend time outside in public spaces. 
Due to their successes, Santana Row and Valley Fair are both looking to expand. This offers an opportunity to take what works about this area, build on it, and allow more people to experience the many benefits of mixed-use, walkable places.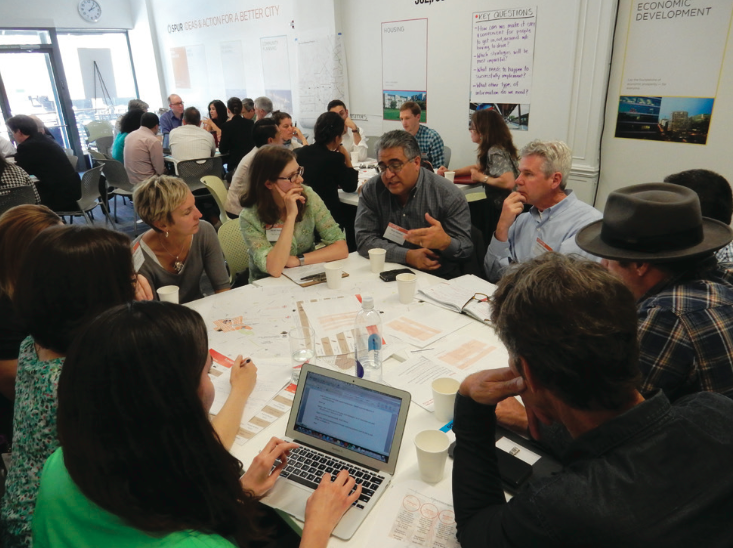 Santana Row and Valley Fair Urban Village were the focus of a recent transportation demand management workshop held at SPUR in San Jose, designed to enhance the experience for residents, shoppers, diners, office and retail workers.
High-impact ways to improve access 
SPUR believes a key part of whether the Santana Row/Valley Fair Urban Village can live up to its urban aspirations hinges on access. How well can residents, workers and shoppers get to and from Santana Row and Valley Fair? Once they've arrived, how will people move between the two locations? Can Santana Row and Valley Fair be seamlessly integrated into the neighborhood? Will the area remain auto-dependent, or can a combination of infrastructure and incentives encourage people to try other modes? 
In June, SPUR held a workshop in San Jose to brainstorm ideas for improving access to, from, through and between Santana Row and Valley Fair while minimizing congestion on nearby arterials and residential streets. The workshop was attended by over 30 participants — including decision makers from Federal Realty, Westfield (which operates Valley Fair), the City of San Jose, the City of Santa Clara and Valley Transportation Authority — to think about how to make it easier and more convenient for all types of users to experience Santana Row and Valley Fair without having to drive alone, or without having to drive at all. 
The workshop focused on transportation demand management (TDM), which refers to policies and strategies that can lower the demand for travel by private vehicles. TDM encompasses many different types of strategies, including preferred parking policies, encouragement programs and subsidized transit passes, all of which can be tailored to different user groups. Some of the benefits include less traffic, shorter trip times, lower greenhouse gases, and a safer environment for pedestrians and cyclists. 
A birdseye view of the Santana Row and Valley Fair area.
The Challenge: 
The expansion of Santana Row and Valley Fair poses some challenges, all related to how people get to, from, through and move within the two locations. 
Surrounding arterials and roadways are already congested. Traffic plagues the key arterials that serve Santana Row, Valley Fair and nearby neighborhoods — Stevens Creek Boulevard, North Winchester Boulevard, I-280 and I-880. This congestion is problematic for the nearby neighborhood residents, who rely on these roadways to get to and from work. 
The area is not well-served by transit. Valley Transportation Authority (VTA) serves this area with three bus lines: Route 23, Limited 323 and Route 60. A transit center just north of Valley Fair on Forest Avenue provides connections to Routes 23 and 60, though this hub is not well-integrated into Santana Row and Valley Fair. In the fall of 2017, VTA will provide Stevens Creek Boulevard with a Rapid 523 service, which will provide a connection to the BART Silicon Valley Extension at the Berryessa Station. But too much congestion on Stevens Creek Boulevard could delay buses, which may increase operating costs and discourage people from taking transit. 
There is minimal infrastructure to support biking and walking. By 2040, San Jose hopes to reduce the number of car trips taken by half. This will require a major focus on allocating more space to bicyclists and pedestrians on city streets, as well as an effort to make biking and walking safer, easier and more pleasant. 
Limited information or incentives exist to arrive by other modes. While getting to this destination without a car may be an option, it's not an option most people know about.People need better information: signs, maps, mobile guidance systems and more. These provide cues to help people who are unfamiliar with the area. Currently, this type of information is missing for those who might choose to walk, bike or take transit to and from this area. 
In addition, people who walk, bike or ride transit to Santana Row or Valley Fair experience no immediate cost savings or reward for their efforts. Incentives could inspire people to shift how or when they travel. Without good information and incentives, it will be difficult to encourage mode shifts, and existing facilities will go underutilized. 
In response to these challenges, workshop participants presented 20 recommendations. Here are five ideas SPUR believes could have the most impact: 
1. San Jose, Santa Clara and VTA should create a dedicated lane for BRT and employee shuttles on Stevens Creek Boulevard. It will be impossible to get more people to take transit to the Santana Row / Valley Fair Urban Village area without providing fast, convenient transit. Current and proposed transit (the Limited 323, Rapid 523 and Bus Rapid Transit) will face regular delays without a dedicated bus lane on West San Carlos/Stevens Creek Boulevard. This lane should run throughout the VTA service territory but particularly between key origins and destinations, from downtown San Jose to Santana Row and Valley Fair, to De Anza College and the Apple campus in Cupertino. It could be open to public transit operators like VTA but also to circulator shuttles and employer- operated shuttles. 
2. VTA should study the feasibility of relocating the Forest Avenue transit center to a more central location. The bus stops located on Forest Avenue within the City of Santa Clara's boundary is disconnected from the rest of Valley Fair. Making the transit center more accessible by moving it onto Stevens Creek Boulevard may be an option, but it works best only if there is a dedicated "transit plus" lane. VTA would also need to study the effects of travel times on the Local 60, Local 23 and Limited 323. 
3. Federal Realty, Westfield, San Jose and the City of Santa Clara should establish a transportation management association (TMA). A transportation management association is a non-profit, member- controlled organization that provides localized transportation services within a defined area. A TMA could pool the resources of these organizations to provide transportation demand management services to all user groups.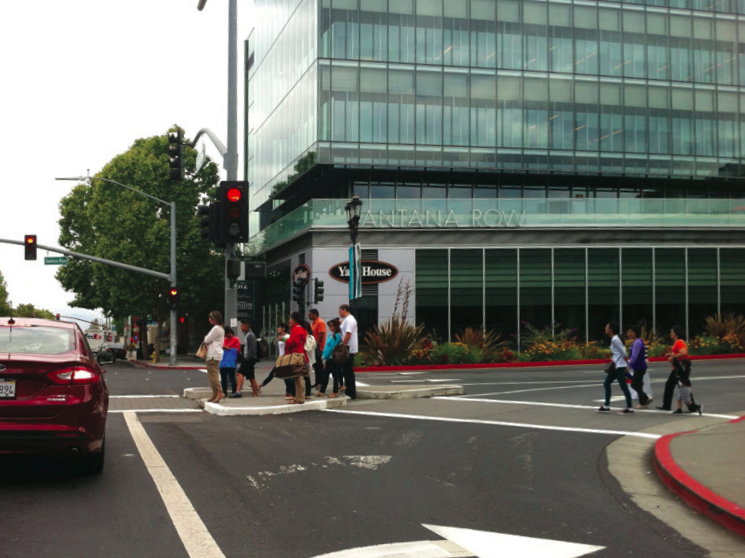 Planned expansions of Valley Fair and Santana Row provide the perfect opportunity to improve the experience for those not arriving by car.
4. Santana Row, Valley Fair, San Jose and the City of Santa Clara should implement a comprehensive set of parking management policies. While Santana Row and Valley Fair already have some parking management strategies in place today, these could be expanded with parking pricing, residential parking permits and financial incentives. 
Workshop participants debated the idea of charging Santana Row and Valley Fair's shoppers and diners a fee for parking. Free parking encourages driving; parking pricing can encourage people to carpool or shift to other modes, and it can help to raise revenue to support other transportation demand management strategies. A second strategy participants suggested was to create a residential permit-parking zone in order to make sure that overflow mall parking isn't absorbed on nearby residential streets. A third strategy focused on providing financial incentives to workers and residents. Federal Realty and Westfield could work with retailers to offer transit benefits, such as subsidized transit passes to their employees. VTA offers an Eco Pass, which is a deeply discounted transit pass that is purchased by employers and developers to give to their employees and occupants. Incentives like these can help shift people away from single occupancy trips and onto other modes.
 5. Santana Row, Valley Fair, San Jose and the City of Santa Clara should focus on delivering high-quality, multi-modal urban design. To facilitate better urban design, Valley Fair could bring more stores to Winchester and Stevens Creek Boulevards, use more transparent and active retail frontages, separate loading docks from pedestrian pathways and provide cues that help people find their way around. In the future, Valley Fair might explore implementing grid-like streets that could connect to Santana Row more easily. 
Improved street design will also make it easier for people to get around without a car. Three big ideas emerged from the workshop: Santana Row could improve the pedestrian experience on Stevens Creek Boulevard at Santana Row and along North Winchester Boulevard by adding a second crosswalk and making it safer for pedestrians to wait at the intersection. Second, the City of San Jose could improve circulation and access for bicycles by installing bike lanes on key roadways that connect Santana Row and Valley Fair to downtown, including West Hedding Street, The Alameda, North Monroe Street and Forest Avenue. Third, the City of Santa Clara could work on slowing traffic on North Winchester Boulevard and making the sidewalks wider and more pedestrian friendly. 
The expansions of Santana Row and Valley Fair present a real opportunity for the City of San Jose to cultivate a great urban neighborhood. 
Endnotes
[1] Westfield Group Shareholder Review, 2013.