Member Profile: Sunil Paul
Urbanist Article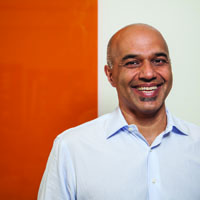 Sunil Paul, who hails from the suburbs of Nashville, Tennessee, grew up in the 1970s hating cities. They were crowded, polluted and hot compared to the quiet and beauty of the countryside, he recalls, but as an adult he began to realize that cities are society's dynamic engines of creativity. Paul explains that he began "to see cities as one of mankind's greenest inventions and one of the best ways to preserve the quiet and beauty of nature."
Paul met SPUR's executive director, Gabriel Metcalf, when Metcalf cofounded City Carshare in the late 1990s. "I was interested," says Paul, "In how information technology could change urban mobility." Paul went on to start Sidecar, a peer-to-peer transportation network in 2012.
Tell us about Sidecar, what it does and how it relates to the emerging sharing/peer-to-peer economy?
Sidecar is building the world's most convenient and affordable transportation network created for and powered by everyday people. We connect drivers in their own cars with people nearby for shared rides. Peer-to-peer services like Sidecar are part of a shift that's happening in society where access is smarter and more powerful than ownership.
Are companies like yours changing the way cities work? How do you see that evolving?
Yes. Sidecar, alongside other innovations like car sharing, bike sharing and transit applications, is making it possible to live car-free in cities. We've already seen a change. In less than two years, Sidecar has become an important part of the transportation ecosystem in major cities. In another two years, a large portion of our riders won't need to own a car at all.
2013 was a milestone year for our company. In September, the California Public Utilities Commission (CPUC) approved rules for how peer-to-peer transportation services would be regulated, making California the first state to regulate ride-sharing companies. We believe these rules set the stage for growth and will serve as a blueprint for future states to follow.
What are some of the more interesting ways tech in shaping the contemporary (and future) city?
The peer economy, powered by tech, is redefining entrepreneurism in urban environments. It gives people the tools to make money on their terms, using their own assets like their home, their cars, their bikes and their time.  Sidecar will shape future cities because it will reduce congestion, infrastructure stress and the need for all-day parking, as our service, ridesharing, car sharing and autonomous vehicles proliferate.
You've become a fan of cities: which one is your favorite?
San Francisco, of course! It's the reason I live here. It has the cultural and economic dynamism of a real city, the neighborhood feel of a village and access to the outdoors.
Favorite urban view?
The view of San Francisco over the Golden Gate Bridge.
Favorite book, film or work of art about cities?
I really enjoyed Cory Doctorow's book, Little Brother.