Member Profile: Tanya Peterson
The director of the San Francisco Zoo is wild about the city.
Urbanist Article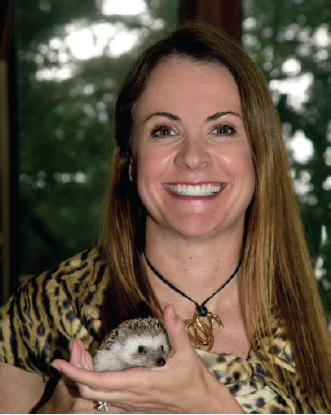 Lions, tigers and bears? They're all part of the urban experience for this animal-loving San Franciscan.
Tanya Peterson, a lawyer at Hewlett-Packard, served on San Francisco Zoo's board of directors until she was asked to take on the role of director in 2008. "It was my children's passion for the institution that initially attracted me to the zoo," says Peterson, "and that's what continues to drive me to ensure its longevity."
She describes the zoo as "firstly a preserve and a park…and a unique way, in an urban environment, to connect with wildlife." She is currently overseeing a new master plan that envisions a zoological park that represents global conservation zones or "hot spots," which both educate and immerse visitors in diverse ecological zones. At the end of 2013, the zoo plans to open a zoological-themed, one-of-a-kind play zone that encourages children to play in and experience polar, Asian and other geographic "hot spots." And next year, says Peterson, "the zoo hopes to open a remodeled tropical forest in its South American region, which will house South American reptiles, birds and even a sloth!"
With all of these exciting things happening at the zoo, we asked Peterson to describe the institution's role in the city and the community.
Zoos are often the first place people connect with wildlife. A zoo can ignite a lifelong passion for global conservation and renew a basic empathy toward animals. Zoos also are accessible and affordable to people of diverse social and economic backgrounds and are attended by multiple generations. It is one of the few places where three generations of a family can enjoy a day together!
How did you first become interested in cities — and in SPUR?
While at UC Hastings law school, I developed a deep fondness for San Francisco, which only increased over time. Later in my legal career, I had the honor of sitting on the city's Board of Appeals, which made me appreciate the delicate balance between urban growth and informed planning. It was then I first heard about SPUR as a unique and objective organization that recognized the very balance we were trying to achieve at the Board of Appeals.
How has the zoo been involved with one of SPUR's major initiatives, the Ocean Beach Master Plan?
The San Francisco Zoo may be the only zoo in the country that borders an ocean, and our visitors are simultaneously amazed and disappointed by Ocean Beach and its current condition. I very much want to be part of an effort to revive this special coastal zone, and thus was eager to participate in SPUR's task force that is attempting to address long-term issues of erosion, conservation and public access while trying to maneuver through a tangled web of multiple jurisdictions and, at times, competing interests.
So we can guess which city attraction you love most, but tell us, what is your favorite…city?
San Francisco, undoubtedly.
Urban view?
It is still a treat for me to head to the top of the Empire State Building.
Favorite work of art about cities?
Richard Diebenkorn's Cityscape I at the San Francisco Museum of Modern Art.
And, naturally, we can't resist asking: What is your favorite animal?
Zoo directors can't have favorites, although I do have a special fondness for hedgehogs.