Urban Field Notes: Medellín Metrocable
A traveling environmental planner rides Medellín's Metrocable.
Urbanist Article
In the Fall of 2012, I visited Colombia and Ecuador to examine how cities are protecting urban ecological corridors at varying scales. Between Cartagena and Bogota, I rode the Metro of Medellín, which has been shuttling Antiquenos (Medellín residents) along its elevated north-south track through the city's valley since 1995. In the last decade, Metrocable cable car extensions were added to improve accessibility and inclusivity between Medellín's poorest neighborhoods that cling the valley's hills, and the city center clustered around the Medellín River. Completed in 2004, Metrocable K, extends into the Santo Domingo Savio neighborhood in the eastern hills, which was followed several years later by Metrocable J that scales the steep western hills of the San Javier neighborhood.
In addition to significantly reducing the commute time of these hill-dwelling Antiquenos, the Metrocable draws many local and foreign tourists, particularly to the newest line, Metrocable L, which carries urban nature-seekers to Parque Arvi, a regional park recently equipped with EnCicla, the region's free public bike sharing system.
Even though the Metrocable system serves approximately 60,000 Antiquenos each day, on several cable car rides, I met local families who were riding the Metrocable for the first time, proudly experiencing this innovative transportation system that has revitalized their hometown.
[A] Metrocable cars gliding above the streets of Santo Domingo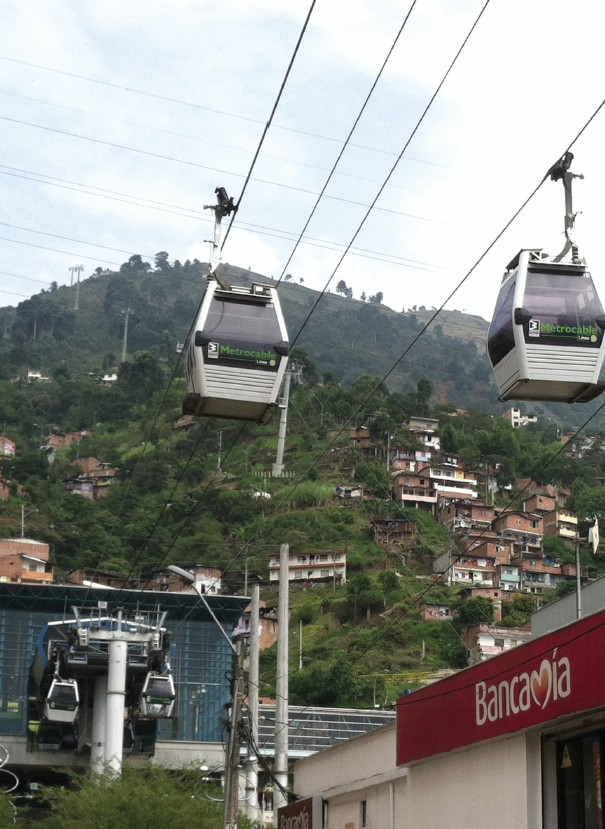 [B] Rush hour at San Antonio station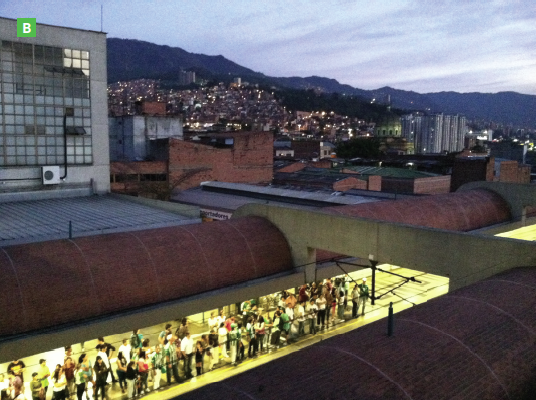 [C] Metrocable K extends from the Medellín River over the hills to Parque Arvi, where I used EnCicla to bike to trailheads and hike through the mountain forest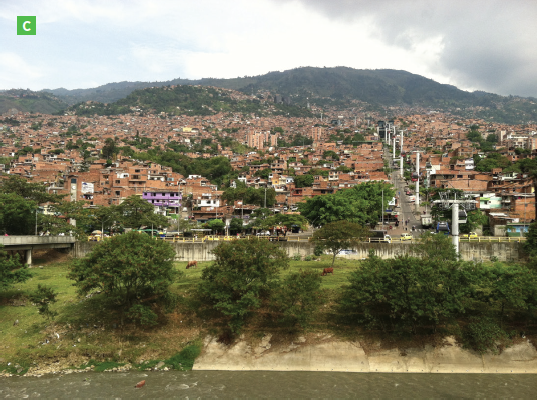 [D] Metrocable K climbing east from Acevedo station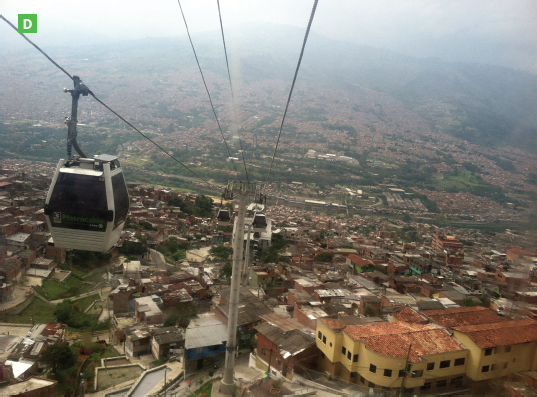 [E] Looking west from Metrocable K toward Acevedo station into the Medellín River Valley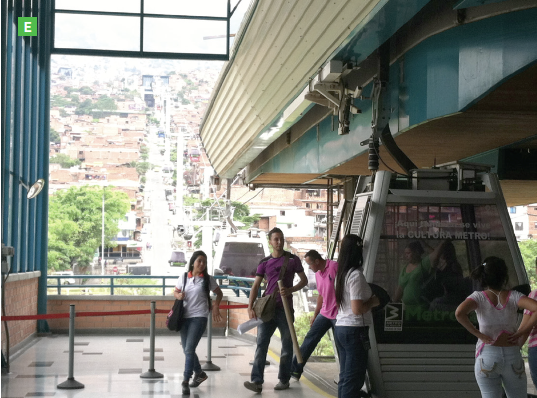 [F] View of the Metrocable J over San Javier neighborhood, known for its steep slopes and a history of gang violence