Member Profile: Bill Souders
San Jose's Naglee Park Garage Bistro was once a blighted corner. Bill Souders turned it into a neighborhood gem.
May 13, 2013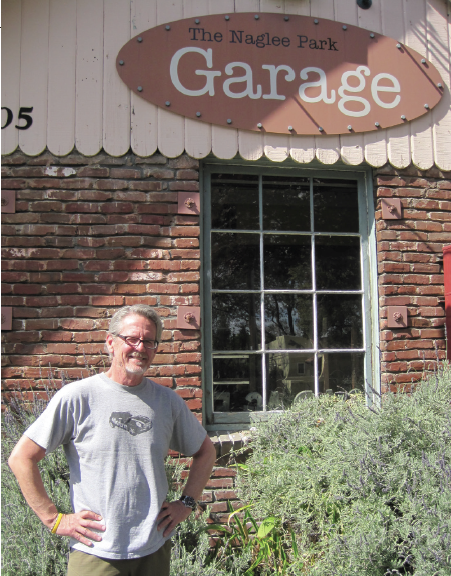 Fifteen years ago, an abandoned former gas station sat on a key corner of San Jose's Naglee Park. It was in disrepair and, as Bill Souders explains, "challenged the fabric and safety of the neighborhood." But Souders, a consultant for nonprofits, joined forces with a group of his fellow Naglee Park families and decided to do something about it. Together they purchased the property, surveyed their neighbors to find out what type of uses they wanted, and set about creating a new gathering spot for their neighborhood. Today, just as the neighbors had hoped for, there's a restaurant, a bagel shop and a convenience store that Souders refers to as the "neighborhood pantry." We got to know Bill Souders during one of SPUR San Jose's bike tours earlier this year, and we wanted to find out what other urban projects he had up his sleeve.
How did you first become interested in cities? And how did you get involved with SPUR?
My role over the last many years has involved supporting global programs that focus on economic development. The global trend toward urbanization, even in the U.S., represents both challenges and opportunities. I am excited to be a member of SPUR because, even in a thriving area such as Silicon Valley, there are still tremendous opportunities to create a true sense of place, focus on the environment and create a community that supports opportunity for all.
What was the most important first step in transforming that Naglee Park corner?
My neighborhood, the historic Naglee Park, just to the east of San Jose State University, is a diverse, eclectic but tight-knit community. Beginning in the mid-1980s, there was a resurgence of demand for single-family homes and the neighborhood began a transition back to a predominantly family-oriented community. Unfortunately, there were still remnants of urban blight dominating many parts of the area. That's when a handful of neighbors came together to invest in purchasing the property on the corner of 11th Street and San Carlos with the goal of creating a neighborhood gathering place. We formed the Naglee Park Development Partnership (NPDP), and 15 years later, the NPDP vision has been realized.
Has the NPDP influenced other projects in San Jose?  
All of our members have been very active in the local community, supporting initiatives in downtown San Jose: everything from beautification projects and supporting local schools to grant writing to support things like antique lampposts and banner projects in Naglee Park.  
Tell me about the Naglee Park Garage Bistro (and its rumored connection to the Doobie Brothers).
The property on the corner included an old brick automobile repair shop and a service station. We loved the aesthetic of the old buildings so we did the necessary seismic retrofits and made many other improvements. Both of those businesses are booming. The Doobie Brothers did live (and practice) in what is known as the Simpson House, located directly next door to the Garage. Allegedly Stevie Nicks, of Fleetwood Mac fame (and a former SJSU student), lived next door.
You're clearly invested in your neighborhood. Tell us though, what is your favorite city?
I moved to the Bay Area in 1979.  San Jose has been our home for over 30 years, and we love it here. But having travelled the world, some of my favorite cities include San Francisco, Prague, Edinburgh, Berlin and Cape Town.
Favorite film about cities?
A bit dystopian, I know, but two films where the city was a prominent character for me were Metropolis and Blade Runner. 
Favorite building?
The Dancing House (aka Fred and Ginger), the nickname given to the Nationale-Nederlanden building in Prague, designed by Vlado Milunić and Frank Gehry.
Any new urban projects in the works?
I am looking to support, however I can, some of the great new downtown work being led by my city council member Sam Liccardo and other city officials designed to drive creativity and innovation in San Jose's urban core.