Urban Field Notes: The Sidewalk Economy
Regulated, informal, sometimes illicit, sidewalk businesses and vendors bring vitality and life to urban cities, especially at the pedestrian scale.
November 9, 2012
Planners generally view sidewalks as a way for people, or pedestrians, to get around from one place to another but sidewalks also provide a vital economic function. Not only is there strong evidence that walkable neighborhoods increase property values and bring more customer traffic to commercial districts, but in fact, much economy activity occurs on public sidewalks. Throughout the Bay Area, it's not hard to find examples of the sidewalk economy, especially with the recent surge of food trucks and pop-up businesses throughout the city.
[A] Flower Cart
Flower vendors have been part of San Francisco for generations and are regulated by the city to operate on public sidewalks.  Flower stands, like this one in the financial district, are a feast for the eyes--and the nose.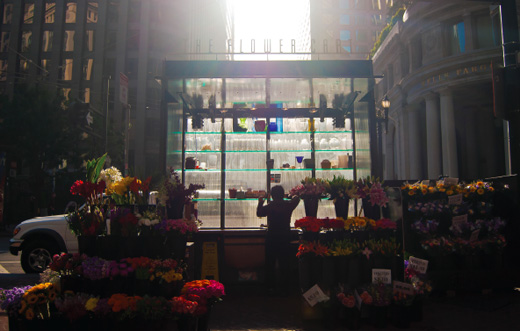 [B] Sidewalk Café
This café in downtown Oakland makes use of the sidewalk so people can enjoy the weather and watch passers by.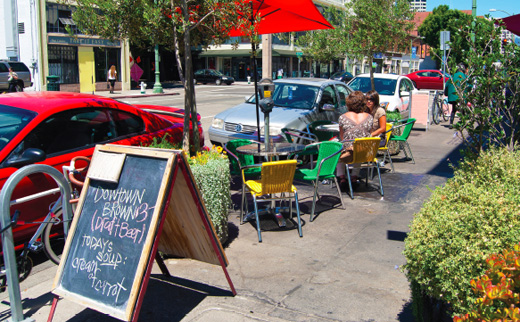 [C] Musicians
Street musicians are all over San Francisco, from subway stations to commercial districts. They come from a variety of economic backgrounds to share their sounds with people walking by. This string duo at Geary and Powell had to compete with percussive rhythms coming from the opposite corner.
[D] Produce Markets
Stockton Street in San Francisco's Chinatown is lined with produce markets spilling out from the storefronts, serving the local community. Stacks of cardboard boxes help buffer the shoppers from vehicular traffic.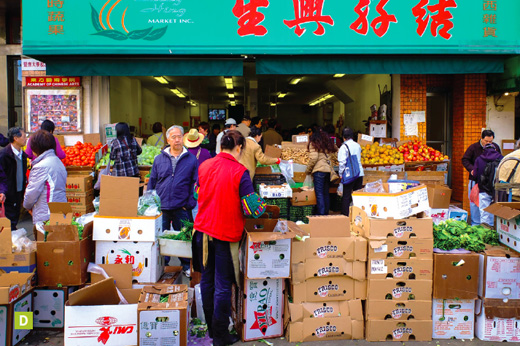 [E] Angry Beanies
Tables like this one displaying kitschy apparel and souvenirs are common in tourist districts like Union Square or Market Street.  This vendor, selling beanies that resemble Angry Birds, takes advantage of the light foot traffic to read his newspaper.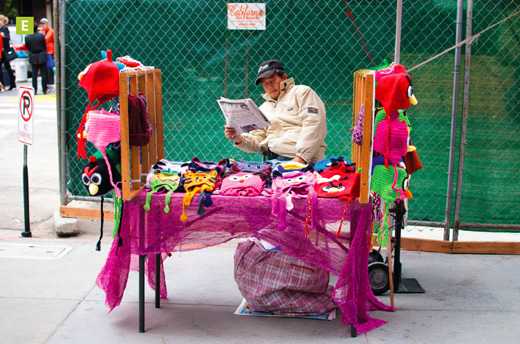 [F] Scarves
A vendor on Folsom and 24th Street in the Mission makes use of street trees to display colorful scarves.