Why Does Civic Data Matter?
A new emphasis is being placed on the availability of open data from governments but what use does this data have for citizens' daily experience?
October 10, 2012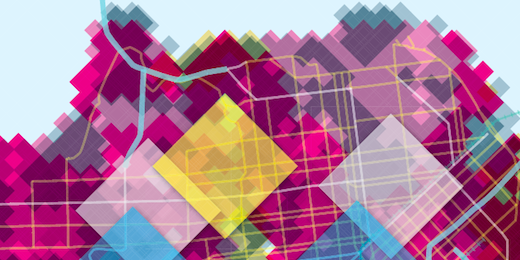 A new emphasis is being placed on the availability of open data from governments, but what use does this data have for citizens' daily experience?  I work with Code for America to advocate for city governments to open up public data sets. We make a clear economic argument to these cities: If you provide data as a free commodity to web developers, they will ultimately start businesses, grow jobs and create consumer-facing products — with relatively little government funding or other support. Although there are many deep arguments made for opening up civic data in the public domain, from a pragmatic and economic perspective civic data has great value for cities.
News
Civic data is literally enhancing news and information on public sector matters. A lot of attention has been given to enhanced news experiences: Journalists are able to tell better stories because more information is available, for example. Though most citizens have little use for a list of, say, the longitude and latitude of fire hydrant locations, we are all taking in more (and better) articles, charts, graphs and other interesting graphical manifestations of publicly provided statistics about weather, transit, crime, budget allocation and politics.
Weather (and Crime)
In perhaps open data evangelists' favorite example of how data can generate an entire industry, the National Weather Service released basic weather data to publicly accessible sites like Weather.com and AccuWeather and to developers of widgets for mobile devices, contributing to what is now a $1.5 billion industry of weather forecasts. San Francisco design firm Stamen was one of the first to change the way we consume weather data by building an innovative hurricane tracker for MSNBC back in 2008.  Stamen is also responsible for CrimeSpotting, one of the earliest interactive crime maps that maps public police data onto a user-friendly interface.
Transit
Another industry has grown around open transit data.  General Transit Feed Specification (or GTFS data) is a standardized format born out of a public-private partnership created when a few city employees of Portland, Oregon's municipal transit system (TriMet) wanted to provide transit schedules to Google in a standardized way. GTFS is now publicly provided for 383 transit agencies and counting and is currently the standard for releasing static (scheduled) transit data.
Real-time transit data is also one of the more straightforward contributions to our daily lives. In major cities where people commute and rely on public transit, quality of life can be infinitely improved when commuters are given access to real-time arrival and departure information in the palm of their hands.  Excellent examples of this have been created by third parties — and not the transit companies themselves.  The San Francisco Municipal Transportation Agency (SFMTA) openly encourages third-party developers to produce mobile apps like NextBus and iBart that help riders access real-time data.
What It All Means for Cities
Civic data is just another free commodity provided by government agencies, similar to the radio frequencies that were once divvied out to third parties as a government-provided good. Third-party developers consume information and can ultimately provide a better product for less money than if a government were to produce it. When government or transit agencies make raw data available at little or no cost, the private market can process the data to deliver a superior consumer product.
This trend is being promoted through a slew of city-hosted competitions like New York's BigApps, which each year gives cash awards totaling $50,000 to app developers who create a useful tool with civic data for citizens. Web developers are drawn to the notion of doing good for society with data — and the process speaks to the highly competitive hacker/hackathon culture. By leveraging the talent of individual web developers, the city gets a whole suite of software for a mere $50,000 investment. Other cities can follow New York's lead on this.
Open data success stories have historically been pushed forward by for-profit companies. Whether it's governments recycling innovative applications of data (as with websites like federalregister.gov) or consumers benefiting from indirect application of data sets provided (as with mobile transit apps like Routesy), public-private partnerships are crucial to understanding the unique value of civic data in the real world. Just as new and small businesses are made strong with governmental subsidies and tax incentives, civic data has the power to stimulate economic activity in cities.