Transit, Transformed
Architecture critic Reyner Banham once quipped that he'd "learned to drive in order to read Los Angeles in the original." Today, he'd ride light rail instead.
August 21, 2012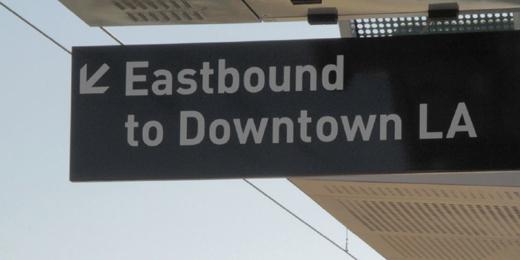 Los Angeles County is at a moment of transformation.  If things continue on their present course, in the next decade we may remedy one of urban America's most fabled and historic missteps, made seven decades ago. At that time, the seemingly endless opportunity for development offered by Southern California real estate conspired with the boundless ambitions of the American automobile industry to demolish the Pacific Electric Railway, Southern California's then-extensive rail transit system.
Today, however, with funds provided by more than two-thirds of its voters, Los Angeles County is reversing that wrong turn and undertaking to recreate its former rail transit glory by launching a program of accelerated light rail, subway and bus rapid transit (BRT) lines that will more than double its current system, all of which has itself been rebuilt only since 1990.
The transformational moment began on November 4, 2008, when — on the eve of the election of a new president and not long after the collapse of the American financial system — Los Angeles County voters approved Measure R, a half-cent sales tax for transportation, by a 68 percent majority. Measure R unleashed a revenue stream expected to generate more than $36 billion over the next 30 years, nearly 70 percent of which will be invested in transit, providing both capital and operating funds. The measure included funds for 12 new light rail, BRT and subway lines in all parts of L.A. County. Twenty percent of the revenue will be dedicated to operating the more than 2,000 L.A. Metro natural gas buses, helping efforts to ensure affordable fares for years to come.
How do transformational moments like this happen? Let's back up to 2007.
While Los Angeles County is one of the most important economic and cultural engines in the United States, it is also, famously, one of the most auto-dependent, with the most congested highways and the worst air pollution. But in 2007, traffic congestion worsened markedly at the same time that gasoline prices soared. It was like the traffic slush of our lives had begun to crystallize before our eyes. With it came a collective realization, and the error of our old, auto-centric ways was starkly revealed. Gridlock was the talk of the county, in the media and in communities, prompting worries of economic, social and environmental decline.
Within planning agencies, the anticipation of three million more residents in L.A. County over the next 30 years amplified these public concerns.  At that moment, to the shock of many, L.A. Metro announced that all of its expected revenue was already committed for the next 30 years. There would be no additional money available to expand transportation capacity to relieve current congestion, much less meet the challenge of growth. We could see our future, and it was traffic.
Thus, in the late summer of 2007, we convened a committee, which would come to form the core leadership of Move LA. We hoped to initiate a dialogue with leaders from the business, labor, health, environmental, social justice and local communities, seeking ideas and support for new sources of funding to meet the current and future transportation needs of Los Angeles County.
We called a meeting of 34 different organizations — all but one RSVP'd. Representatives of the Los Angeles Area Chamber of Commerce, the San Fernando Valley Industry and Commerce Association, the Westside Council of Chambers, the Los Angeles County Federation of Labor, the Los Angeles-Orange County Building Trades Council, Environment Now, the Los Angeles Chapter of the Sierra Club and others attended.
At these early meetings, the sense of urgency was palpable. The congestion our community was experiencing was severe, but under California law only the voters had the authority to raise real revenue. The clock was ticking, with the 2008 presidential election — our chance to get the issue before a large voter turnout — barely one year away.  We had to move quickly, though we were unsure if consensus was even possible. Those present agreed to sponsor and participate in a conference on transportation funding targeted for January 2008 so that necessary legislation could be offered in Sacramento that spring — in time to authorize Metro funding to go to voters in the fall.
While we expected about 150 people at the conference, more than 350 attended. Speakers included Mayor Antonio Villaraigosa, Supervisor Zev Yaroslavsky, Assemblyman Mike Feuer, L.A. County Federation of Labor's Maria Elena Durazo, L.A.  Area Chamber of Commerce President David Fleming, Metro board and staff, and transportation experts, as well as environmental, business and labor leaders and community members.
The focus of the conference was: Where's the money? And what's the program?
The clear conclusion was that a countywide sales tax increase was the only measure that would be able  to generate sufficient revenues to make a difference and that polled well enough to possibly win a two-thirds voter approval.
After the conference, things moved quickly.  Assemblyman Feuer immediately initiated the authorizing legislation in Sacramento, and the L.A.  County Metro board directed its staff to begin preparation of a sales tax measure for the November 2008 election.
The months that followed saw full-throttle shuttle diplomacy, briefings and discussions about the program the measure would fund. Metro board member Richard Katz and Metro staff met with anyone Move LA could bring together: labor working groups, environmental and environmental justice working groups, business community working groups and more.
In the future, passengers will be able to get from L.A.'s Union Station to the planned Transbay Terminal in San Francisco in 2 hours and 38 minutes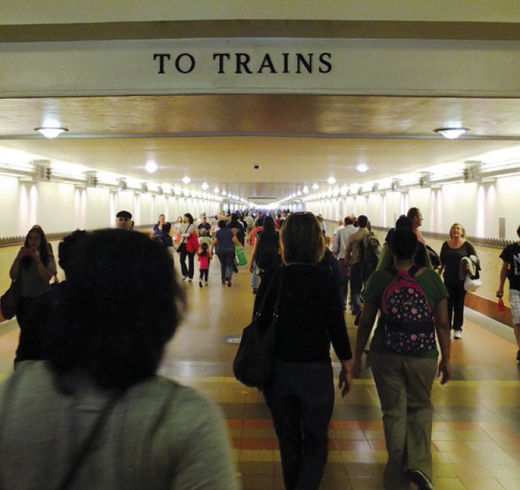 L.A.'s MTA is averaging about 1.4 million riders daily; Metrolink trains (at right) are also seeing a significant increase in ridership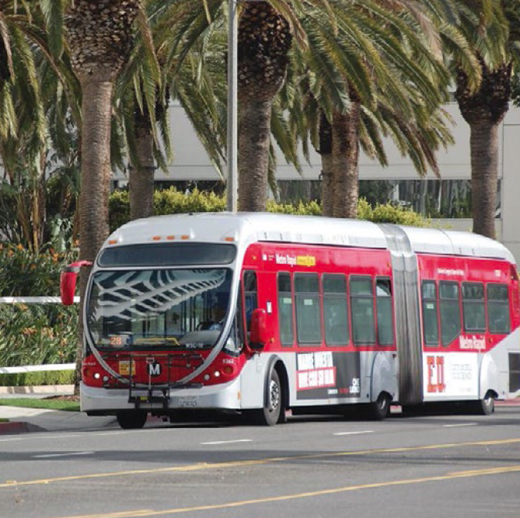 While consensus on something as large as a countywide transit program is an elusive goal under normal circumstances, it can be achievable under exceptional ones. We all knew that this election, with its very high expected turnout, was our best, perhaps our only, hope of achieving a two-thirds vote. It was now or never.
In late July, after meeting with leaders and constituencies from all parts of the county, Metro took the final step to place a half-cent sales tax measure — including a detailed expenditure plan that overwhelmingly emphasized transit investments — on the November ballot. After a meteoric campaign, Los Angeles County voters approved Measure R by 67.83 percent, despite the palpable budgetary pain already felt from the collapsed American financial system.
Measure R funded 12 new light rail, subway and BRT systems, as well as a number of important highway projects. But new transit capacity was the clear priority. Since 1990, Metro had built several light rail lines and a subway from downtown L.A. to Hollywood and North Hollywood, but they seemed like stand-alone lines. Measure R would create an interconnected system. That was really different.  It would represent a real transformation of Los Angeles County, marking the first major opportunity in decades for L.A. to shift from an auto-dominant city to one with robust transit alternatives.
At press events, Mayor Villaraigosa and Assemblyman Feuer singled out Move LA for its leadership in initiating this campaign and for moving key constituencies and the Metro board forward on this issue. But amid the excitement, a realization began to take hold: while this 30-year revenue stream of Measure R would ensure a dramatic expansion of our transit system, 30 years felt like a lifetime.
At Move LA, we turned our attention to strategies that might accelerate the development of the Measure R program. A strategy familiar to local municipalities — bonding against local revenue streams to accelerate capital projects — seemed a good model. If there was a lender able to make loans big enough that was also willing to consider lending for a multiproject program rather than one project at a time (much like a line of credit), that would do it.

We found our model in the concepts envisioned by the banker Felix Rohatyn and the legislation he inspired, which would create a National Infrastructure Development Bank. Bills first authored by Senator Chris Dodd in 2007 and now by Connecticut Congresswoman Rosa DeLauro were pending in Congress and had been endorsed by the new president, Barack Obama. While the battle over health care would block serious consideration of this bill, it triggered a dialogue between members of Mayor Villaraigosa's staff and members of Senator Barbara Boxer's staff. We began to develop what Mayor Villaraigosa called the "30-10 Plan," a funding strategy that could allow the 30-year Measure R transit program to be built in just 10 years.  With Senator Boxer's strong advocacy, this became America Fast Forward, a more flexible loan program.  When Congress acted upon the oft-expiring (and oftextended) Federal Transportation Reauthorization bill, America Fast Forward made the cut. It was the rare program to have gained bipartisan and bicameral support.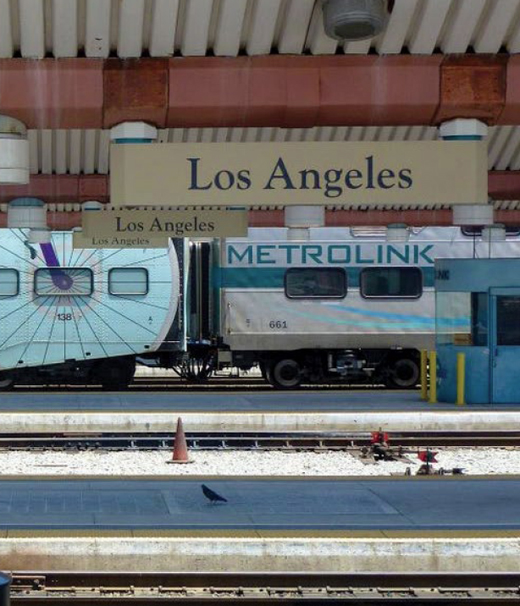 Now, L.A. County can seek federal financing to help accelerate its transit program. But the 30-10 Plan will require more, so Metro is headed back to the ballot, seeking voter approval to make the 30- year Measure R program a 60-year one. The longer revenue stream will enable additional financing to be secured that, together with Transportation Infrastructure Finance and Innovation Act (TIFIA) loans, could shorten the construction to under 10 years.
The polling on this measure looks good. We think the time is right for it. After all, given the transformational successes of the past couple of years, it has become quite clear that L.A. County has what we like to call "new transit mojo."