Urban Field Notes: Five Parking Garages — an Urbanist's Reluctant Crush
Urbanist Article
Urban designers, as a rule, are not big fans of the automobile. I think it's fair to say that rage at the depredations of cars and their accessories ranks up there with love for volumetric enclosure and street trees among the discipline's articles of faith. But of course, violating articles of faith is one of life's great pleasures. To that end, here
are some of my favorite parking garages. In the 1950s, accommodating cars in the
city was considered a pressing challenge — a means of saving the city from suburbanization. That idea — analogous in its way to the pressing challenge of reclaiming the city from cars today — drew some of the best and brightest designers and engineers, who built garages that were optimistic, ambitious and formally bold, if not exactly friendly. Modernist garages have no interest in hiding away or apologizing: they are sculptural monuments to the future.
Later garages were guilty affairs, as urban designers wisely encouraged them to "blend in" or "minimize their impacts" on surrounding urban fabrics. Garages became a necessary evil, far superior to surface parking in terms of both urban form and efficiency, and pricing could be managed to serve planning goals: Shopping? Okay, three hours is a bargain. Commuting? This may sting a little.

More recently, the pendulum has swung back toward more formal ambition, but (one
hopes) with the lessons of context and human scale still internalized. If we're going to build housing for cars, let's first do no harm. Then, strive to make things of beauty.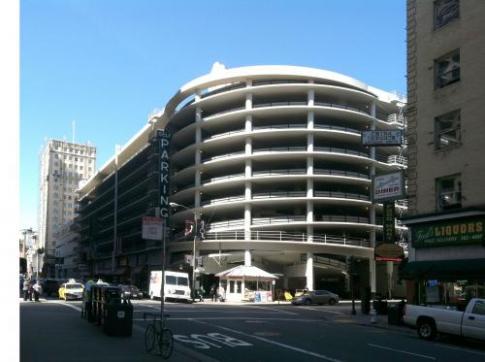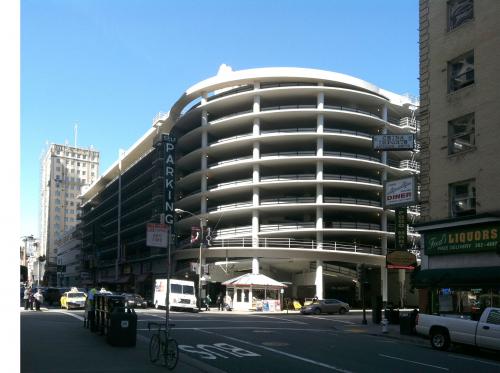 City Center Garage at O'Farrell and Mason. A MACHINE FOR PARKING IN,
designed by George Applegarth in 1954, set the standard for urban parking and was widely praised.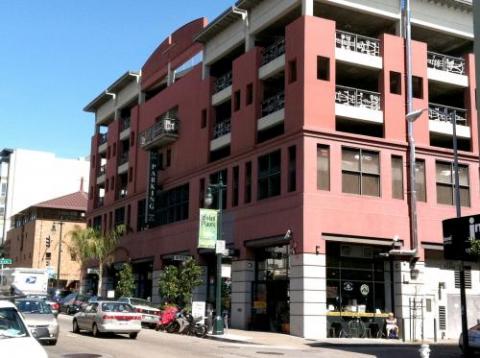 Polk and Bush. This 1990s wallflower by Gordon Chong is among the best of the unobtrusive school, though design snobs will scoff at its mimicry of surrounding
buildings. It is solidly built and gets the urbanism right: Polk Street retail is carried
right through the ground floor with an assist from the topography. Vehicle access is discreetly tucked away.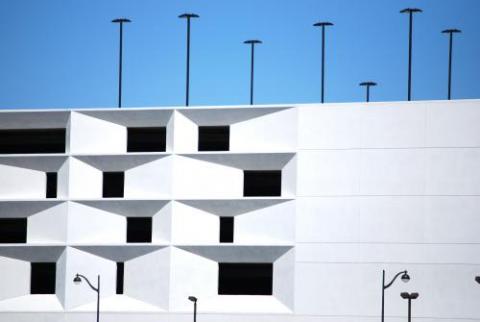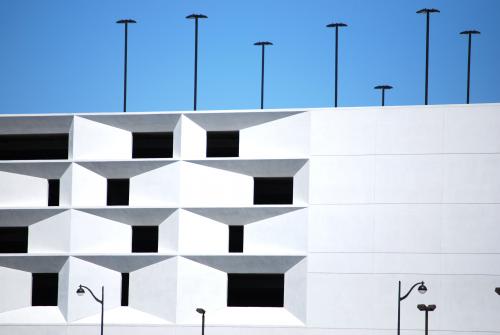 Mission Bay Block 27. One of the most exciting façades on any local building in
recent decades belongs to this 2009 garage by WRNS Architects. A return to the sculptural ambitions of the 20th century, with a modicum of sensitivity to the area's emerging fabric. Not everything works, but the signature move is stunning.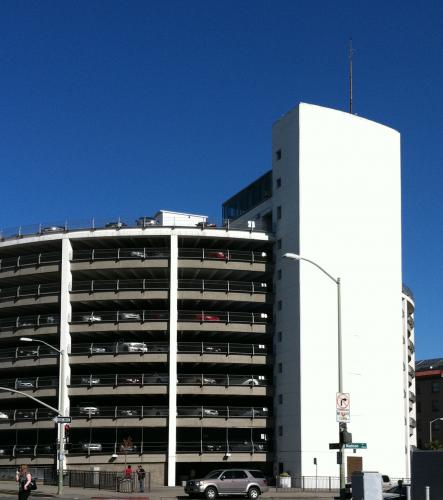 Oakland's Alcopark (Alameda County Parking Garage). This garage is nine circular levels of midcentury bombast (also probably by Applegarth) near the county
courthouse, crowned (of course) by a heliport!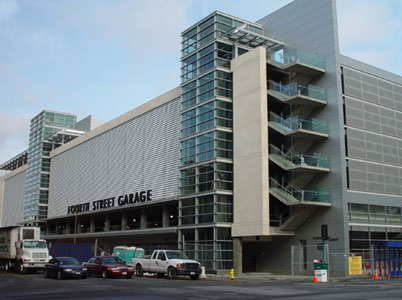 Fourth and San Fernando streets in downtown San Jose. This early 21st century garage really nails the urbanism, but in a slightly less hokey architectural idiom. Generous ground-floor retail and well-placed pedestrian access through glass elevators and sculptural stairs reflect a lot of attention to urban design.