Temporary to Transformative
Leveraging San Francisco's pandemic programs to usher in a new era for the city's streets
SPUR Report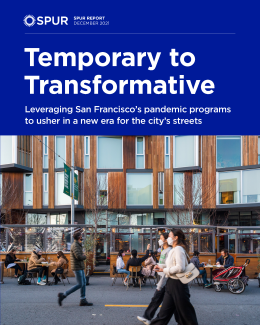 While the COVID-19 pandemic brought considerable hardship, community and government response to the emergency also gave us lessons about the resilience and flexibility of cities, providing a rare window of opportunity to reexamine how our streets serve us. Cities across the country piloted shared public spaces and slow streets. In a matter of weeks, these temporary changes transformed city streets in ways that would otherwise have taken years. The crisis injected the planning process with a sense of urgency and a new willingness to experiment and iterate.
SPUR's report Temporary to Transformative explores this emerging vision of our streets, using San Francisco's Shared Spaces and Slow Streets programs as bellwethers for what may be ahead. How can San Francisco and other cities make these changes permanent? The first and most important action is to continue to build on what's been started. The report captures the lessons learned from Shared Spaces and Slow Streets and puts forth 18 recommendations in four strategy categories:
1. Build out a comprehensive and resilient network.
2. Enhance the prototyping and feedback loop.
3. Develop equitable and sustainable funding sources.
4. Streamline the process to the fullest extent possible.
The report outlines a vision for streets as an equitable civic asset. No longer simply a space to drive through, streets can be places where public life happens for everyone. Equitably distributing the benefits of this asset will require valuing the health of our communities as much as the speed of our cars.