Coexistence in Public Space
Engagement tools for creating shared spaces in places with homelessness
SPUR Report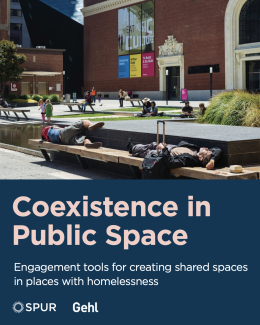 As more and more Bay Area residents find themselves without homes, many have defaulted to living in public parks, plazas and squares. These spaces were not designed to be homes, however, and housed users often voice concerns that the presence of unhoused residents renders spaces unwelcoming or even unsafe.

SPUR has heard these concerns frequently during our long-term research project on Guadalupe River Park, San José's largest urban green space. Through a partnership with the urban design firm Gehl and a number of local stakeholders, we began exploring how to best facilitate community dialogue about the challenges that Guadalupe River Park faces around homelessness and safety. Together we established a goal to begin shifting the narrative from: "The park will only be great if there are no homeless people in it" to: "The park will only be great if we design for coexistence." With this goal in mind, we asked: How might we design and manage public space to allow people of all backgrounds to find joy, belonging and safety there?

Out of this work, SPUR and Gehl created the Coexistence Toolkit, a set of public engagement exercises for city agencies, nonprofit organizations and other park stewards to use in public meetings that inform public space projects and master planning efforts. The toolkit consists of a slide presentation and a series of worksheets, both available below. While we developed them for Guadalupe River Park, these tools can be used for any public space. Our report Coexistence in Public Space introduces the toolkit and the thinking behind it. We hope this research provides the foundation for a new way of thinking about park equity and helps facilitate a new type of conversation about access, safety and design within shared public space.