Funding California's Fight Against Climate Change
By Laura Feinstein, Sustainability and Resilience Policy Director
What could California do to limit climate change and clean the air if the state had $30 billion to spend in the next 10 years? Climate change policy leaders and rising stars gathered to tackle this question at an October 1 convening organized by SPUR and Move LA.

This conversation wasn't just hypothetical. On the table is a potential ballot measure that could go before California voters in November 2022. The Climate and Clean Air Initiative, which is under development with leadership from SPUR and Move LA, would aim to raise $120 billion over 30 years for investments in three goals:

Goal 1: Eliminate Climate Pollution. Meet the challenge of the 2018 IPCC Special Report on Global Warming by achieving carbon neutrality by 2045.

Goal 2: Finish Clean Air Attainment. Reduce diesel emissions and other air pollution over the next 10 years so that California meets federal air quality standards.

Goal 3: Advance Social Equity and Justice. Improve the health and economic vitality of less advantaged neighborhoods throughout California by reducing greenhouse gas emissions and creating new green jobs.

These goals are ambitious. They won't be achieved without passing new laws, implementing new regulations and leveraging market forces. Perhaps most important, they won't happen without an infusion of cash — the topic at hand on October 1.

Three key takeaways emerged from the discussion:

1. Despite being a "climate leader," California will fall short on its climate goals if it doesn't take major action. 
California met its 2020 goal of reducing greenhouse gas (GHG) emissions to 1990 levels three years early. But meeting the 2030 goal of further reducing GHGs to 40 percent below 1990 levels will require nearly doubling the rate of reductions made in the past decade. If California continues on its current trajectory, it will emit 284 million metric tons (MMT) of carbon dioxide equivalent — that's 25 MMT more than the goal of 259 MMT.

California Emissions Under Current Trajectory Scenario Compared to 2030 Target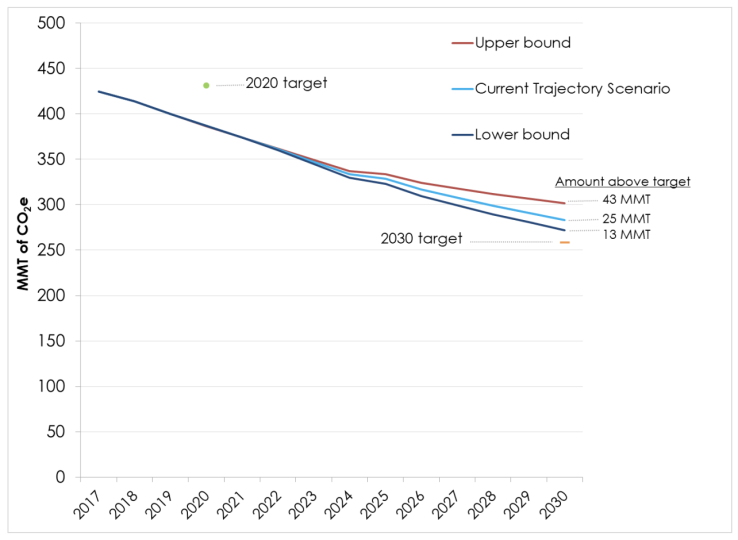 California is seeing first-hand the consequences of delayed and insufficient action. Wildfires in 2020 burned the most acreage in any year since the state began keeping records nearly 90 years ago. The 2012-2016 drought was the most severe drought in the past millennium. Climate models indicate that the rise in global mean temperature is driving the increased frequency of extreme fire and drought in the state. Conditions will only worsen as climate change proceeds.

As former President Pro Tempore of the California State Senate and Los Angeles City Councilmember elect Kevin De Leon said at the event, "Whatever we do, we have to do it with a sense of urgency because we frankly have no time to waste. We in California need to continue to be the national, as well as world, leaders."

2. Regulation and market forces can take the state far, but achieving a just transition requires targeted investment in disadvantaged communities.
Communities of color and low-income communities tend to receive fewer benefits while experiencing greater burdens from the implementation of environmental regulations. Alvaro Sanchez of Greenlining said it best: "Race-based approaches to policy got us here. Our approach to undo the harm has to be race-conscious as well."

Using a combination of regulation and incentives to drive economic and behavioral changes to lower emissions is a concept that has strong centrist appeal. But some communities bear a disproportionate burden from regulations, while lacking resources to take full advantage of incentive programs.

As an example of how economic incentives often fail to address the needs of low-income households, consider California's electric vehicle rebate incentives. Low- and moderate-income Californians can receive a $4,500 rebate on a new battery-cell electric car. But many low-income households don't buy new cars — they buy used cars through informal networks. Rebates will need to be much larger to make a new or slightly used electric vehicle cost-competitive with a high-mileage used gas vehicle. Programs will also need to find ways of distributing rebates to consumers who buy their cars outside of car dealerships.

Making sure upfront incentives reach low-income households is only one of many challenges in ensuring that benefits from climate programs reach low-income communities and communities of color. Understanding how to reach people who speak different languages, participate in the informal economy, hold multiple jobs and have different social networks requires engaging in community-led processes at the earliest stages of program development.

As Chione Flegal of PolicyLink said, "Different communities haven't had pathways into the processes where decisions are being made, and our job as advocates and policymakers is to figure out how we create those pathways."

3. A large and stable funding source is necessary to achieve California's climate goals.
Most state funding for climate change mitigation in California comes from the cap-and-trade program. But cap-and-trade revenues are highly variable and difficult to predict.

The problems with relying on cap-and-trade as the major funder for the state's climate investments has been painfully clear this year. Before COVID-19, Governor Newsom's office had expected to receive $2.7 billion in 2020 from the cap-and-trade plan. After the dismal May and mediocre August auctions, it looks like revenue will be approximately half of what was expected. Auction proceeds have been volatile even during economic booms, dropping to near-zero for several auctions in 2016 and 2017 because of uncertainty on the future status of the program. In the long term, it's risky for California to rely on cap-and-trade as the primary funding source for climate change investments.

Nor does cap-and-trade produce enough revenue to generate the speed of decarbonization that is necessary to get to grips with our climate crisis. As Mary Nichols, chair of the California Air Resources Board, put it, "We need to raise a boatload of money to facilitate the transition we know needs to happen."
Final Thoughts
Throughout the event, policymakers and advocates alike echoed a central theme: California is not acting fast enough to combat climate change. One of the greatest barriers to moving faster is a need for more funding. California's efforts to reduce greenhouse gas emissions have outstripped those of other states and certainly of the federal government. But measured against the scientific consensus on how quickly the world needs to reduce emissions to prevent the worst impacts of climate change, California is falling devastatingly short.
As Nichols pointed out, California has never set up a large revenue source for combatting climate change. Cap-and-trade has generated just over $10 billion since its inception in 2012; far short of what's required to create large incentives and drive private investments to transform the economy. Realizing California's goal of reducing emissions by 80 percent below 1990 levels by 2050 will require bigger and bolder investments.
SPUR and Move LA plan to move forward with an inclusive process to develop a ballot initiative that can fill the funding gap in achieving a safer climate and healthier communities. Please join us for future virtual events during fall and winter 2020 as we discuss climate funding priorities with equity leaders, decision-makers, environmental advocates, and technical experts. For details, watch SPUR's events page or sign up for our events newsletters.