In our 2014 report The Future of Downtown San Jose, we argued that San Jose's urban center was unlike any other in the South Bay. Although its size and job base are relatively small, downtown San Jose is rich in culture and transit, making it uniquely poised to become a great urban place to live, work and play. Every year, we take stock of how downtown is filling in and how to make the most out of new growth.  
This year (measured from spring 2016 to spring 2017), we're seeing a lot of mixed signals. Downtown appears to have a healthy residential market — but only one project broke ground in the last 12 months. Major corners and blocks are filling in with new stores and businesses — and yet the beloved Camera 12 Cinema multiplex theater shut its doors earlier this year. Some of this could be chalked up to the overall churn of a city, region and economy in transition. These mixed signals make it hard to predict what the market will do next, but there are three clear trends we've seen play out in recent months. Time will tell whether they continue.
 
Trend 1. Downtown's Sleepy Office Market Wakes Up, Especially Near Transit
The downtown office market is starting to turn a corner. This year, more than 2.2 million square feet of new office space were approved for development downtown. Importantly, the majority of the office space is concentrated in two properties near Diridon Station. Developers are continuing to purchase and assemble parcels in the station area, generating eager speculation about what's to come.
 
New Downtown Construction Activity as of March 2017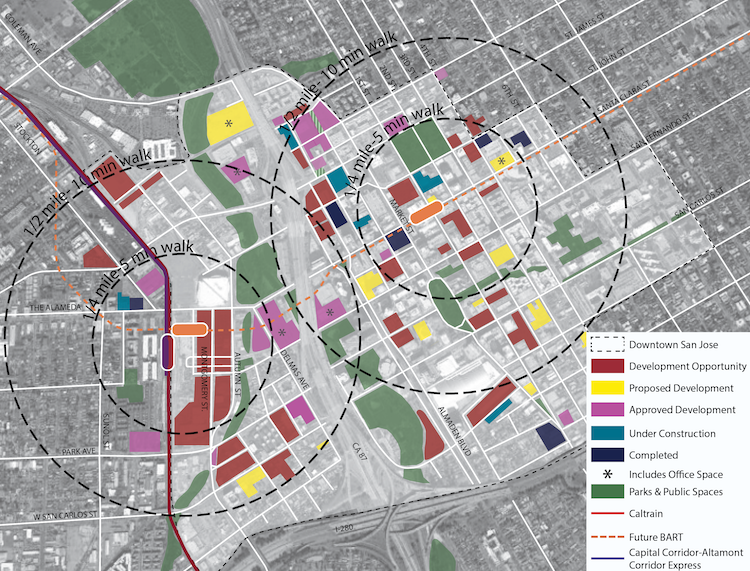 Today, sites available for development in downtown San Jose are dwindling, with nearly a dozen proposed projects and almost as many approved projects. Importantly, San Jose is starting to see interest for new office space, suggesting that downtown's sleepy commercial market is waking up. Source: analysis by Joshua Brett for SPUR
 
In The Future of Downtown San Jose, SPUR advocated that the city should welcome all types of uses to downtown but should hold out for jobs near transit. (Downtown's zoning code is fairly permissive, allowing either jobs or housing on any given site.) We continue to argue that putting jobs close to transit helps make transit successful and generates a virtuous cycle: transit increases property value and rents, which can help spur new commercial construction. Plus, companies like to cluster together in cities and regions, especially in highly accessible locations like downtown San Jose.
In the coming months, the city will consider policy strategies to prioritize sites near transit for jobs. Whether or not downtown needs this policy is still a point of contention in San Jose, but the city has seen many economic cycles come and go in which eagerly anticipated projects do not come to fruition. Can we count our chickens before they hatch? San Jose needs to grow its job base. Should the city continue to be dogged about promoting commercial growth in urban villages yet laissez-faire about whether it happens in the transit-rich downtown? Identifying where jobs should go in downtown — and sticking to it — will help San Jose in the future if property owners decide to buy and hold and the market tips in favor of housing, instead of commercial, on these sites.
We think the city should move forward with a strategy that prioritizes sites for jobs near transit in downtown. As we advocated last month, one way to do this is to reserve key sites of a certain size for office development. Another option is to establish a target percentage of new growth (for example, total new floor area) for employment uses within a quarter-mile of Diridon and the downtown BART station. For horizontal mixed-use projects, housing could be allowed to move forward prior to the commercial portion (unlike in urban villages, where housing can't move forward before a project reaches employment thresholds).
 
Trend 2. Downtown Has a Healthy Residential Market, but Few Projects Are Breaking Ground
In the last few years, downtown has seen a lot of new high-rise housing, as it is one of the few places in San Jose where it's possible to build housing at this time. Between 2016 and 2017 more than 500 housing units were built, and another 1,600 are under construction. Nearly 6,000 more units of housing have been proposed and are making their way through the entitlement process.
 
New Housing Units in Downtown San Jose
| | | | |
| --- | --- | --- | --- |
|   | Units Completed | Units Under Construction | Units Proposed |
| 2014-2015 | 0 | 2,000 | 3,300 |
| 2015-2016 | 659 | 1,900 | 5,000 |
| 2016-2017 | 507 | 1,600 | 6,000 |
Although there are many new housing and office buildings proposed for downtown, few have broken ground. Only one multifamily project has broken ground in the past year, Mill Creek's 201-unit Modera at San Pedro Square.
Residential rents across the region have flattened and even begun to decline somewhat. Lenders are getting shy, and construction loans are harder to come by now than they were a few years ago. At the same time, construction costs are rising, in part because of an overall shortage of professionals from tradesmen to planners to project managers. New broker forecasts suggest that rents will stabilize and even increase over the next few months, but others speculate that property owners are holding on to entitled sites for resale, as happened in the recent sale of two downtown properties. (These plan to break ground later this year.) It's hard to know which projects will pencil out next, or whether they will break ground in this market cycle at all.
Ultimately, we want downtown San Jose to keep growing. That's why SPUR supported a downtown high-rise incentive program in December. Many of the factors that are making the future seem tenuous for new downtown housing are outside of the city's control. The incentive represents a modest, one-time investment in something that can offer benefits to downtown year after year. We believe projects that benefit from such an incentive should be of the highest quality and that the city should look at the overall fees on new development and consider adjusting them so that new buildings can move forward earlier in the economic cycle (when rents/revenues are lower).
 
Trend 3. Storefronts Are Filling Up
Meanwhile, there has been a significant amount of reinvestment in downtown's existing building stock. TechShop has relocated to Second Street between Santa Clara and San Fernando, filling in the better part of an otherwise vacant block. Coworking giant WeWork took occupancy of 75,000 square feet of remodeled space inside the Valley Building at Santa Clara and 2nd streets. DivcoWest purchased the Walgreen's Building at Santa Clara and 1st for $14.4 million with plans to renovate for small office tenants. Renovation is already well underway at Lift Partners' 1 North 1st Street, first built in 1946 as a J.C. Penney department store.
High-end local café chain Blue Bottle Coffee announced that it will open its first South Bay location in early 2018, joining the ranks of upscale cafes catering to both the growing weekday crowd of workers and the growing number of downtown residents. Most of the ground floor spaces at One South Market are now leased and tenant improvements are underway. Downtown's arts district, SoFa, has seen a boom in food and drink offerings over the in the past year, including the addition of a new brewery and tasting room.
 
New Leases and Building Remodels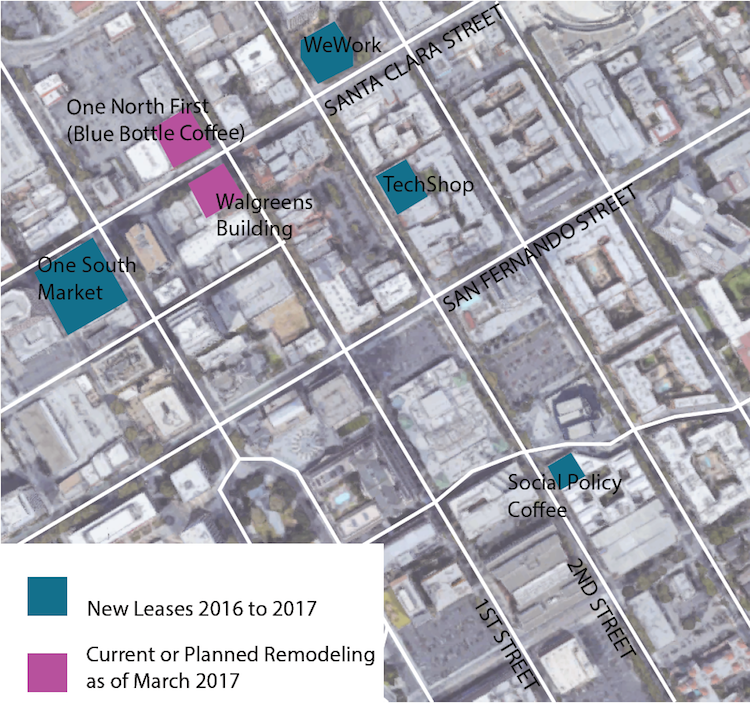 The past year has been one of watching and waiting. We hope that the planned developments will come to pass, and that we won't have to wait too long. But until then (and even then) we still need good policies that will help downtown become the transit rich, urban place it hopes to be.