San Francisco will soon adopt the Central SoMa Plan, the city's only current major neighborhood plan. In the 230-acre area between 2nd and 6th streets, roughly from Folsom to King, the plan changes the underlying zoning to allow for an increase in overall development. Current zoning in the area allows for 10,000 jobs and 2,500 units of housing. The Central SoMa plan increases those amounts to allow 45,000 jobs and 7,500 housing units.
Considering San Francisco's extreme housing shortage, shouldn't there be more focus on housing in the city's only active neighborhood plan? Isn't Central SoMa the perfect opportunity to plan for more housing in a walkable area with proximity to lots of jobs and transit?
Not necessarily.
While we agree that Central SoMa is a great place to add lots of housing, we disagree with the suggestion that the plan has too many jobs. (In fact we think it could have allowed for both more jobs and more housing). For environmental and equity reasons, Central SoMa is exactly the type of place to go big on jobs, and we encourage the Planning Commission and Board of Supervisors to move forward with adopting the plan.
There are five key reasons why we believe the proposed number of jobs and housing is the right mix:
 
1. From equity and environmental perspectives, downtown-adjacent areas like Central SoMa are the best places to plan for lots of job growth. 
As SPUR has argued in numerous reports and articles — including our just-released report Rethinking the Corporate Campus — the Bay Area has a paucity of jobs located in walkable areas adjacent to transit.
Among all employment areas, downtown San Francisco is by far the region's most environmentally friendly job center. Regionally, only 11.5 percent of people take transit to work. In contrast, more than 50 percent of workers in downtown San Francisco take transit to work and only 24 percent drive alone. There is no other Bay Area job center with anywhere close to that level of transit usage. As congestion grows on regional highways, downtown San Francisco remains the region's most important transit-oriented job center.
Meanwhile, most of the Bay Area's recent job growth has been in places that are not accessible by transit. This trend of "job sprawl" is leading us down a path of greater greenhouse gas emissions and increased threat from climate change. Regionally, only about a quarter of jobs are near regional transit, a ratio that has remained even during the recent economic boom. Central SoMa has a major role to play, not just for San Francisco but for the Bay Area at large.
Most Bay Area Jobs Are Not Near Transit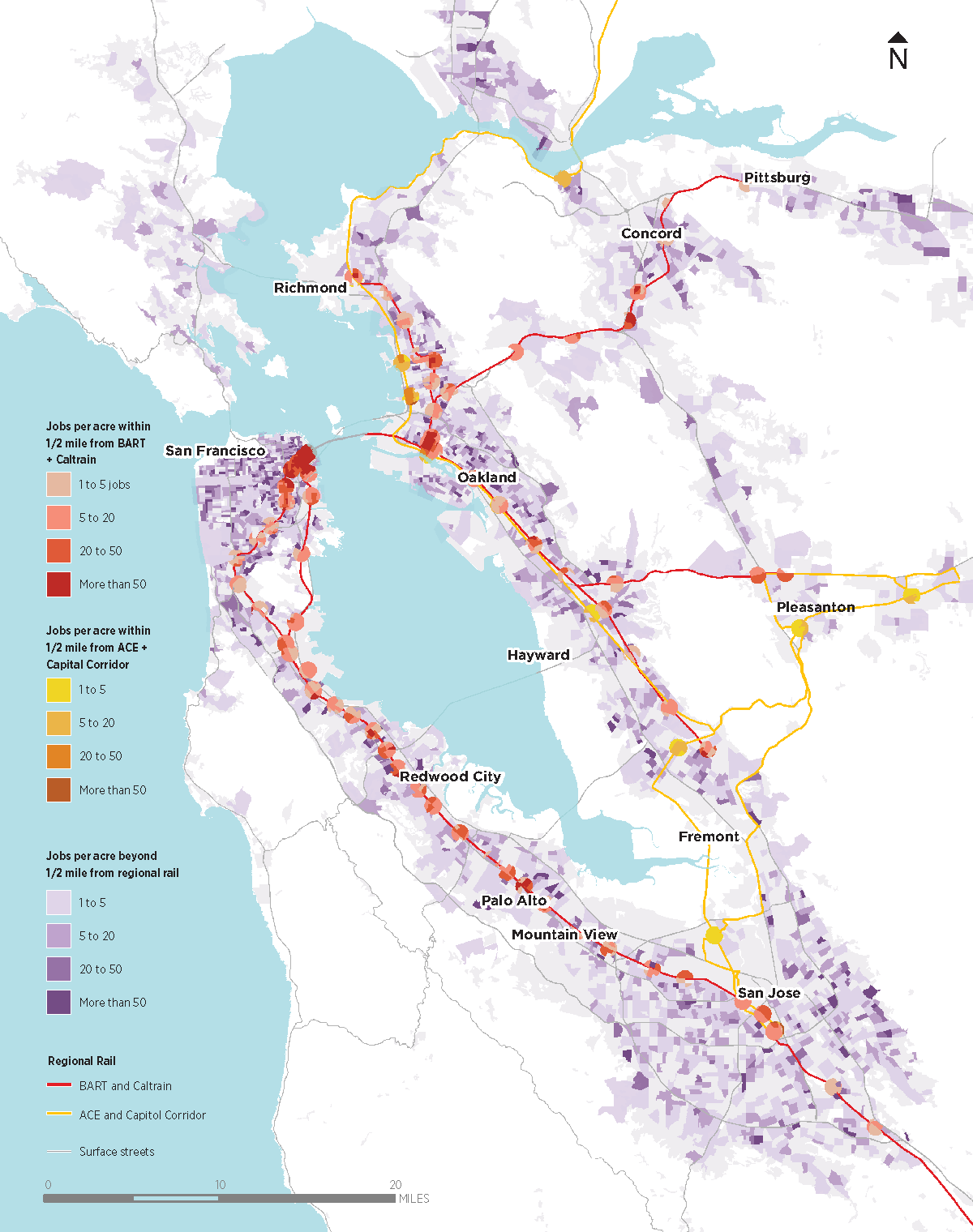 Only 21 percent of Bay Area jobs are within a half-mile of a regional rail station. Job density near transit is much higher in areas like Central SoMa. Source: SPUR analysis of jobs data provided by the Metropolitan Transportation Commission. From Rethinking the Corporate Campus.
Maintaining a growing job center in downtown San Francisco also promotes regional equity. Downtown offers many unionized jobs in construction and building services, as well as thousands of living-wage jobs that do not require college degrees. When there are so many jobs in close proximity, it gives low-wage workers opportunities to advance into higher-paying jobs without having to upend their commute or buy an additional car. Meanwhile, office development and general economic growth support viability and job growth in production, distribution and repair industries, as office users purchase goods and services from these companies.
2. The Central SoMa Plan does have lots of housing — and nearly every other neighborhood plan in SF is housing-focused.
Central SoMa allows for significant housing: Under existing zoning, there is potential capacity for only 2,500 new housing units. With the Central SoMa Plan, there will be room for 7,500 units.
Since 1985, the city has adopted nearly 20 neighborhood plans and master plans. Collectively these plans accommodate more than 65,000 housing units. Recently adopted or planned megaprojects, such as Pier 70, India Basin and Mission Rock, as well as the planned redevelopment of two former power plants and several other major projects — collectively called the Southern Bayfront Strategy — will create 20,000 units and may even result in a shift in the city's population center within a generation. But each of these projects could have included even more housing.
Perhaps more significantly, downtown and adjacent neighborhoods have produced most of the city's housing in the last 30 years. Over this period nearly 40,000 units, 69 percent of all housing citywide, were built within one mile of downtown. Looking forward, we hope to see significantly more housing in other areas of the city, particularly along or near major transit corridors, such as Geary, Irving, Taraval, Divisadero and others.
3. Supporting the community benefits and infrastructure in the plan requires a significant amount of job growth.
The level of development proposed for Central SoMa is expected to result in up to $2 billion in public and community benefits, including funds for transit, complete streets, historic preservation and new parks. Publicly accessible private open spaces will be required in the new office buildings, and 33 percent of the housing will be affordable to low-income families. The proposed scale and mix of development is essential to achieve these needed community benefits.
It takes high levels of density and activity to ensure that major infrastructure projects like this plan pay for themselves. While density of both residential and commercial development is important, office buildings have two to three times as many people per square foot and are therefore critical to making infrastructure investments pencil out. This is especially true for investments in transit. Transit ridership from purely residential areas might be strong in the morning and evening peak periods but would be lower throughout the day. In contrast, mixed-use areas with significant office employment see the greatest amount of transit use regionally. And high ridership will be needed for the investment to eventually pay for itself.
Additionally, some key community benefits —namely privately-owned public open spaces or POPOS — are required of office development but not of residential buildings. Office development can therefore result in more publicly accessible open space, whereas open space in residential projects is only available to building residents.
4. Achieving a balance between jobs and housing is not appropriate at the scale of a plan, and perhaps not even at the scale of a city.
We live in a regional labor and housing market. Half of the region's commuters cross a county boundary on their way to work each day. For decades, more than 50 percent of the employees in downtown San Francisco have lived outside the city. We have built rail lines and highways precisely to connect people from across the region to job centers like downtown San Francisco. With the opening of the Transbay Transit Center in 2019, downtown will get the equivalent of another BART station in terms of transit capacity. Someday Caltrain and high-speed trains will connect to the Transbay Transit Center as well. All those investments can and will bring tens of thousands of workers into downtown San Francisco.
This is why achieving balance between jobs and housing is not appropriate at the neighborhood scale. Even achieving it at the city scale may not be relevant. Instead, municipalities should make citywide plan to accommodate their fair share of regional growth of both jobs and homes. San Francisco has in fact done better than most Bay Area counties, issuing 64 percent of its target number of building permits between 2007 and 2014. Throughout the region, many cities are happy to plan for jobs, but they externalize the need to house their workers onto other communities. Fixing that imbalance is a regional problem, and every city and community must do its part. But the balance should be achieved at the scale of the commute shed, not the city or neighborhood.
5. Central SoMa is the logical extension of the city's employment core.
When we wrote our report The Future of Downtown San Francisco in 2009, we explored different areas for the continued expansion of San Francisco's dense employment core into adjacent areas.
Other than the environmental reasons discussed above, why would we want an expanded downtown? One key reason is to support economic diversity. Having more office jobs supports the continued vitality of other industries in San Francisco, including production, distribution and repair businesses like print shops, catering companies, HVAC repair and more. In addition, the vitality of San Francisco's knowledge-based economy relies on companies' proximity to a wide variety of other firms across related industries. Connecting Central SoMa to adjacent job areas including the Financial District, Transbay, Mid-Market, Mission Bay and the preserved industrial zones of West SoMa and Northeast Mission, is important to support the long-term economic health of the city and the region.
Spatially, Central SoMa is also the only remaining area near the downtown core for major growth in jobs. Since the 1980s, high-rise office development has been restricted north of the Transamerica Pyramid or west of Kearny toward Union Square and Chinatown. These restrictions are enshrined in the 1985 Downtown Plan and are worth keeping in place.
More recently, the rezoning of Rincon Hill and Folsom Street as part of the Transbay Redevelopment Plan resulted in those areas becoming almost exclusively high-density residential neighborhoods. This restricts the further expansion of dense employment around the new Transbay Transit Center.
Another logical adjacent employment growth area is Mid-Market. In the 1970s, Mid-Market was planned as a lower-cost back office district relative to the Financial District. While the area struggled for several decades, it has seen a major expansion since San Francisco adopted a payroll tax exclusion that limited additional payroll taxes for firms who expanded in the Mid-Market area after 2011. Since the tax incentive began, Mid-Market has added at least 17 technology companies and around 10,000 jobs. But all the new jobs went into existing or upgraded buildings, not newly constructed ones. In fact there have been no new office buildings in Mid-Market, and current zoning does not allow for an additional office building. The new development in Mid-Market was residential, with more than 2,000 housing units added, including the conversion of the former California State Automobile Association office tower at 100 Van Ness into 418 rental units. Proposals for additional housing around Van Ness, Market and Mission (known as The Hub) continue the residential trend in that area.
This leaves Central SoMa as the major expansion area adjacent to downtown that can accommodate dense employment growth. All other planned or potential employment growth areas (such as Pier 70, the Central Waterfront or the Shipyards) are much further from regional transit and therefore less accessible to a regional workforce.
Changing the "Jobs vs. Housing" Discussion
Despite SPUR's strong support for the Central SoMa plan as it is written, we do have a few concerns. Most significantly, much of Central SoMa is less transit-oriented than the traditional downtown core around Market Street. Approximately 5 million square feet of the office space in the plan is located south of Highway 80, between 0.6 and 1.0 miles from the Powell Street BART station.
Further, much of the plan relies on proximity to the 4th and King Caltrain station. For example, the corner of 5th and Brannan is planned to have 4 million square feet of office space. This area will be one block from the Central Subway's 4th and Brannan stop, and it's 0.3 miles from today's Caltrain at 4th and King. If the 4th and King station were ever to move as part of a new Caltrain/high-speed rail alignment, these jobs would be further from regional transit. Decisions like this are a long way off, however, and many other changes in the transportation landscape may happen before then. Ultimately, we will need to ensure that the connections between transit options are seamless and quick.
Meanwhile, we need to make sure that more housing is built all around the city and region, an issue SPUR works on every day. Housing is a regional issue, and all kinds of communities must accommodate new homes, both for those who already live here and for those who want to.
We believe San Francisco must continue to add lots of housing all over, not just downtown. The city's current construction pipeline includes thousands of planned units in plan areas and megaprojects such as Treasure Island, Hunters Point/Candlestick and Parkmerced. Areas like the Market Street Hub and the Southern Bayfront are also set to add even more housing in the coming years. But many transit-accessible parts of the city have untapped potential where thousands more homes could be built, including the transit corridors of Geary, Taraval and Judah. New neighborhood plans, or a successful density bonus program that incentivizes housing in the right places, could help make this happen.
It's also true that the Central SoMa Plan could have gone taller to accommodate both more housing and more jobs. We advocated for this throughout the planning process, including calling for the plan to have greater allowable height and density, and therefore more housing units. But five years into the planning process, we think it's time to allow the plan to move forward. A jobs-focused plan that allows for thousands of housing units is the right approach for this key location.
More importantly, as San Francisco plans for its future, the city should not be pitting jobs against housing. Both are needed, and the two should not be placed in a zero-sum game with each other. We need to change local zoning to allow lots more housing in San Francisco — and throughout the region. And we should be doing so with every neighborhood plan — not just this one.