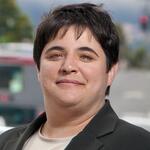 Rebecca Prozan
Chief of Public Policy and Government Relations, Google
San Francisco Director
As the Chief of Public Affairs for Google in California, Rebecca serves as a senior liaison to all local government and community entities throughout seven Google offices in the Golden State.

Rebecca's position at Google pivots her to the private sector and enables her to work on positive partnerships with a new lens. Throughout her career, Rebecca has become known as an effective civic leader and tireless advocate for the issues she believes in.

For seven years, Rebecca prosecuted hundreds of misdemeanor and felony cases as an Assistant District Attorney. From there, she spearheaded the Neighborhood Prosecution program, where she garnered public support that allowed offenders to serve the community instead of going to the courtroom. As the head of the Community Relations Division, Rebecca brought San Franciscans together to participate in community advisory groups -- African-American, Latino, API, LGBT, Arab + Middle Eastern, Jewish, Youth, and Women's -- that addressed truancy, bullying, training for law enforcement officers, elder abuse, hate crimes, mentoring, and much more.

As a Special Assistant to Mayor Willie Brown, Rebecca secured funding for non-profits, advocated for diversity on commissions, and organized the Mayor's Summit for Women. She co-chaired the Mayor's Task Force on Taxicabs which brought together industry leaders and drivers to improve service. Later, as a law student, Mayor Brown appointed her to the Elections Redistricting Task Force and the Recreation and Park Department, where worked to implement the Park Bonds Fund to improve Parks and Recreation Centers.

She managed Attorney General Kamala Harris' campaign for District Attorney, co-chaired Bevan Dufty's first supervisorial campaign and served as his legislative aide. She has served as a strategic advisor to numerous local, state, and national campaigns.