Member Profile: Thang Do
For this citizen architect, designing sustainable cities is a moral imperative.
Urbanist Article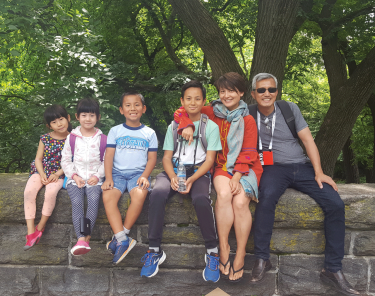 SPUR Board Member Thang Do is an architect and the CEO of Aedis, a design firm working primarily in the education sector. Sustainability is key to the work the firm does. "As an architect and a citizen," says Do, "protecting the environment is a moral duty to me."
Born in Vietnam, he grew up during the civil war and became a war refugee in 1975, when South Vietnam collapsed. After short stays in refugee camps, he settled in Reno, Nevada before moving to the San Jose area, where he now lives with his wife and their four children in Saratoga (pictured at left).
Architecture, says Do, is the only thing he ever wanted to do. "I never considered anything else. When I was a boy in Vietnam, my father hired a draftsman to draw up plans for our modest family home. I fell in love with the art of architectural drafting and this interest continued after I arrived in the United States as a war refugee. One of my first purchases, upon saving enough money from my first summer job, was to buy a set of drafting tools."
We recently got in touch to ask him about his current preoccupations.
What are you working on these days?
I am starting my own private development project. I have owned properties in San Jose's Diridon area for some time, well before the Google phenomenon, and have added to this land assemblage ever since. I partnered with Valley Verde to create the first project under San Jose's urban agriculture incentive program, while waiting to be developed. In this project, I intend to apply all the important things I have learned to create a vibrant, dense, mixed-use development that provides character and a sense of place.
From an architecture/construction perspective, I am very interested in mass timber construction. It's about using sustainably harvested lumber to manufacture mass timber, which can be made into simple, beautiful, energy efficient and fire-resistant structural members including floor, roof and wall slabs. This is all pre-manufactured for fast on-site assembly to speed up construction and minimize waste. This promises to transform a significant portion of the construction industry and reduce cost. Most of all, it's about carbon-sequestering. Trees store carbon in the process of converting carbon dioxide into oxygen. Using mass timber in buildings creates embodied carbon and allows more carbon to be stored in new trees to slow down climate change. Buildings are responsible for around 40 percent of greenhouse gas emission, and this can have a huge impact on our carbon footprint
When did you first get interested in cities?
As a very young boy, I was fascinated with the vibrancy and richness of Saigon, the biggest city in Vietnam. Saigon has a wonderful legacy of colonial French architecture, which fortunately still exists — although much of it has degraded to varying degrees. I always found cities to be intoxicating, with the gathering of people from all backgrounds and walks of life and the cultural dynamics that come from that. As an architectural student, I traveled quite a bit in Europe and visited most of its greatest cities. For me, cities are a core part of human civilization.
What's your favorite city and why?
 love Rome because it's so rich in history and has a huge pedestrian zone, beautiful villas and gardens and a rich array of cultural offerings. [But] I suppose nothing beats the cities of my childhood: Saigon and my hometown, Dalat. Dalat is just a small mountain resort town, very low in density, but picturesque and peaceful. But those are cities in my memory of 50 years ago. Those cities don't exist anymore and have been replaced by the rapid and poorly planned growth that has been happening all over Asia.
Favorite view?
The view from the hilltown of Fiesole on the outskirts of Florence, looking down on Florence below, with the dome of the cathedral as its center.
Favorite book about cities?
I try very hard to not point to The Death and Life of Great American Cities by Jane Jacobs, because probably all urbanists read that. The book that came to mind because it impressed me a lot is Shanghai Baby by the Chinese writer Wei Hui. It's actually a pretty negative book, talking about the alienation of individuals in a huge, fast-changing and morally bankrupt metropolis. It's a consequence of the kind of rapid and perhaps inhumane urbanization that has been happening in the developing world. Cities are not solely a positive phenomenon; they can create lots of social ills at the same time if not done wisely.