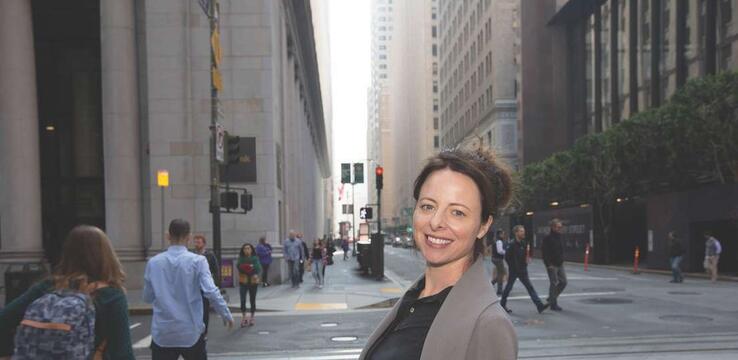 Member Profile: Kate McGee
Urbanist Article
Kate Mcgee saw urbanism for the first time in Montreal, witnessing what she calls "the recurring battle for primacy on the streets between the aggressive (and yet always fashionable) French-speaking pedestrians and the taxi drivers (in hindsight, fashionable in their own way)." 
This theme of conflict, she says, "was fundamental to urban life in Montreal and extended into one's everyday experience. I lived there during the time of the referendum, a time of deep recession and a time of entrenched nativism. It became quickly evident that there were rites of passage to becoming a citizen of Montreal, to becoming a citizen of any city, and I wanted to crack that nut."
To do so, McGee opened her own planning consultancy, focusing on development entitlement. And as part of her ongoing project of "becoming a citizen of any city," she's lived and worked in Vancouver, Montreal, Toronto, London and Paris, and immigrated to San Francisco in 2001.
How did you first learn about SPUR?
Not new to policy think tanks, I worked at Novae Res Urbis, a small urban publishing house, and a nonprofit think tank (the Canadian Urban Institute), both in Toronto. My experience with these institutions helped reveal new dimensions of urban life that helped shift how I understand cities and my place in them. My introduction to SPUR was via [former CEO] Gabriel Metcalf. Upon my arrival in SF in 2001, I volunteered for City CarShare and met him through that organization. I joined SPUR immediately and have been a member ever since.
What do you see as the biggest challenge the Bay Area faces? greatest opportunity?
Planners are systems-based thinkers. Think of the city as an organism that is comprised of many interconnected systems — our transit system and its relation to our neighborhood commercial corridors, our water system and its relation to our housing stock, our system of parks and open spaces and its relation to the people that use them. San Francisco is an infant: its systems are not yet fully developed. Thus, our greatest opportunity is that we are able to influence our city's systems. As we reach the limits within our current systems (BART reaching capacity, for example), we are turning our attention to how we should accommodate growth. The innovation that has helped us pioneer so many advances in other sectors will lay the foundation for a new form of urbanism that exists nowhere else in the world today.
One of our biggest challenges is the short stay of the average San Francisco resident (approximately seven years). This stunts the maturation of the many systems critical to creating a healthy and balanced city. We need to ensure the city is one in which people can age in place as well as one where children are accommodated. The median age of San Francisco residents is 35. Only 20 percent of its population is older than 60; just 14 percent is 17 and under. Our current focus is too narrowly defined to meet the needs of our skewed population. Other systems need to address the needs of a more diverse populace and to create a balanced and fully functioning organism.
What's your favorite city?
My favorite city is San Francisco, although my relationship with the city is a hot mess. Sometimes it's the city I love to hate. Sometimes there is no place I'd rather be.
Favorite urban view?
Inside the 1 California bus. Do me a favor. Before you leave this city for greener pastures (literally), board the 1 at Rincon Park and travel to Lands' End. Transect the city and witness the picking up and dropping off of San Francisco's most character-defining feature – its people.
Favorite book about cities?
No book has had a greater influence on me than Kevin Lynch's Image of the City (1960). In it he states that our perception of the city is not sustained, but rather partial, fragmentary, mixed with other concerns. The perception of our city is unique to us. It's as big or as small as our experiences dictate. We are all urbanists and like the tug o' war Montreal cabbies have with pedestrians, so too do we all find ways to convey our power over place. It's this tension over place that defines our role in the city. It's this tension that makes our city strong and resilient.
In her book My Brilliant Friend, Elena Ferrante writes "when there is no love, not only the life of the people becomes sterile, but the life of cities." To this end, we see that indeed many people have left their heart in San Francisco because this city is anything but sterile.