Cities Commit to Carbon Neutrality
By Laura Tam
January 24, 2019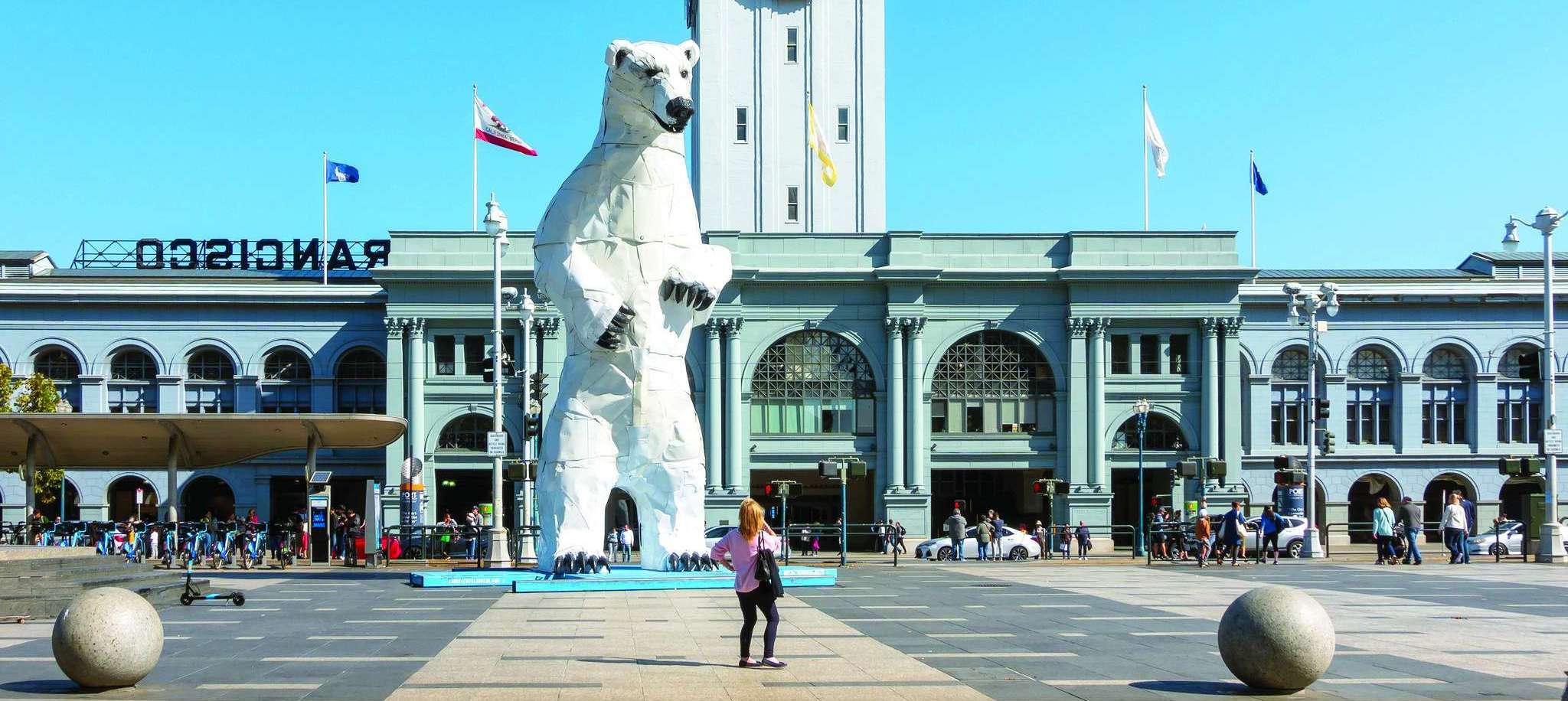 A 35-foot-tall polar bear sculpture made from car hoods stood guard at the San Francisco Ferry Building during the Global Climate Action Summit last fall. Photo by Sergio Ruiz.
In September, San Francisco hosted the Global Climate Action Summit, where more than 100 state and national governments, 70 big cities and numerous large companies committed to carbon neutrality by midcentury. This goal, urged by the Intergovernmental Panel on Climate Change (IPCC), is said to be necessary for stabilizing our global climate — and staving off planetary catastrophe.
Kicking off the week, summit host Governor Jerry Brown signed SB 100, a bill requiring California to have 100 percent carbon-free electricity sources by 2045. Today, California's electricity portfolio is about 50 percent fossil fuel based, so big investments in solar, wind and other renewable sources will be needed. But electricity represents less than 20 percent of California's greenhouse gas emissions. So the governor took it up a notch with a new executive order calling on the state to achieve total carbon neutrality, also by 2045. This is the most ambitious climate policy of a major economic power. It will require not just major emission reductions from industry, all buildings, and the transportation sector — currently the largest single source of emissions in California — but it will require much more carbon sequestration in forests, farming, and natural lands.
Several Bay Area cities and agencies also announced new goals that will wean the region off natural gas and diesel and make way for a carbon free future:
• San Francisco Mayor London Breed pledged to accelerate San Francisco's reputation as a zero waste leader by reducing the city's landfill disposal by 50 percent by 2030 and ensuring all buildings are net-zero emissions by 2050. This second pledge is especially bold, as it entails weaning San Francisco from natural gas and only permitting all-electric buildings, with the electricity coming from carbon-free sources. All-electric buildings are seen as a way to decarbonize the built environment while providing better indoor air quality and health benefits; this strategy was a key recommendation of SPUR's 2016 report "Fossil-Free Bay Area."
• During its climate summit event, the City of San Jose "flipped the switch" on its new clean energy program, the largest single-city community choice energy program in the country which will deliver 100 percent renewable electricity to city residents by late 2019. San Jose also committed to enacting regulations and policies to ensure that all new buildings operate at net-zero energy by 2050.
• The C40 Cities group, an international network of large cities dedicated to reducing emissions and sharing best practices, announced during the summit that 27 large cities (including San Francisco and Los Angeles) have already reached peak emissions. Each of these cities has reduced emissions over at least five years, while their population and economies have grown.
• The Bay Area Air Quality Management District announced "Diesel Free by '33," a commitment to end diesel use in the region within 15 years. The pledge was signed by more than 75 government and business leaders, including the mayors of Oakland, San Jose, Richmond, Berkeley, Fremont, Albany, Benicia, Cupertino, Emeryville and other cities, as well as the boards of supervisors for Contra Costa, San Mateo and Sonoma counties. Diesel exhaust, which is especially toxic and especially prevalent in areas already suffering from environmental hazards and inequities, causes acute respiratory illness, is co-emitted with "super pollutants" that contribute more to global warming than carbon dioxide does, and can be replaced with safer engines and fuels.
In a time of federal inaction on climate change, it's critical that states, cities, businesses and other actors increase their efforts. The "We Are Still In" coalition, formed in 2017, is a pledge signed by bipartisan leaders in all 50 states to continue American progress on meeting and exceeding the goals set forth in the Paris Agreement. In 2018, as Governor Brown's climate legacy drew to a close with the Global Climate Action Summit, California's commitment to staying "in" seems stronger than ever — with longterm emissions targets now enshrined in state law that will require continued innovation in policy and programs. California's cities, along with others around the world, have shown a willingness to lead. Now we must keep going, as the imperative to stop climate change becomes clearer every day.