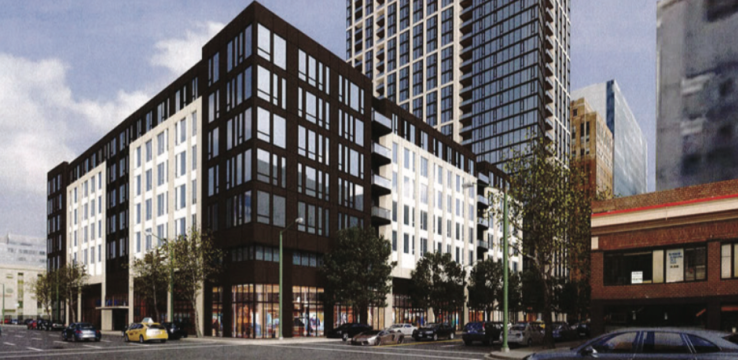 Development (Finally) Comes to Oakland
By Robert Ogilvie
Urbanist Article
What Happened: 6,675 residential housing units are under construction — a huge jump from the 765 that were built in 2014 and it is not too far short of the 8,151 that were built during the entire fifteen yeas from 2000 – 2104. An additional 15,306 housing units have already been approved for construction.
What It Means: This represents the biggest residential building boom in Oakland since the post-World War II era and is a dramatic turnaround for a city that saw a modest population decline in the first decade of this century. Looking ahead, Oakland may build more housing than San Francisco in the coming year.
After struggling for years, downtown Oakland has become a destination — the kind of place a downtown is supposed to be. Eighty thousand people work downtown, and 20,000 live there. The place is dynamic, and culture and nightlife are thriving.
That is not to say that there aren't still far too many vacant storefronts and that there isn't enough street life after business hours. But new commercial office towers are starting to go up, and the over 40 acres of vacant and surface parking lots in the downtown core are starting to be built on and transformed into other uses that will have a much greater bene t for Oakland, its residents and the region.
Things are happening outside of downtown as well. In East Oakland, a 1920s-era church is being transformed into 60 apartments on East 47th Avenue, 104 units are under construction at two separate sites in Jingletown arts district, and a 918-home project on the old Oak Knoll Naval Hospital site was just approved by Oakland City Council. Hundreds of other units have been proposed.
But challenges remain. Downtown is only just starting to succeed, and there's a long way to go before it becomes the economic engine that Oakland needs it to be: the sort of place that can help put the whole city on much former economic footing. Oakland still has a housing crisis and supply has not yet caught up with the demand, at least not enough to start to bring rental and sales prices down to the level that will alleviate the displacement pressures that are faced by too many Oaklanders.
And so the temptation remains to see the building boom as contributing to the displacement problem, or even to see it as the source of the displacement problem--and to do things to slow the building boom down or to stop it.
But in reality, displacement began long before the building boom did and the cause remains the same — demand continues to outstrip supply.
Oakland's housing crisis will not be solved by building alone; at least not in the short term. That is why Oakland at Home: Recommendations for Implementing a Roadmap Toward Equity, the report of Mayor Libby Schaaf's Housing Cabinet, recommended that Oakland should acquire homes to keep them affordable and should act to protect renters from displacement. But Oakland at Home also recommended that the city build more housing. In fact, without building there is no palatable solution to the housing crisis in sight.
Without building, there is no way to resolve the current and growing fiscal crisis as either. This is most true downtown where a larger jobs base and residential concentration would enable it to function better as an economic hub, a revenue-generator and a place of vitality and commerce. Such a downtown, like the one that SPUR called for in its 2015 report, A Downtown for Everyone, one with 25,000 more residents and 50,000 more jobs, would provide a wide range of jobs and opportunities to the city's — and region's — residents. Its increased level of economic activity would generate revenue to support city services.
Just how much impact the increased economic activity could have on Oakland's coffers is illustrated by the impact of Carmel Partners' 634-unit residential building with 17,000 square feet of retail, currently under construction at 1314 Franklin Street:
Annual Benefits of the 1314 Franklin Street Project (at Stabilized Occupancy in 2017 Dollars):
Additional Business Activity, Employment and Spending
610 new households with 975 residents

75 jobs on site

$13.2 million annual spending by project residents at retail stores in Oakland

$3.7 million annual spending by project residents for health care, personal services, maintenance and repair, recreation and entertainment in Oakland
Higher Tax Revenues to City of Oakland
$3.4 million per year in annual tax revenues (up from $260,000 per year for the current parking garage)

$2.2 million per year in General Fund revenues

$1.0 million per year in special taxes and assessments used to fund police, re, parks and recreation, libraries, public works, general government and other expenditure
And that is just one building, albeit a very large one. Imagine what 20 more could do.